Israel's Wanton Aggression
A reckless campaign of violence has now targeted American journalists.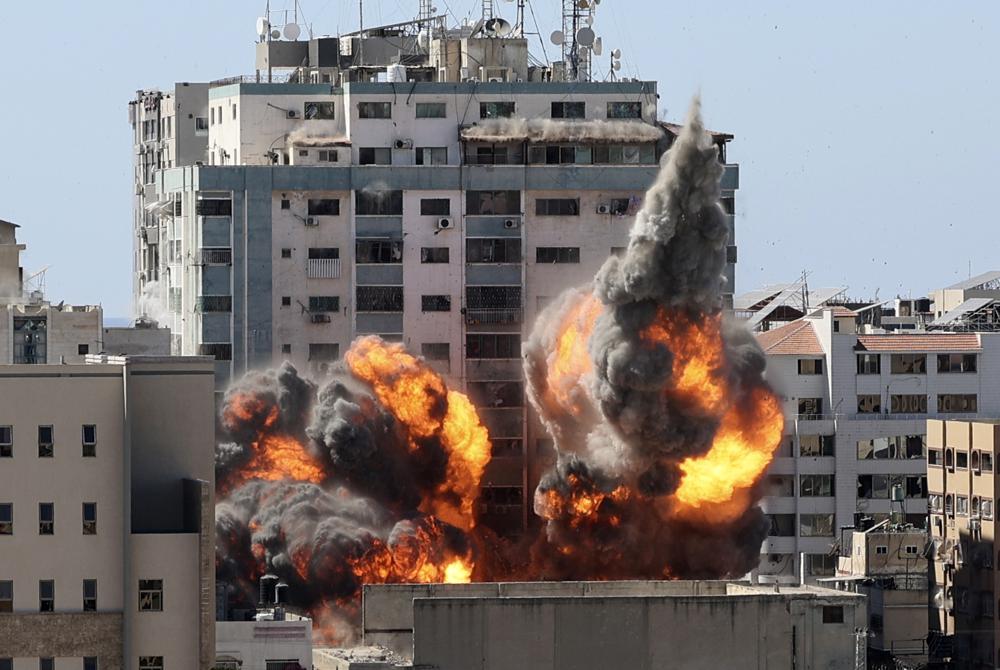 In its most recent escalation in Gaza, Israel has indiscriminately killed women and children on a daily basis. Now, it's targeting US media outlets. The Associated Press ("Israel strikes Gaza home of Hamas leader, destroys AP office") reports:
Israel slammed the Gaza Strip with airstrikes, in a dramatic escalation that included bombing the home of a senior Hamas leader, killing a family of 10 in a refugee camp — most of them children — and pulverizing a high-rise that housed The Associated Press and other media.

The Hamas militant group continued a stream of rocket volleys into Israel, including a late-night barrage on Tel Aviv. One man was killed Saturday when a rocket hit his home in a suburb of the seaside metropolis.

With a U.S. envoy on the ground, calls increased for a cease-fire after five days of mayhem that have left at least 145 Palestinians dead in Gaza — including 41 children and 23 women — and eight dead on the Israeli side, all but one of them civilians, including a 5-year-old. President Joe Biden, who has called for a de-escalation but has backed Israel's campaign, spoke separately by phone with Israeli Prime Minister Benjamin Netanyahu and Palestinian President Mahmoud Abbas.

Still, Israel stepped up its assault, vowing to shatter the capabilities of Gaza's Hamas rulers. The week of deadly violence, set off by a Hamas rocket Monday, came after weeks of mounting tensions and heavy-handed Israeli measures in contested Jerusalem.

Early Sunday, Israeli warplanes struck several buildings and roads in a vital part of Gaza City. Photos circulated by residents and journalists showed the airstrikes created a crater that blocked one of the main roads leading to Shifa, the largest hospital in the strip.

The Health Ministry said the latest airstrikes left at least two dead and 25 wounded, including children and women. There has been no immediate comment from the Israeli military.

On Saturday, Israel bombed the home of Khalil al-Hayeh, a senior figure in Hamas' political branch, saying the building served as part of the group's "terrorist infrastructure." There was no immediate report on al-Hayeh's fate or on any casualties.

The bombing of al-Hayeh's home showed Israel was expanding its campaign beyond just the group's military commanders. Israel says it has killed dozens in Hamas' military branch, though Hamas and the smaller group Islamic Jihad have only acknowledged 20 dead members.

Since the conflict began, Israel has leveled a number of Gaza City's tallest office and residential buildings, alleging they house elements of the Hamas military infrastructure. On Saturday, it turned to the 12-story al-Jalaa Building, where the offices of the AP, the TV network Al-Jazeera and other media outlets are located, along with several floors of apartments.

"The campaign will continue as long as it is required," Netanyahu said in a televised speech on Saturday evening. He alleged that Hamas military intelligence was operating inside the building. Israel routinely cites a Hamas presence as a reason for targeting certain locations in airstrikes, including residential buildings. The military also has accused the militant group of using journalists as human shields, but provided no evidence to back up the claims.

The AP has operated from the building for 15 years, including through three previous wars between Israel and Hamas, without being targeted directly. During those conflicts as well as the current one, the news agency's cameras from its top floor office and roof terrace offered 24-hour live shots as militants' rockets arched toward Israel and Israeli airstrikes hammered the city and its surroundings.

"We have had no indication Hamas was in the building or active in the building," AP President and CEO Gary Pruitt said in a statement. "This is something we actively check to the best of our ability. We would never knowingly put our journalists at risk."
Israel, particularly when under Likud governance, has been intentionally brutal, happily flouting international human rights law and intentionally targeting civilians in its reprisals, for decades now. But, on the surface at least, things had gotten better in recent years, notably culminating in the Abraham Accords.
So, what happened? The NYT's Patrick Kingsley pinpoints a little-noticed event:
Twenty-seven days before the first rocket was fired from Gaza this week, a squad of Israeli police officers entered the Aqsa Mosque in Jerusalem, brushed the Palestinian attendants aside and strode across its vast limestone courtyard. Then they cut the cables to the loudspeakers that broadcast prayers to the faithful from four medieval minarets.

It was the night of April 13, the first day of the Muslim holy month of Ramadan. It was also Memorial Day in Israel, which honors those who died fighting for the country. The Israeli president was delivering a speech at the Western Wall, a sacred Jewish site that lies below the mosque, and Israeli officials were concerned that the prayers would drown it out.

The incident was confirmed by six mosque officials, three of whom witnessed it; the Israeli police declined to comment. In the outside world, it barely registered.

But in hindsight, the police raid on the mosque, one of the holiest sites in Islam, was one of several actions that led, less than a month later, to the sudden resumption of war between Israel and Hamas, the militant group that rules the Gaza Strip, and the outbreak of civil unrest between Arabs and Jews across Israel itself.

"This was the turning point," said Sheikh Ekrima Sabri, the grand mufti of Jerusalem. "Their actions would cause the situation to deteriorate."
But that rather begs the question. This was obviously a deliberate provocation, intended to spark outrage and violence.
The crisis came as the Israeli government was struggling for its survival; as Hamas — which Israel views as a terrorist group — was seeking to expand its role within the Palestinian movement; and as a new generation of Palestinians was asserting its own values and goals.
Netanyahu has been desperately clinging to power—and freedom—for years. Palestinians, meanwhile, have been chafing at the illegal occupation for decades but had been kept on their chains, refraining from the terrorist and rocket attacks that had characterized previous rounds of violence for years. They didn't even erupt when President Trump moved the US embassy to Jerusalem.
Regardless, as Kingsley's colleagues Lisa Lerer and Jennifer Medina report, the recent events have spotlighted a rather stark divide on the Israel issue within the Democratic leadership.
While the Biden administration is handling the growing conflict as a highly sensitive diplomatic challenge involving a longstanding ally, the ascendant left views it as a searing racial justice issue that is deeply intertwined with the politics of the United States.

For those activists, Palestinian rights and the decades-long conflict over land in the Middle East are linked to causes like police brutality and conditions for migrants at the U.S.-Mexico border. Party activists who fight for racial justice now post messages against the "colonization of Palestine" with the hashtag #PalestinianLivesMatter.

With President Biden in the White House, traditional U.S. support for Israel is hardly in question from a policy perspective; he has made his support for the country clear throughout his nearly 50 years in public life. Still, the terms of the debate are shifting in Democratic circles.

On Thursday, a group of leading progressive members of Congress offered a rare break from party unity, giving fiery speeches on the House floor that accused Mr. Biden of ignoring the plight of Palestinians and "taking the side of the occupation." Representative Alexandria Ocasio-Cortez of New York directly challenged the president, who had asserted that Israel had a right to defend itself. "Do Palestinians have a right to survive?" she asked in an impassioned address. "Do we believe that? And if so, we have a responsibility to that as well."

Less than 24 hours later, on Friday, nearly 150 prominent liberal advocacy organizations issued a joint statement calling for "solidarity with the Palestinian residents" and condemning "Israeli state violence" and "supremacy" in Jerusalem.

The statement was signed not just by groups focused on Middle Eastern and Jewish issues but by groups dedicated to causes like climate change, immigration, feminism and racial justice — a sign that for the party's liberal faction, the Israeli-Palestinian conflict has moved far beyond the realm of foreign policy.
Interestingly, Biden is more aligned with Republicans—who have traditionally seen anything to the left of the Likud position as not only anti-Israel but anti-Semitic—than with his own party. Indeed, Democratic Presidents going back to Jimmy Carter have been much tougher on Israeli aggression than he looks to be.
While I'm more aligned with their views, and indeed Bernie Sanders (who is being advised by my friend Matt Duss) on this issue, Biden's position has more political backing. Still, Netanyahu's reckless disregard for decency makes it really hard to support Israel:
Yet, even Senator Robert Menendez, the chairman of the Senate Foreign Relations Committee known for his staunch support of Israel, offered a rare rebuke on Saturday, condemning recent strikes that killed Palestinian civilians and destroyed media offices.
The UN Security Council is reportedly set to meet later today to push for an end to these hostilities. But, unless Biden switches positions here, one presumes the US will continue being the lone civilized nation that backs Israel's stance.