It's August, So It Must Be Time To Complain About Presidential Vacations Again
The chattering class is chattering about the President's vacation again. It really is quite tiresome.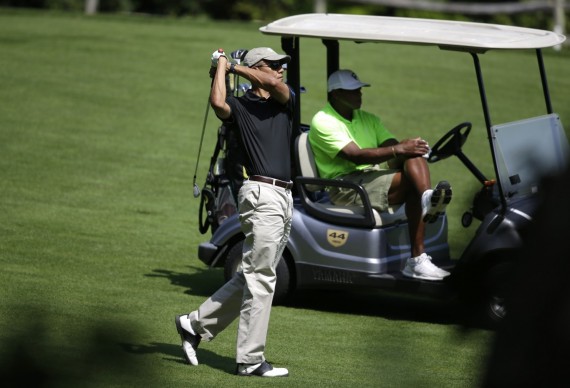 Dana Milbank lays into the President Obama for vacationing on Martha's Vineyard while crises flare up around the world and at home:
Obama stood on the South Lawn on Saturday updating Americans on the new bombing campaign in Iraq — and then he boarded Marine One for a two-week trip to Martha's Vineyard. There, half an hour after arriving at his vacation home, he was already on his way to a golf course. He played again Sunday, then had a beach outing Monday followed by a political fundraiser.

Even presidents need down time, and Obama can handle his commander-in-chief duties wherever he is. But his decision to proceed with his getaway just 36 hours after announcing the military action in Iraq risks fueling the impression that he is detached as the world burns.

The highly visible wartime vacation (Obama allowed himself to be photographed on a putting green Saturday with NBA star Ray Allen and retired pro-football player Ahmad Rashad) was not looking any better Monday as Iraq's political crisis worsened, NATO's chief declared a "high probability" of Russian military intervention in Ukraine and Gaza remained on a knife edge.

By Monday afternoon, the crises had forced Obama to revise his schedule. The White House announced that the president, after returning from the beach, would make an unscheduled statement about Iraq. He freshened up at his 8,100-square-foot vacation home, then stepped outside, in a blue blazer and open collar; his aides wisely chose a wooded backdrop rather than one with the infinity pool and the sweeping water views. Obama finished his four-minute statement and then hopped in his motorcade for the ride to a Democratic fundraiser.
Criticizing the President for going on vacation is an old Washington trope that has been a fact of life for our nation's Chief Executive regardless of which party he belonged to. President Reagan sometimes got bad press for his long vacations at his ranch in California, George H.W. Bush would get it for his trips to Kennebunkport and the frequent video we would see of him out on his boat, Bill Clinton would get it for the trips that he and his family took to Martha's Vineyard and other locations during the course of his Presidency, and George W. Bush got it for clearing brush in Crawford during the Iraq War. Usually these criticisms come from partisans of the opposing party, of course, but you also hear it on a regular basis from one member or another of the inside the beltway media, typically with a similar argument to the one Milbank makes here about how all of this reflects on the President's "leadership." Indeed, it is seemingly required that every year, under every President, some member of the elite press corps is required to write a column tut-tutting about the President daring to take time off while something or other is going on in the world. I guess this year it was Milbank's turn.
Milbank's Post colleague Chris Cillizza notes that, inside the beltway and partisan chatter aside, most Americans don't really care if the President goes on vacation:
Conservative outrage aside — and remember that liberals reacted the same way to George W. Bush's vacations on his Crawford, Texas ranch — there has not been any real blowback among the public about President Obama's vacation plans in the past. Almost one year ago to the day, Fox News Channel conducted the only polling we could find on the topic of Obama's vacations. The Fox sample split 48 percent to 48 percent on whether Obama had been "working hard to enough to deserve" an August vacation. By contrast, just 14 percent said Congress had worked hard enough to deserve a vacation while 82 percent said they had not.  In 2010, Fox asked whether people felt "resentful" of the number of vacations the Obamas were taking. Just one in five said they did.
As general rule, I find most of this criticism of Presidential vacations to be silly and pointless, and I don't think that Milbank's argument really advances us much beyond the people who rant on Twitter every weekend when President Obama golfs at Andrews Air Force Base. First of all, there's the fact that the President is never really on vacation, everywhere he goes he is accompanied by a phalanx of aides and advisers, not to mention the guy who carries the nuclear football, he has instantaneous access t the most sophisticated and secure communications network on the planet, and he would be able to return to Washington, or go anywhere else in the world, at virtually a moment's notice. Second, in this particular case while the President is in Martha's Vineyard on the closest thing to a vacation a sitting President can enjoy, much of his national security team, including National Security Adviser Susan Rice, are in the area working on the crises that Milbank correctly points out that we need to be paying attention to right now. Even if the President isn't sitting in the room with him, he has access to them on an as needed basis and is receiving briefings on a regular basis, just as would be happening if he were back in Washington. Finally, I have to wonder exactly what it is Milbank and the other critics would have Obama do in Washington that he can't do in Martha's Vineyard. Whether its in the Oval Office or anywhere else on the planet, the President's job is basically the same. If he can do it while also getting some much needed rest and recreation in, then all of these people saying that he should be back in Washington are basically just arguing for symbolism over substance.
On some level, of course, President Obama does deserve criticism for his lack of leadership when it comes to foreign policy. I've talked about some of the reasons for that before, and even his former Secretary of State has criticized him recently. I also thought that his advisers didn't serve him well on Saturday when they had him delivering a speech from the South Lawn with Marine One behind him ready to take him and the family off on vacation. Given that the had just announced American military action in Iraq, it was not the best visual. That, however, is a communications issue, not a leadership issue and it's unrelated to the whole "vacation" meme that Milbank talks about in his column.  Let the President take his vacation.