Could Republicans Taking Control Of The Senate Be Good For Obama?
Republican overreach could end up helping the President and his party.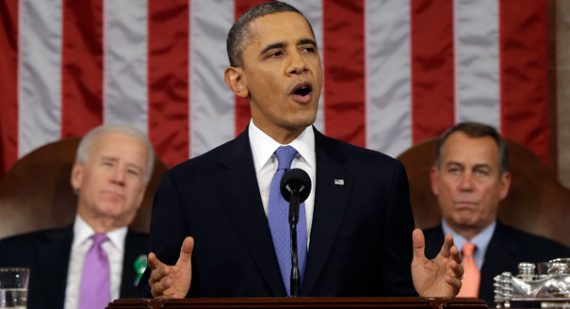 With less than four months to go until the midterm elections, most political observers would reach the conclusion that things aren't going so well for President Obama at the moment. His job approval number, both overall and on specific areas such as foreign policy, continues to plummet. The international situation seems to be nothing more than one shifting crisis after another. His Administration was handed a string of significant losses by the Supreme Court as the Justices headed out of town for their summer recess on issues ranging from recess appointments to cell phone searches to the Affordable Care Act . Congress is threatening to sue him over what it believes to be Executive Department overreach. And, perhaps most importantly of all, the odds are starting to look better and better that Republicans will be able to pull out the victories needed to gain control of the Senate in November, albeit likely by a small margin.
Faced with all of this, it arguably wouldn't be inaccurate to start talking about Barack Obama in terms of being a lame duck. It is, after all, a status that will be conferred upon him eventually as the nation's political attention shifts even more to the 2016 battles inside both the Republican and Democratic Parties. If the Republicans grab control of the Senate, then it will be next to impossible for him to get much of anything done legislatively without concessions to the GOP, and it would become incredibly difficult for him to successfully complete any appointments to the Cabinet or the Judiciary with anything other than milquetoast candidates.
The Washington Post's Dana Milbank, though, takes the contrarian view, and argues that Republicans gaining full control of Congress could be the best thing that could happen to Barack Obama in his last two years in office:
Yet there's a chance that having an all-Republican Congress would help Obama — and even some White House officials have wondered privately whether a unified Republican Congress would be better than the current environment. Republicans, without Harry Reid to blame, would own Congress — a body that inspires a high level of confidence in just 7 percent of Americans, according to a Gallup survey last month finding Congress at a new low and at the bottom of all institutions tested.

There would be no more excuses for Republicans' failure to put forward their own health-care plan, immigration proposals, specific cuts to popular government programs, and pet causes involving abortion, birth control and gay rights. This would set up real clashes with Obama — who could employ the veto pen he hasn't used a single time since Republicans gained control of the House in 2010 — and sharp contrasts that would put him on the winning side of public opinion.

It is not hard to imagine a Republican takeover of the Senate causing conservatives in both chambers to overreach. House Republicans would get more pressure from their base to take a swing at impeachment, because the odds of convicting Obama in the Senate would be better (if still prohibitive). Alternatively, Republican leaders, recognizing that the public will hold them responsible now that they have complete control of Congress, might try to compromise with Obama.

In the first scenario, marauding conservatives drive Republicans to oblivion in 2016 and beyond, putting Hillary Clinton in the White House. In the second scenario, Obama actually accomplishes something in his last two years.
I do have to admit that the prospect of a fully Republican Congress going so far over the top when it comes to legislation and investigations that they end up hurting themselves more than they hurt the President or the Democratic Party is not all that far fetched. We saw this scenario play out twenty years ago when Republicans took control of Congress and then ended up overplaying their hand against a President who proved himself to be far more politically astute and skillful than one might have thought given how his first two years in office played out. While Republicans managed maintain control of Congress throughout Clinton's Presidency, and well beyond that, they found that they couldn't really succeed in moving their agenda forward without cooperating with President Clinton, even while they were trying to remove him from office. Through it all, Clinton not only managed to win re-election and leave office with the highest job approval ratings since Ronald Reagan, he also managed to gain credit for many of the policy ideas that Congressional Republicans were advocating, such as welfare reform.
It's not too hard to see how things could play out if the GOP gains control of the Senate this time around. The investigations of everything from Benghazi, to the IRS, to Fast & Furious and no doubt whatever else some Republicans can think of would be taken up several notches. It would be become easier for the Senate to pass legislation passed in the House, although the legislative filibuster, which Mitch McConnell has said he would not tamper with, would give Senate Democrats some not inconsiderable ability to save the President from having to issue veto after veto. Budget negotiations would become far more contentious, and the threat of a government shutdown would increase. And, yes, just maybe, Republicans in the House will try to push impeachment which, even if it doesn't succeed could end up tarnishing the Republican brand even more than it already has been as we head into 2016. Given how Republicans have behaved since Obama took office, it is not at all unreasonable to think that things could indeed unfold this way, and that it could inure to the political benefit of the President, and potentially the Democratic nominee in 2016.
Looking at things from a different direction, Jazz Shaw responds to Milbank by pointing out that his analysis is a large part of the reason why people hate Washington, D.C.:
In these few paragraphs we get an unapologetic peek behind the mask and see exactly what the real goals are in the DC elite thinking circles. Actually getting something done isn't in anyone's best interest. (One need look no further than the immigration debate – which Democrats have no interest in resolving – to see that.) Milbank speaks aloud what so many leaders in the Democrat Party try not to reveal. The true objective is always winning the next election, not doing something for the nation today. If Obama can be propped up on camera wielding his veto pen, that's a win, even if it means there's still nothing getting done. He's fighting the Republicans and that's all that counts. Milbank doesn't want the President impeached, but he most certainly does want the GOP to try it in case it makes voters think more kindly of Obama. And if the pathetic polling numbers of the legislative branch remain in the toilet for two more years, all the better – as long as the GOP shoulders the blame.
Jazz makes some good points here, of course. Nowhere in Milbank's piece does he talk about ways in which President Obama and a fully Republican Congress could work together during the last two years of his term to get important things like immigration reform, comprehensive tax reform, or entitlement reform accomplished. Heck, Milbank doesn't even talk about how they could possibly work together to get the ordinary functions of government that are covered by the budget process taken care of with less acrimony and brinksmanship than we have seen in the six years or so. Instead, like most analysts of his type, Milbank concentrate on the chess game that is the partisan battle. Would a Republican Congress make it easier for President Obama to navigate his final years in office, or harder? Would it hurt Republican chances in 2016 or help them? These are the only questions that people like Milbank are concerned about and, yes, it is a huge problem of what's wrong with our political culture.
There's just one problem. For better or worse, Milbank's view of politics is the more realistic one, especially for a period of time when we are going to be knee deep in a Presidential election cycle.
Regardless of what the outcome is in November, once the midterm elections are over both parties are going to be shifting their attention to the Presidential election two years in the future. Every move, every legislative agenda, every talking point is going to be focused on what impact it will have on the party's fortunes in November 2016. More importantly, it's unlikely that either party is going to want to make significant progress on any of those "big issues" I listed above, because that would preclude them from using the issue in the upcoming election. Republicans are unlikely to compromise on immigration reform because of the problems that would raise with their base, while Democrats would be reluctant to make major compromises because it would take the issue away from them in 2016 as part of an effort to increase turnout among Latino voters. The incentives will be similar for issues like tax reform and entitlement reform. Even something as seemingly simple as the budget process will be infected by the approach of the 2016 elections and the efforts by each party to position themselves for that election. It's a cynical way to look at politics, it doesn't take into account what might be in the best interests of the country, and it will likely make political rhetoric even more bitter and partisan. It is, however, the reality that we live in.
Given all of that, I can't say that Milbank is all that far off here.
Republicans have put together a long track record over the past six years of over-reaching when it came to confrontations with the President. We've seen it in the showdown's over the debt ceiling increase in 2011 and the government shutdown just last year, of course, but also in House Republican investigations that have barely resonated with the public beyond the conservative media and the people who follow it. There's every reason to think that we'd see this behavior continue if the GOP takes the Senate, not the least because the Tea Party and its associated groups are likely to double down on their political pressure on members of both branches to push the most radical agenda possible. How will that impact the GOP in 2016? It's hard to say for sure, of course, but if 2012 is any indication then there's every reason to believe that it will harm the party's nominee no matter who it happens to be. The one restraint on all of this would be the leadership in the House and Senate but, of course, that is exactly why the Tea Party has made targeting leadership such a high priority. There's unlikely to be any return to bipartisan comity if the GOP takes the Senate in any case, so I would argue that Milbank may not be too far off here, especially as it concerns just how the Republican Party could win the Senate, only to take a course that ends up ruining its chances in 2016.