Speaker Boehner To File Lawsuit Against Obama Over Executive Actions
A clash over Separation Of Power and the Imperial Presidency, coming soon to a Federal District Court in Washington, D.C.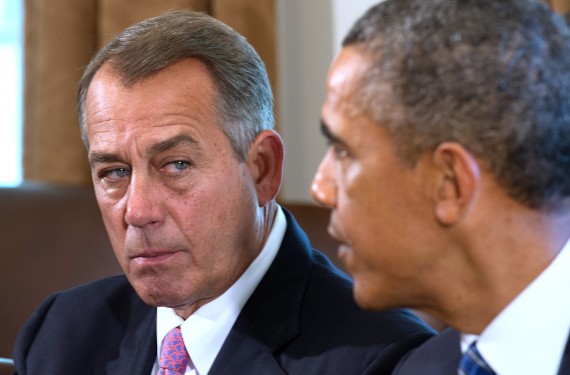 House Speaker John Boehner has announced that he will be filing a lawsuit against President Obama over what he asserts, and other Republicans have asserted, are extra-Constitutional actions by the President such as executive actions and regulatory changes that have gone around Congress on issues ranging from climate change to immigration:
House Speaker John A. Boehner (R-Ohio) announced Wednesday that he intended to initiate a federal lawsuit seeking to declare President Obama's executive orders as an unconstitutional power grab by one branch of the government.

Boehner declined to spell out which specific actions would be addressed in the suit, which have included a 2012 decision not to deport children of illegal immigrants and this month's order to allow the Environmental Protection Agency to regulate carbon emissions from power plants. Those executive orders came after the Republican-controlled House and Democratic-controlled Senate deadlocked on these issues over the past few years, taking no action.

Republicans have argued that the president does not have the authority to issue such orders given that Congress has not supported them. "In my view the president has not faithfully executed the law," Boehner told reporters at his weekly briefing.

Appearing before Boehner confirmed the plans for the suit, House Minority Leader Nancy Pelosi (D-Calif.) labeled it "a subterfuge" meant to distract from other issues. At the White House, press secretary Josh Earnest said the lawsuit fit with a congressional Republican plan of obstructing the president's agenda.

"The fact that they are considering a taxpayer funded lawsuit against the president of the United States for doing his job is the kind of step that most Americans wouldn't support," he said.

The contours of the lawsuit will likely follow Boehner's decision three years ago to hire outside legal counsel to defend the constitutionality of the Defense of Marriage Act, which the Obama administration decided not to defend during the landmark gay marriage case that eventually went to the Supreme Court. In that case, also over objections from Pelosi, Boehner and House Republicans spent $3 million paying a legal team led by Paul Clement, a former solicitor general and top conservative lawyer for federal appellate cases.
While it's difficult to comment on a lawsuit that has yet to be filed, one can reach some conclusions as to what it will entail based upon the arguments that Republicans on Capitol Hill, and conservative pundits, have been making for basically the entirety of the Obama Presidency. I have discussed some of those arguments myself when it came to issues such as Libya and the War Powers Act and the death of Anwar al-Alwaki as well as the general issues surrounding the "Imperial Presidency" as it existed both before Obama became President and after he took office. Most recently, though, the argument that is likely to form the basis of Boehner's lawsuit was set forth by George Will in a column entitled "Stopping A Lawless Presidency:" 
Serious as are the policy disagreements roiling Washington, none is as important as the structural distortion threatening constitutional equilibrium. Institutional derangement driven by unchecked presidential aggrandizement did not begin with Barack Obama, but his offenses against the separation of powers have been egregious in quantity and qualitatively different.

Regarding immigration, health care, welfare, education, drug policy and more, Obama has suspended, waived and rewritten laws, including theAffordable Care Act. It required the employer mandate to begin this year. But Obama wrote a new law, giving to companies of a certain size a delay until 2016 and stipulating that other employers must certify they will not drop employees to avoid the mandate. Doing so would trigger criminal perjury charges; so he created a new crime, that of adopting a business practice he opposes.

Presidents must exercise some discretion in interpreting laws, must have some latitude in allocating finite resources to the enforcement of laws and must have some freedom to act in the absence of law. Obama, however, has perpetrated more than 40 suspensions of laws. Were presidents the sole judges of the limits of their latitude, they would effectively have plenary power to vitiate the separation of powers, the Founders' bulwark against despotism.

Congress cannot reverse egregious executive aggressions such as Obama's without robust judicial assistance. It is, however, difficult to satisfy the criteria that the Constitution and case law require for Congress to establish "standing" to seek judicial redress for executive usurpations injurious to the legislative institution .

Courts, understandably fearful of being inundated by lawsuits from small factions of disgruntled legislators, have been wary of granting legislative standing. However, David Rivkin, a Washington lawyer, and Elizabeth Price Foley of Florida International University have studied the case law and believe that standing can be obtained conditional on four things:

That a majority of one congressional chamber explicitly authorizes a lawsuit. That the lawsuit concern the president's "benevolent" suspension of an unambiguous provision of law that, by pleasing a private faction, precludes the appearance of a private plaintiff. That Congress cannot administer political self-help by remedying the presidential action by simply repealing the law. And that the injury amounts to nullification of Congress's power.

Hence the significance of a House lawsuit, advocated by Rivkin and Foley, that would unify fractious Republicans while dramatizing Obama's lawlessness. The House would bring a civil suit seeking a judicial declaration that Obama has violated the separation of powers by effectively nullifying a specific provision of a law, thereby diminishing Congress's power. Authorization of this lawsuit by the House would give Congress "standing" to sue.
Leaving aside the merits of the policy arguments behind the Presidential actions that Will talks about here, there is are legitimate concerns about how the President goes about achieving those results in a manner that tends to enhance the power of the Presidency at the expense of the legislature. Even when the actions themselves appear to be supported by a good faith argument based on existing law, they have the unfortunate tendency of contributing to the historical tendency for the Office of the Presidency to accumulate unchecked power in the manner that Gene Healy described in his excellent book The Cult Of The Presidency, which is available from Amazon and as a free book in electronic format.  Healy also wrote a a follow up called False Idol: Barack Obama And The Continuing Cult Of the Presidency, which is available in e-book format. As Healy notes in his book, the American Presidency has strayed far from what it was intended to be, mostly at the expense of the power of the legislature. In many cases, of course, this has happened with the implicit or actual consent of Congress itself. However it happened, though, it is a serious issue that has done much to pervert the structure and functioning of government in the United States and, in some sense, it is good to see Congress waking up to the issue even though, admittedly, this is as much motivated by partisanship as anything else. At the same time, though, I am not sure that this lawsuit is going to accomplish much of anything.
As will notes above, the Federal Courts have been historically reluctant to put themselves in the middle of what amounts to a political dispute between the Executive and Legislative Branches. This is one reason why lawsuits that have been filed by members of Congress over issues such as the War Powers Act and other matters have generally been dismissed as political questions. At some point, of course, the Court does have to deal with some of these issues, the most notable such case being the challenge to the President's Recess Appointment power currently pending before the Court which may be handed down as soon as tomorrow morning.In those situations, though, the Courts have generally required a Plaintiff that has some injury rather than someone who is merely filing a lawsuit to get what the law often calls "advisory opinions." Notwithstanding the arguments that Will cites above, I have doubts that a lawsuit in the name of the Speaker of the House, the House of Representatives, or however it will be styled would be sufficient to satisfy the Court's standing requirements. In that case, the lawsuit would be dismissed without even ruling on the merits, although its likely that we'll see any such ruling appealed to higher courts. Any such process would take years, perhaps longer than the President is in office, and if the Federal Courts do ultimately agree to rule on the merits of the suit, then a final ruling will take even longer. If the case is still pending when the President leaves office in January 2017, then it will be legally moot, however, and I'm not sure why a Court would allow the case to go forward.
The lawsuit that Boehner is talking about here could raise important issues that need to be discussed and dealt with, and if that's the case then perhaps that will be the real benefit it serves. As a legal matter, though, I'm fairly skeptical that it will amount to much of anything.