The Cult Of Barack Obama's Presidency
Like the men who came before him, Barack Obama has vastly increased the powers of his office. Someone should have asked him about that last night.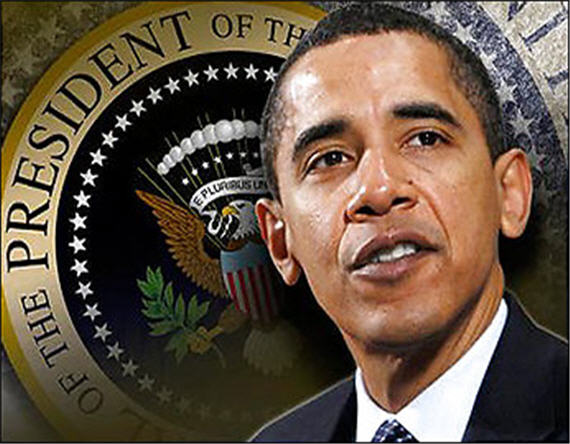 Four years ago, before the election, Cato's Gene Healy wrote a book called  The Cult of the Presidency: America's Dangerous Devotion to Executive Power in which he demonstrated the extent to which the Executive Branch has assumed more and more extra-constitutional power throughout American history, usually in response to a crisis, and how the President. As Healy points out in that book, which you can now download for free, the Presidency that we know today bears very little  resemblance to the institution created when by  Article II of the Constitution. Under that Article, the President's primary job could be summed up in ten words set forth in Section 3 of Article II, he shall take Care that the Laws be faithfully executed. The President's other powers consisted of reporting the state of the union to Congress (originally a far less formal occasion than what we're used to every January), receiving Ambassadors, and acting as Commander in Chief should Congress declare war. That's it.
For roughly the first 100 years of the Republic, Healy notes, President's kept to the limited role that the Constitution gave them. There were exceptions, of course; most notably when Thomas Jefferson negotiated the purchase of the Louisiana Territory, when Andrew Jackson defied the Supreme Court in connection with the removal of Native Americans from ancestral lands, and during the Civil War when Abraham Lincoln assumed a wide swath of powers with little direct control by Congress. This era also saw Presidents as James Polk who clearly manipulated the United States into an unnecessary war with Mexico simply to satisfy his ambitions for territorial expansion. For the most part, though, America's 19th Century Presidents held to the limited role that is set forth in Article II, which is probably why they aren't remembered very well by history. The early 20th Century the Progressive Era, though, is when things really started to change. It was in this era that we saw Presidents like Theodore Roosevelt and Woodrow Wilson, both of whom immensely expanded the powers of their office both with and without the complicity of Congress and the Supreme court. Presidents like Calvin Coolidge, who adhered to an early vision of what a President should be, were seen as an anachronism by some. The final nail in the coffin of the Presidency as originally intended came with the Great Depression, World War II and FDR. After World War II, the Cold War and the rise of National Security State became yet another impetus for the expansion of Executive Branch power. Most recently, the War on Terror has seen a dramatic increase in the powers of the Presidency in the name of "security," with very few people.
It isn't just in the area of foreign affairs and national security that one finds examples of Healy's "Cult of the Presidency." The modern American President, for example, has come to be viewed as some kind of "healer in chief" who must taken upon the task of comforting the nation in the event of a tragedy, whether or not that tragedy is related to the government or the military. He travels in a largely impenetrable security bubble every moment of the day, a level of detachment from the outside world that even the British Royal Family and the Pope don't experience. And, whenever something goes wrong, people seem to think that the President must "do something" about it. A prime example of that last phenomenon during the Obama years came during the Gulf of Mexico oil spill crisis when the President was being absurdly criticized for golfing or going to a baseball game while the spill was going on, even though there isn't a single thing that he could've done about the spill by himself. That work was in the hands of BP and the other companies tasked with repairing the breach at the bottom of the ocean. That didn't matter, though, because the American people have been conditioned for decades now, thanks in now small part to the absurdly grandiose rhetoric that Presidential candidates use when running for office, that the Presidency is some "omnipotent, omnipresent, omnicompetent" cross between a Prime Minister and a King with powers that would've made George III jealous.
As we come to the end of Barack Obama's first term, it's quite apparent that the historical trend has continued unabated. This President has largely continued the War On Terror policies of his predecessor  and has enhanced those policies in several disturbing respects. Faced with efforts by family members to find out the truth about what happened to people caught in the Bush Era's Terror Dragnet, the Obama Administration has adopted in whole the controversial "State Secrets" doctrine first developed by the Bush Administration's John Yoo. On his own, the President ordered the death of an American citizen via drone strike and resisted efforts by family members and civil liberties organization to force the government to prove in court that the death sentence was justifiable. In pursuing that American citizen, the United States also ended up killing an innocent 16 year-old boy. The President committed American forces to a war in Libya without seeking permission from Congress and, when confronted about that, did what every President has done and denied the validity of the War Powers Act.  As Healy notes in a recent column, the Obama Administration has created a whole host of new Presidential powers that will be available for those who follow him in office to use as they wish:
When it comes to presidential cults, Barack Obama has turned out to be the gift that keeps on giving. To paraphrase Michael Corleone, "Every time I tried to get out … he pulled me back in."

As I explain in my new ebook, "False Idol," "No federal chief executive in recent memory has done as much as the 'Yes We Can' president to stir Americans' longing for presidential salvation; nor has any recent president done quite as much to enhance the presidency's dominance over American life."

In an important new article for Newsweek, "President Obama's Executive Power Grab," Andrew Romano and Daniel Klaidman note that Obama has "expand[ed] his domestic authority in ways that his predecessor never did." Frustrated by congressional resistance to his agenda, he's pursued "government by waiver," reshaping welfare, education and immigration law via royal dispensations and decrees.

"Obama is drafting a playbook for future presidents to deploy in response: How to Get What You Want Even If Congress Won't Give It to You," Romano and Klaidman write. The result is an "extraconstitutional arms race of sorts: a new normal that habitually circumvents the legislative process envisioned by the Framers."

Alas, there's no presidential "man on horseback" ready to ride in and restore normalcy. Presidential messianism infects the Romney camp, as well. On the stump and in his campaign ads, Gov. Romney insists that this is "an election to save the soul of America." In a recent speech at the Virginia Military Institute, he made clear that his ambitions went well beyond preserving the Constitution and faithfully executing the laws: "It is the responsibility of our president to use America's great power to shape history," he told the cadets.

In Romney's answers to an executive-power questionnaire late last year, he suggested that the president has great power indeed: He could launch a war without Congress, order the assassination of American citizens via drone-strike and use the U.S. military to arrest American citizens on American soil.

Romano and Klaidman note that Obama "has been known, during discussions about executive authority, to worry about 'leav[ing] a loaded weapon lying around.' "

It doesn't seem Obama lost much sleep over it. But for the rest of us, that metaphor ought to concentrate the mind wonderfully. Even rabid partisans ought to strive to see past the next election cycle and recognize that the powers forged in one administration usually do pass on to the next.
As Conor Friedersdorf notes, this is an issue that people ought to be concerned about regardless of which party they belong to, because a power asserted by a President you like will one day end up in the hands of a President you don't like:
 The "cult of the presidency" thesis is one Democrats and Republicans would both do well to understand and grapple with. But it holds a lesson for everyone who is attracted to third-party candidates too. If flaws in modern attitudes toward the presidency really are a big part of the problem, it wouldn't be enough to elect one civil libertarian president, even if he or she improbably resisted the temptations and pressures of the office. In the long run, only a strong Congress can rein in the executive branch. Expecting a Ron Paul or Jill Stein figure to do it from the White House falls prey to the same wrongheaded thinking that makes a cult of the presidency. It's fine to vote third party, but changing Congress ought to be the more urgent priority.

As Healy puts it, "Can the president launch a war without Congress? How far do executive surveillance powers extend? Can the president use U.S. armed forces to seize an American citizen on American soil and hold him in a military brig? Can he authorize the targeted killing of an American citizen via robot assassin? These are core questions of federal power over which the president enjoys far more discretion than he does over the budget. And yet when it comes to the role of the presidency and the scope of executive power, there isn't a dime's worth of difference between the two tickets." He's hardly the first to observe as much. But his explanation for why there isn't any significant difference is as compelling and original as any I know.
This morning Conor made note off this with specific reference to the issue of the President's drone program:
So what if Romney is elected and turns out to be much worse on drones? It could totally happen. I wouldn't be surprised. I'll be opposing his unaccountable killing policy from day one regardless, just as I've opposed Obama's policy due to its manifold flaws. And if Romney's drone policy turns out to have all sorts of catastrophic consequences? I hope Sullivan remembers that Obama established the bipartisan consensus behind a worldwide drone-strike strategy and set all the necessary precedents without losing the support of backers like Sullivan. (He didn't even lose support for continuing his current drone policy itself.) A Romney drone fleet, operating in numerous countries with zero oversight from the judiciary or Congress, with American citizens in the crosshairs? Obama and his supporters built that. It would be ready for President Romney on day one.
Indeed it would, as would a whole host of other powers that Obama and his predecessors have assumed for themselves over the years, usually without Congress even lifting a finger. And yet not a single question was asked about any of this during the 360 minutes of debates that took place this month.
Barack Obama has vastly increased the powers of his office, and has set in place precedents that will allow his successors to do the same thing, and to use those powers in ways that Americans may not find acceptable. In that respect, he's no different than the Presidents who have preceded him for roughly the past century. However, the fact that we aren't even having a debate about this, and that the two men who were on the stage last night in Boca Raton are essentially of one mind about this issue, is something that ought to concern all Americans. One day, we're going to wake up with a President who has used these powers in a nefarious manner, and there's going to be very little that we can do about it.
As noted above, Healy is out with a new e-book,  False Idol: Barack Obama and the Continuing Cult of the President, which I commend to your attention. Additionally here's a podcast from last week where Healy talked about the new book with Cato's Caleb Brown: