If It's August, It Must Be Time For Fake Outrage Over The President's Vacation
President Obama is back on Martha' Vineyard for a ten-day vacation. The usual suspects are upset.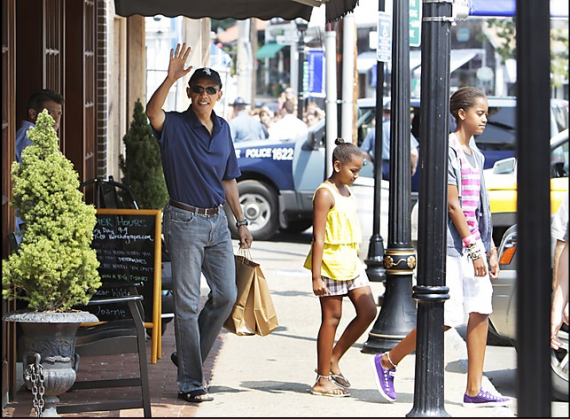 Last yesterday afternoon, President Obama and his family arrived on Martha's Vineyard for a ten-day vacation at a private resort. Even before they left, however, the trip was already the subject of the same expected, and tiresome, partisan sniping:
As a guest on Chicago's WLS-AM radio Wednesday, Republican presidential candidate Mitt Romney said that Obama should stay in D.C. and call Congress back to work.

"If you're the president of the United States, and the nation is in crisis — and we're in a jobs crisis right now — then you shouldn't be out vacationing," the former Massachusetts governor told WLS hosts Don Wade and Roma. "Instead you should be focusing on getting the economy going again. And, yeah, go back to the office yourself, pull back members of Congress and focus on getting the job done."

Donald Trump, appearing on Fox News earlier this week, complained, "the fact is, [Obama] takes more vacations than any human being I've ever seen."

"They used to complain about George Bush, but I understand he's already exceeded George Bush and we're not even through the year. … I think it sends a very, very bad message," said Trump.
Trump is, not surprisingly, totally incorrect on that last part. Veteran CBS News White House Reporter Mark Knoller, who has become the unofficial statistician of such things for the White House Press Corps it seems, notes that President Obama has taken fewer days away from the Oval Office than any other recent President except Bill Clinton:
So far, President Obama has taken 61 vacation days after 31 months in office. At this point in their presidencies, George W. Bush had spent 180 days at his ranch where his staff often joined him for meetings. And Ronald Reagan had taken 112 vacation days at his ranch.

Among recent presidents, Bill Clinton took the least time off — 28 days.
Romney wasn't alone in his criticism. The Republican National Committee chimed in yesterday with a website called Obama's Getaway that allows people send a series of mildly amusing fake postcards. And, yesterday, Sarah Palin, whose entire life seems like one long vacation at this point, chimed in with her own disapproval:
On the president's vacation to the resort island of Martha's Vineyard, Massachusetts beginning Thursday, Palin said Obama is "very, very tone deaf" for continuing with his vacation because of economic problems facing the country.

Asked if he should go, Palin responded "I wouldn't if I were he, especially to Martha's Vineyard," and added, "I think he will hear from enough Americans that he will come back early."
None of this is new, of course. President Obama has been criticized for playing golf and taking his daughters to a baseball game throughout his Presidency, and the RNC was behind a similarly silly effort to make political hay out of Presidential recreation last summer. It didn't start with President Obama, though, and as it turns out there is something of a long, embarrassing, history of nitpicking when it comes to Presidential vacations:
No president claimed he was on a "working" vacation until that summer day in 1902 when a special presidential train took Theodore Roosevelt to his home in Oyster Bay, N.Y. Later there was to be Harry Truman's "Little White House" in Key West, Fla., Richard Nixon's "Florida White House" in Key Biscayne, and George W. Bush's "Western White House" in Texas. But Roosevelt's "Summer White House" in Oyster Bay was the first vacation home to carry the White House moniker. And he was the first president to bring staff with him.

It was, declares historian Lawrence L. Knutson and the White House Historical Association, the trip that "forever transformed the nature of the presidential vacation." Roosevelt brought with him, wrote Knutson, aides, "a platoon of reporters," and a large number of "stenographers, typists, telegraphers and messengers." All were stuffed into makeshift quarters they shared with a dentist named Dr. W.C. Root over the Oyster Bay Bank. A newspaper cartoon showed Roosevelt riding off with an uprooted White House and a sign declaring "White House: Gone to Oyster Bay, Back in the Fall." The critics roared, but The New York Times defended the long vacation, saying it "will be good for him and good for all of us."

It was on that vacation that Roosevelt coined the term "bully pulpit" and brushed aside concerns about his vacation safety so soon after his predecessor was assassinated. He insisted on ditching the Secret Service, explaining he was carrying a revolver and could protect himself. He also sought his own amusement, at one point going to Long Island Sound where the torpedo submarine USS Plunger was berthed. For 55 minutes, he was the first president ever to be submerged in a sub. For this, The New York Times spanked him for risking his life in "some new-fangled, submersible, collapsible or other dangerous device."
I doubt we'll see President Obama getting into a submarine during this trip, of course, but that doesn't mean that he doesn't need to take some time to get away from Washington and decompress, or at least decompress as best he can after receiving his daily intelligence briefing, meeting with staff, reviewing correspondence, and doing all the other things a President is still required to do when they are on "vacation." Yes, there's some political risk in the imagery of the President vacationing on Martha's Vineyard while the economy struggles, but is it really any worse than the image of George H.W. Bush piloting his speedboat off the coast of Maine during a different economic downturn? Unlike President Reagan and the Bush's, President Obama doesn't have a private retreat he can get away to. Yes, he has a home in Chicago, but anyone who knows the Hyde Park area would recognize that it's hardly an ideal location for a two-week long Presidential stay given all the security that would have to be put in place. So, if the President wants to spend some time on Martha's Vineyard, I say more power to him.
More broadly, I have to wonder exactly what it is that the people who criticize Presidential leisure time want. Do they really want a President who spends all his time sitting behind the Resolute Desk doing…… well, whatever it is he's supposed to be doing other than the activity that their criticizing. As we've noted here at OTB every time one of these issues comes out, the President is never really "off duty." Wherever he goes he's followed by Secret Service agents and aides, both civilian and military, and if there's a crisis that needs his attention he's never more than a phone call away. More importantly, though, the vast majority of what the President does involves delegating power or giving instructions to subordinates, who then report back to him when a decision needs to be made. Unless Romney, Palin, and the others are also arguing that the entire White House Staff should never take a vacation, I'm not quite sure exactly what purpose is served by having the President hunkered down in the White Hosue like a prisoner because there's a problem somewhere in the world.
In reality, of course, this isn't about the President's vacation, this is about partisan hackery. Romney and the RNC aren't attacking Obama over his vacation because they think there's some urgent reason he needs to be back in Washington, as opposed to connected to Washington by the most advanced communications system in the world. They're doing it because the President is a Democrat and they think they can gain political mileage out of it. Personally, I think the American people are smarter than the GOP thinks they are on this particular issue and that Obama's Presidency is neither going to rise nor fall based on how many days he spent cycling with his daughters around Martha's Vineyard.