Dumbest GOP Meme Yet: Does The President Deserve A Vacation ?
The Obama's are vacationing on Martha's Vineyard again this year so, of course, it's time for people to say stupid things about Presidential leisure activities again.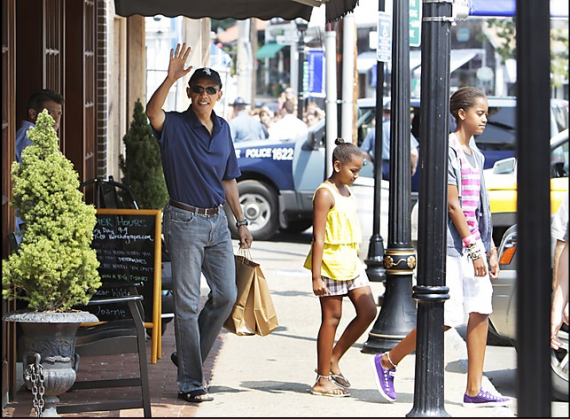 As silly season in Washington continues, the Republican Party has decided to make it even sillier:
VINEYARD HAVEN, MASS. — For the second straight year, the first family has landed on this island of quaint seaside towns, second homes and working farms for a late-summer getaway.

But this year, more so than last, political opponents are trying to hang a question over the visit: Does President Obama deserve a vacation?

The Republican National Committee has taken to calling Obama "the Clark Griswold president," a mocking reference to the Chevy Chase character in National Lampoon's "Vacation" movies. With unemployment claims climbing again, the GOP was hoping its criticism would have a certain national resonance. And maybe it will.

One potential complication: Obama has spent far less time on vacation than his Republican predecessor, George W. Bush, had at this point in his presidency.

Veteran CBS News White House correspondent Mark Knoller, a fastidious keeper of presidential statistics, has kept count. By his tally, Obama has embarked on nine "vacations" since taking office, bringing his total days off to 48. Some of those trips lasted a day and some, like his Christmas holiday in Hawaii, more than a week.

By comparison, Bush had visited his ranch in Crawford, Tex., 14 times at this point in his administration and spent 115 days there. And yes, Democrats let him have it, too, complaining that he was a chronic vacationer.

White House advisers made clear in the days leading up to this getaway that a president, especially a wartime president overseeing a country in the grips of economic distress, is never really on vacation.

Obama will see his family more over these nine days. He'll likely read more fiction than briefing books. He'll play more golf and wear fewer ties.

And everyone other than his family will see him less; on Saturday, he remained out of sight, even to the press pool that accompanies him.

But the result of the enormous logistical effort to take the president on the road is that the White House, at least as much of it as he wants, goes with him. As do the problems he's contending with.

Obama's chief counterterrorism adviser, the distinctly unlaid-back former CIA senior official John Brennan, briefs him every morning here. Obama is also receiving regular economic briefings between beach picnics (like the one the family took late Saturday morning), town excursions and visits to the links.

"Communication systems are very robust," Brennan, dressed in a dark suit, tie tight against his throat, told reporters here Friday. "We can move information at the speed of light. We can get to him very easily here."

The issue of whether presidents deserve time off appears to appeal only to the most vociferous partisans on either side.
That is fairly obvious, of course, considering that it is only the vociferous partisans that seem to bring this issue up time and time again when Presidents engage in the most inane types of leisure activities. Steven Taylor put it best, I think, when he talked about the golf meme back in June:
First, presidents deserve some down time.  Do we really want them to have no rest and relaxation?

Second, conservatives in particular, who argue that we should recognize and accept the limitations of government should recognize that having a president work 24/7 is an inefficacious desire.

Third, such criticism are transparently partisan and ultimately content-free.  Not surprisingly, Republicans tend to criticize Democrats for their vacations and golf (or whatever) and vice versa.  It is almost to the level of self-parody boilerplate for anyone who been paying attention to politics for any amount of time.  In sum, it is cheap and easy to play the golf/vacation card.

Fourth, does anyone actually believe that any president engaging in any activity (golf, clearing brush, riding horses in Santa Barbara, walking around Martha's Vinyard, etc.) is actually off the clock?
So let the President golf, let him go to Martha's Vineyard.
One can argue about the President's performance in office, and I largely think he's done a pretty bad job so far, but to criticize him for stuff like this is petty and stupid. Additionally, wasting blog posts criticizing the President's leisure activities isn't solid political analysis, it's the political hackery no different from what we saw on the left during the Bush Administration. It tells the world that you have nothing of substance to say other than I hate that guy because he's a Democrat/Republican. Then again, this all started with a post at the RNC's blog, so I guess I shouldn't be surprised.