Ivy Ressentiment
Old men still bitter about where they went to college.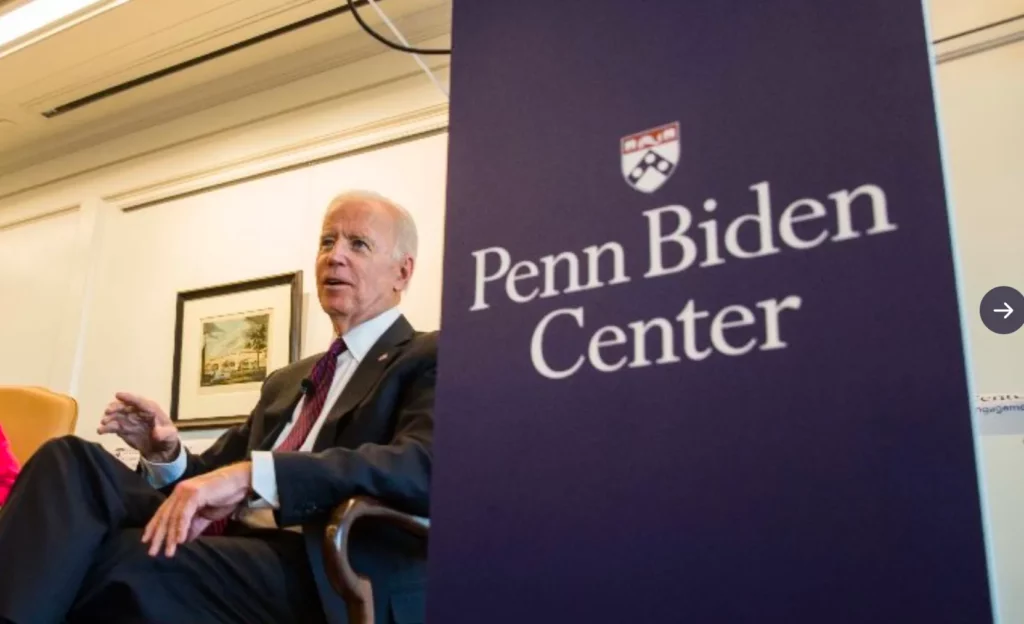 At TNR, Walter Shapiro tsks tsks at "Biden's Ivy League Problem."
Long story short, Joe Biden, who is the only Democratic Presidential nominee in decades without at least one Ivy League degree, helped one of his granddaughters get into Penn while he was a private citizen.
Shapiro admits,
In a world of overhyped fake scandals—where everything is the greatest outrage since Aaron Burr killed Alexander Hamilton—this is a nothing-burger. Many politically connected parents or grandparents have put a thumb on the scale in the effort to score an edge at a prestigious college.
But pivots to
But still, even after adding all the context in the world, this is not a good look for the president. Perhaps Hunter Biden's daughter would have gotten into Penn on her merits during the regular admission period, but thanks to Grandpa Joe's intervention, we will never know. In all likelihood, someone else was denied admission to Penn so there would be a slot for Biden's granddaughter. For Biden, the incident is a reminder that a great strength (his tragedy-marred love of family) can also be a great weakness (his indulgence for Hunter's dicey business dealings in Ukraine and China).
Look, I don't like it. I didn't like when any number of presidential offspring got highly visible, well-paying jobs right out of school almost entirely on the basis of their fame and connections. I especially didn't like it when Hunter Biden got lucrative foreign lobbying jobs solely on the basis of his perceived influence over his father, then the sitting Vice President. Comparatively, his schmoozing the admissions dean to let Hunter's daughter into Penn, presumably at the spot of another rich white kid, is minor.
Still, Shapiro isn't wrong here:
Biden's intervention with the dean of admissions at Penn also provides a window into the president's thinking about power and privilege in America. It connects with a story in What It Takes, which was a book that Biden so loved that he spoke at a 2013 memorial service for its author at the Columbia Journalism School. Sometime in the late 1970s, after Biden had been in the Senate for a few years, he was hanging out in a Wilmington backyard with longtime friends. Out of nowhere, Biden began talking about how he had learned in Washington that "there's a river of power that flows through this country." With passion in his voice, Biden explained, "Some people—most people—don't even know the river is there…. And some people, a few, get to swim in the river all the time." And then Biden moved in for the clincher, "And that river flows from the Ivy League."

Despite his dedication to returning to Delaware on Amtrak every weekday night so that he could be with his growing sons, Biden also accepted the credo of the Washington elite. Biden made sure that his children would always swim in that Ivy League river of power. Beau Biden attended the University of Pennsylvania as an undergraduate, Hunter Biden received his law degree from Yale, and Ashley Biden earned a master's degree in social work from Penn. It is an unalterable truth of life in supposedly meritocratic America—the powerful and the connected want to pass their privilege on to their progeny. And, as Biden recognized nearly a half-century ago, the Ivy League and a few similar schools embody the yellow brick road in America.
Still, I don't see this as a "problem" for Biden. He resents the fact that others had advantages that he didn't have. And he's making damn sure his children and grandchildren have those advantages because, By God, he's earned his way into the elite the hard way.
Mildy ironic? I suppose. But hardly scandalous.
An aside: Granting that he went to school over half a century ago, the idea that Delaware (a state flagship, R1 university) and Syracuse Law (a fairly selective private institution) are somehow indications of a hardscrabble existence amuses me. It's true that a kid with a C average at UD likely wouldn't get into Syracuse Law now. But, again, it's a very different era.
At any rate, Shapiro doesn't seem to be mad at Biden at all. If you read far enough, you get to this:
Colorful Texas Democrat Jim Hightower got it right at the 1988 Democratic convention when he declared that Vice President George H.W. Bush "was born on third base [and] thought he had hit a triple." In late 1999, when his son, Texas Governor George W. Bush, was running for president, The New Yorker published his Yale transcript. Interviewing Bush the following week aboard his campaign plane, I whipped out a tear-sheet from The New Yorker as I asked the third-generation Yale graduate about his 71 percent freshman grade in political science. Bush squinted at the transcript and noted with pride, "Twelve hundred college boards. Not half bad." And then he looked at me, his fellow baby boomer, and said with an edge in his voice, "But I bet you did better, Shapiro." My response: "Yes, I did, Governor. But I didn't get into Yale."

(Full disclosure about the allure of the Ivies: I've now spent the past decade as a lecturer in political science at Yale, based on my University of Michigan education.)
While there's no question the elder Bush had a huge leg up as the scion of an elite New England family (his father would be elected to the US Senate many years later), he was also a star baseball player and WWII hero. I suspect he'd have gotten into Yale, anyway. And—again acknowledging times have changed—Michigan is one of the most prestigious universities in the country.
From time to time, Biden might have used the bully pulpit of the White House to remind Americans how corrosive this obsession with the Ivy League has become for democratic values. This important observation could have built on Jill Biden's career boosting the virtues of community colleges. The president might have even pointed out that he received a fine education at a public university in Delaware. But instead, Joe from Scranton is like every other anxious parent and grandparent seduced by academic prestige. Something is wrong when even the president believes that in contemporary America you can no longer truly succeed on merit alone.
I'm not sure there's a society in human history where having money and connections wasn't advantageous. Beyond that, there's nothing inherently problematic about going to the Ivies. Why, John Adams went to Harvard and Alexander Hamilton went to what is now Columbia. (It's true that George Washington and Thomas Jefferson attended public school at William and Mary; but it was equally as prestigious at the time as one of only six colonial colleges.)
We operate on a myth of meritocracy that is not totally without foundation. It's also true that we actually have less social mobility in this country than in many similarly wealthy countries—not least of which because we have tiered universities that rich people can get their kids into to cement their advantages.