Jeb Bush Defends Conservatism in Weird Online Magazine
The possible presidential contender has an op-ed in a rather dubious outlet.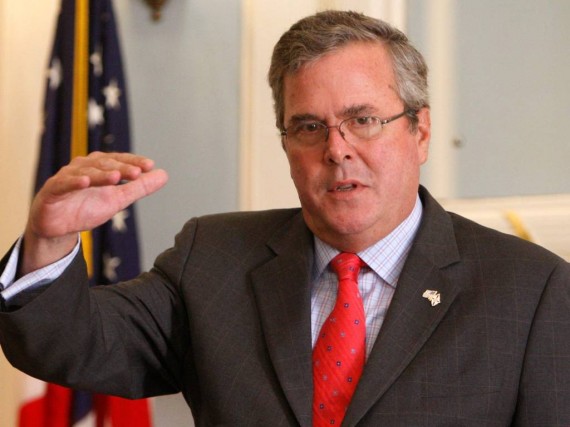 Former Florida governor and possible 2016 Republican presidential contenter Jeb Bush argues that conservative principles are successful at the state level. The narrative is innocuous enough:
The conventional wisdom coming from the 2012 election was the Republican Party is in decline. We lost on messaging, tone and policies that alienated growing minority communities. What that narrative misses is that conservative principles and Republican leadership are thriving in the states, providing the way forward for the GOP.

There now are 30 Republican governors, the highest number in 13 years. In 26 states, Republicans hold a majority of the seats in both the House and Senate chambers.

As many in Washington seek to increase the tax and regulatory burden on businesses, Republican leaders in the states are competing to create business-friendly climates to grow jobs. They are balancing their budgets. They are transforming K-12 education to prepare a new generation of skilled and educated workers.

[…]

Conservative states are creating a climate where entrepreneurs are welcome, people are getting back to work and schools are focusing on the needs of children instead of unions and bureaucracies. People are noticing. A new Pew Research survey shows just 28 percent of Americans rated the federal government positively compared to 57 percent for state government. Half the Democrats in Republican-controlled states were happy with their government.

Four of the most popular governors in the country – Chris Christie of New Jersey, Bob McDonnell of Virginia, Susana Martinez of New Mexico and Brian Sandoval of Nevada – are from states that supported President Obama last year.
The odd thing to me is the venue, something called Rare, an online magazine with the tagline "Red is the center." Presumably, that's red as in Republican, not red as in China. Scanning the headlines on the front page, it looks to be rather amateurish, including such childish gems as "Boo hoo! Reporter whines as Kansas dumps liberalism" and "Lingerie firm launches a line of women's lingerie…for dudes."
Oh, an a piece by editor-in-chief Brett M. Decker arguing that Ty Cobb wasn't the SOB of baseball legend on account of he was nice to one of his grandchildren. Which, really, pretty much makes up for all the violence and racism. (The latter of which, to be fair, he recanted by the early 1950s.)
Now, I don't expect politicians to account for every odd thing that appears in an outlet, especially in the pageview-driven media climate that has the likes of Foreign Policy doing listicles of cats who look like Vladimir Putin. But, surely, Jeb Bush is of sufficient public stature that he can get his views in more respectable venues?