Jeb Bush Is Willfully Blind To The Truth About The Iraq War
Like many Republicans, Jeb Bush continues to be willfully blind to the truth about the Iraq War.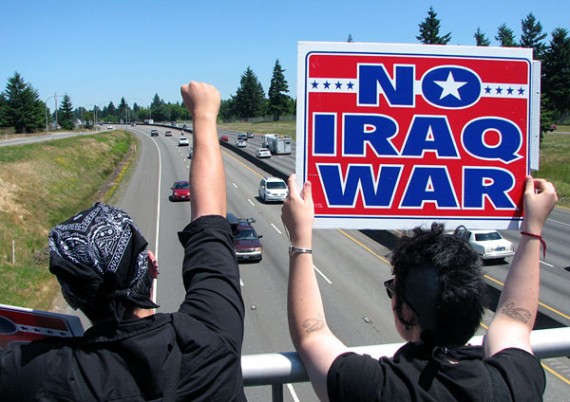 In an interview yesterday, Jeb Bush said that the Iraq War was a success because Saddam Hussein was ousted:
DAVENPORT, Iowa — Jeb Bush is owning his Iraq War problem.

Bush, wrestling with his brother's legacy of the war for the second time in three days, again sought to cast blame on the Obama administration for its failure to achieve a "fragile but secure" peace in the region that has been overrun by ISIS militants.

As he did in his speech Tuesday night outlining his own approach to combating ISIS in Iraq and Syria, the former Florida governor and presidential hopeful glossed over his brother's decision to go to war in Iraq — and while acknowledging that mistakes were made, he seemed to view the war itself in positive terms.

"I'll tell you, taking out Saddam Hussein turned out to be a pretty good deal," the former Florida governor told a crowd of roughly 200 people who attended a forum on national security at St. Ambrose College.

Bush's efforts to present himself as a strong, sensible commander in chief are complicated by the unpopular war his brother waged in Iraq — a war the likely Democratic nominee, Hillary Clinton, supported at the time — and by his own tendency to view it in a more favorable light.

While Democrats are sure to mine Bush's words for attack ad soundbites, the candidate showed no signs of tempering his praise for his brother's war record.

To the contrary, after months of difficulty reconciling the broadly held public view that the Iraq War was a mistake with his own hawkish foreign policy views and an innate unwillingness to rehash and criticize his brother's record, he has settled on a strategy: unapologetically arguing that the war, however misconceived, brought about an opportunity for a more stable Middle East, one that the current Democratic administration squandered.

"I'm not saying this because I'm a Bush," he said. "I'm proud of what he did to create a secure environment for our country."
This isn't the first time that the former Governor of Florida has commented on the Iraq War and his brother's legacy, of course. Back in May before he formally entered the race, Bush told Fox News's Megyn Kelly that he would have invaded Iraq just like his brother did,. This set off a storm of comments and criticisms from across the political spectrum and even from several of Bush's fellow Republican candidates, including not just someone like Kentucky Senator Rand Paul but also Chris Christie and even Ted Cruz. In a short period of time, Bush found himself in the middle of a quagmire over his comments about Iraq and his apparent unwillingness to even slightly question the decisions that his brother and the rest of the Bush Administration made from 2002 going forward. Given the fact that the war cost more than 4,400 American lives and an estimated 115,000 Iraqi lives, cost the United States Government nearly two trillion dollars, and never resulted in the finding of any of the weapons of mass destruction that were supposedly the justification for the conflict to begin with, it's really somewhat remarkable that Bush seems to display not one bit of judgment on this issue. On some level, I suppose it is understandable that he's unwilling to criticize his brother, but in the end family only goes so far and if he wants to be President endorsing what may well be one of the gravest foreign policy mistakes in American history certainly doesn't seem like a smart idea.
Bush's comments this time are particularly galling because they seem to so obviously conflict with reality. Far from making Iraq or the Middle East a more stable place, the removal of Saddam Hussein from power set in motion a series of events that we are still dealing with today and will likely be dealing with well into the future. In the short term, of course, removing Saddam and the entire Ba'ath Party bureaucracy that ran the country led to chaos in the Iraq that resulted in a a civil war that the United States was inevitably dragged into, and which resulted  in most of the American and Iraqi casualties suffered during the war. It also led to the introduction into the country of foreign fighters connected to al Qaeda and other groups that joined with Iraqi insurgents in attacking American forces and Iraqi civilians. One of those groups, al Qaeda in Iraq, eventually became the group we now call ISIS. One can make the case, in fact, that the current situation in Iraq is a direct effect of the Iraq War itself, Internally, the argument that deposing Saddam was good for Iraq is simply nonsense. A multi-ethnic state that was largely the creation of European diplomats at the end of World War One would survive as long as the iron fist of an authoritarian ruler was there to hold it together Once that was removed, the country began to divide along its traditional ethnic lines, with Sunni, Shia, and Kurds all acting in their own interest rather than the interest of a United Nation. Finally, whatever else you might say about Saddam Hussein's Iraq, the one thing that it did well was act as a counterbalance to its neighbor Iran. With that counterbalance removed, Iran's power in the region has been enhanced. Try as he might,  doubt that Bush could argue that this was in the interests of the United States.
As Paul Waldman notes, Bush's comments reveal something both about his own thinking and about Republican foreign policy in general:
And this is perhaps the most dangerous thing about Bush's perspective on Iraq, which can also be said of his primary opponents. They display absolutely no grasp of the internal politics of Iraq, now or in the past, not to mention the internal politics of other countries in the region, including Iran. Indeed, most Republicans don't seem to even believe that these countries have internal politics that can shape what the countries choose to do and how they might react to our actions.

This was one of the key failures of imagination that led to the Iraq disaster in the first place. The Bush administration barely bothered to consider that removing Hussein could trigger internal strife within the country as different factions emerged to struggle for power. It just assumed that we'd bomb the hell out of the place, and then all Iraqis would crawl from the rubble and join hands to create a flourishing, peaceful liberal democracy.

And incredibly, after all that has happened, so many Republicans still don't get it. They continue to believe that the only factor that matters when we approach any new challenge in the Middle East is whether we're sufficiently "strong." Any victory can be achieved, any intricately complex knot can be unraveled, any unintended consequence can be avoided, if only we remain strong and project our strength. They've learned absolutely nothing.
They've learned nothing, and they want the White House back.