Jeb Bush's Presidential Prospects Look Better Than Some Might Think
Bush 2016?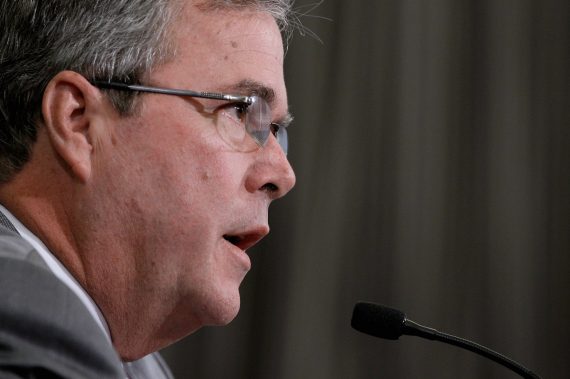 Former President George W. Bush said that he believes his brother wants to enter the race for the White House in 2016:
Former President George W. Bush says he thinks his brother Jeb wants to be in the White House and added that he is pushing his younger sibling to run for president in 2016.

"I think he wants to be president,'" George Bush said on Fox News on Thursday. "I think [Jeb would] be a great president. He understands what it's like to be president."

Jeb Bush has cited his family as a major factor in whether he will seek the Republican nomination and said he plans to make a decision next year. George Bush said he thinks that Jeb has yet to make up his mind about running.

"[Jeb] and I had a conversation. I of course was pushing for him to run for president, he of course was saying, 'I haven't made up my mind,'" the former president said. "I truly don't think he has, and plus I don't think he liked it that his older brother was pushing him."

He added, "He [Jeb] understands what it's like to be president for not only the person running or serving, plus family. He's seen his dad, he's seen his brother. And so, he's a very thoughtful man, and he's weighing his options."
The 43rd President's support for his brother isn't surprising, of course, especially given the fact that he has previously said that he thinks Jeb should have run in 2012. A Jeb Bush run is also supported by former President George H.W. Bush, although perhaps not so enthusiastically by the matriarch of the family, who may be over the whole ordeal of family members running for President at this point. Outside the Bush family, there does seem to be strong indication that a Jeb Bush candidacy in 2016 would be well received by the mainstream of the party and, most importantly, by the big money donors that Bush would need to rely on to run the kind of campaign that could potentially vault him to the nomination. Additionally, Bush himself is sounding more like a Presidential candidate than he has in the past.
It's true, of course, that we've seen Jeb Bush Presidential speculation before, but this time it seems as though both the candidate and his potential supporters might just be more serious about it than in the past. Bush would obviously face a lot of opposition from the more conservative elements in the party and the candidates that they will support, of course, but that wouldn't necessarily be fatal to a potential campaign. For one thing, to an even greater extent than in 2012 there are likely to be a number of candidates vying for the support of the conservative/Tea Party wing of the party to the point where, at least in the beginning, that support is likely to be scattered among several candidates rather than rallying around one. In that kind of environment, a more centrist conservative like Bush would practically have the field to himself which, along with name recognition and the support of the same types of people who were the big financial backers for Mitt Romney in 2012. This is one reason, I suspect, that current speculation is that Romney would only consider running for President again if Bush didn't run. In any case, notwithstanding talk of a disdain for political dynasties and the prospect of another Bush v. Clinton match twenty-four years after the first one, I suspect that Jeb Bush would be a far more formidable candidate for the GOP nomination than those on the right who dislike him would care to admit. The one fly in the ointment for Bush would be if other Republican Governors like Scott Walker, Chris Christie, and John Kaisch entered the race and started performing well since those candidates would be drawing from the same well as Bush by and large. Barring that, though, and assuming he wants to run I would not rule the idea of Jeb Bush being the person who accepts the nomination in at the convention in Cleveland in the early summer of 2016.