Top Republicans Looking To Jeb Bush In 2016
Top Republican donors are starting to look at the former Governor of Florida as their candidate in 2016.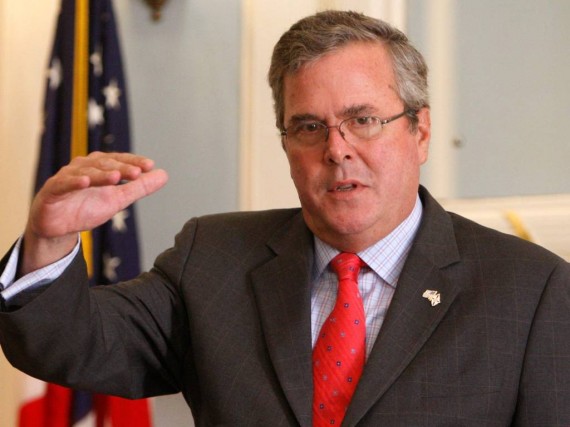 Former Florida Governor Jeb Bush has passed up the chance to run for President twice already. The first time, of course, was in 2008 when the idea of a Bush in the White House for another four to eight years was pretty much off the table, so one could say that Governor Bush was making the politically smart decision in staying out of a race that he probably wouldn't have won anyway. Bush's name came up again, though, in 2012 when some Republican insiders came to doubt Mitt Romney's ability to hold off insurgent candidates like Herman Cain, Rick Santorum, and Newt Gingrich and New Jersey Governor Chris Christie declined to throw his own hat in the ring. Now, as we approach the time when people who are serious about running for President in two years (a race that will essentially begin the day after the 2014 midterm elections), Bush's name is once again being mentioned by top Republicans and, this time, there are at least some indications that the former Florida Governor may follow in the footsteps of his father and brother:
LAS VEGAS — Many of the Republican Party's most powerful insiders and financiers have begun a behind-the-scenes campaign to draft former Florida governor Jeb Bush into the 2016 presidential race, courting him and his intimates and starting talks on fundraising strategy.

Concerned that the George Washington Bridge traffic scandal has damaged New Jersey Gov. Chris Christie's political standing and alarmed by the steady rise of Sen. Rand Paul (Ky.), prominent donors, conservative leaders and longtime operatives say they consider Bush the GOP's brightest hope to win back the White House.

Bush's advisers insist that he is not actively exploring a candidacy and will not make a decision until at least the end of this year. But over the past few weeks, Bush hastraveled the country delivering policy speeches, campaigning for Republicans ahead of the fall midterm elections, honing messages on income inequality and foreign policy, and cultivating ties with wealthy benefactors — all signals that he is considering a run.

Many if not most of 2012 GOP nominee Mitt Romney's major donors are reaching out to Bush and his confidants with phone calls, e-mails and invitations to meet, according to interviews with 30 senior Republicans. One bundler estimated that the "vast majority" of Romney's top 100 donors would back Bush in a competitive nomination fight.

"He's the most desired candidate out there," said another bundler, Brian Ballard, who sat on the national finance committees for Romney in 2012 and John McCain in 2008. "Everybody that I know is excited about it."
A Bush candidacy would not be without its difficulties, of course. Though they don't say so publicly, Republicans are still sufficiently burned from the Bush Administration to likely be reluctant to attach themselves to another Bush brother, even if it happens to be one whose record in office is far batter. Additionally, at least among the Tea Party grassroots of the GOP, Bush is seen as somewhere to the left of Lindsey Graham not withstanding the fact that his actual record as Governor of Florida was fairly conservative on fiscal and other issues. Finally, in the time since he left office Bush has been most closely associated with two issues that have become largely anathema to the base of the Republican Party, immigration reform and education reform. On the first issue, Bush, along with his close political protege Senator Marco Rubio, have been denounced for advocating what the Tea Party crowd, largely falsely, claims to be "amnesty" for people who are in the nation illegally. Indeed, Rubio has suffered politically himself for his support of the immigration reform bill that passed the Senate last year. On the second issue,  Bush's support for so-called "Common Core" standards, which have been to a largely degree falsely portrayed on the right as an effort to increase Federal control of education, would likely also pose a problem for him with conservative voters.
On the other hand, Bush could find himself in the same position Mitt Romney was in 2012. Like Romney, Bush would likely face a field made up of a large number of candidates attempting to appeal to the same group of voters. So far, we've seen 2016 speculation about Rand Paul, Ted Cruz, Rick Santorum, and Mike Huckabee, for example. Without a doubt, other candidates seeking to appeal to the Tea Party/hardcore conservative wing of the GOP will enter the race as well. Meanwhile, assuming for the moment that Bush is the only significant "establishment" candidate in the race, the former Florida Governor would stand virtually alone as the one candidate that the big money donors in the GOP would be most likely to rally behind. As we saw in 2012 once the primaries started, money and a well-organized campaign go a long way in a drawn out primary fight. If the 2016 race gets to the point where Bush is seen as the inevitable nominee, then all of the doubts about his ability to win the party's nomination will disappear and even the activists will rally behind him, just as they rallied behind Romney/Ryan in 2012.