Jeff Bezos Making His Mark At The Washington Post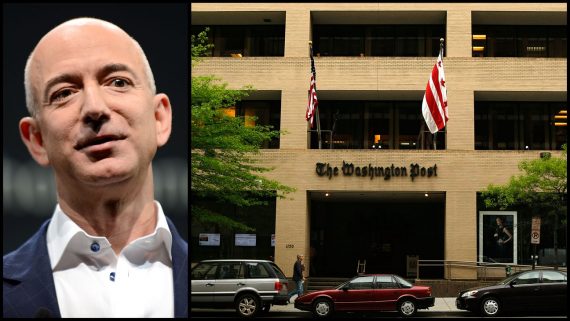 It's been several months now since the surprising sale of The Washington Post to Amazon founder Jeff Bezos, and it appears that we're just now beginning to see the impact that his ownership will have on the paper:
The Washington Post has significantly increased its budget and plans to make dozens of newsroom hires under its new owner, the Amazon founder Jeffrey P. Bezos, the paper's executive editor, Marty Baron, said in an interview on Wednesday.

Mr. Bezos has closely consulted with The Post's leadership in plotting its growth strategy and the moves represent Mr. Bezos's "first mark on the paper," Mr. Baron said.

The Post will introduce several initiatives this year, Mr. Baron said in a memo to his staff on Wednesday. There will be five new politics reporters as well as photo editors, data visualization specialists, news desk staff and web designers. It will add a breaking news desk and a Sunday style and arts section, as well as a revamped Sunday magazine that will be "bigger in dimension and in the number of pages, with a new design and a range of new features."

The plan will be executed quickly — interviews for new hires began weeks ago — and represents "a substantial expansion of the budget," Mr. Baron said, though he declined to provide precise figures.

Shortly after Mr. Bezos bought the paper, Mr. Baron and other senior staff were "asked to come up with ideas for what we wanted to do," Mr. Baron said. In late October, he and several colleagues flew to Bellevue, Wash., to meet with Mr. Bezos and present the plan. There were also conference calls and email exchanges, as well as in-person meetings at The Post's offices in Washington.

Mr. Bezos would "just challenge our assumptions, cause us to rethink things," he said. "He's spent his entire life and his entire career thinking about where the consumer will be in the long run, and where the technology will be in the long run."

The crucial question, and the one that preoccupies Mr. Bezos, Mr. Baron said, is, "How do we produce growth?"

"And obviously our growth," said Mr. Baron, "as well as the growth of institutions like The New York Times is likely to come from the digital arena."
In that regard, we've already seen several interesting moves by the Post on the digital side, such as the announcement in December that Radley Balko, who has long specialized in reporting on police abuse and the War On Drugs, would be joining the staff with his own blog and last week's announcement that The Volokh Conspiracy had become part of the Post's retinue of bloggers and analysts. Just yesterday, the Post announced that it would be bringing on more bloggers and other writers, and that the site would be under going a redesign in the near future:
A memo to staffers from Washington Post Executive Editor Marty Baron outlines some of the paper's plans for the next year.

The news organization plans to hire "writers to author 'verticals' on a wide array of subjects," Baron writes. "These blogs will both deepen our reporting in The Post's traditional areas of concentration and broaden the range of subjects we cover."

The Post also plans to get going on a site redesign, Baron says, and it will expand its Sunday magazine and "introduce a Sunday Style & Arts section that makes a forceful and elegant statement about our strengths in those areas." It will further add a "breaking-news desk that will operate from 8 a.m. until midnight."
The Post did end up losing Ezra Klein and Wonkblog, but that seems to be largely because of a difference of visions about how to proceed, namely the fact that Klein seemed to want $10,000,000 and virtual independence, while the Post apparently felt that it had already given Klein more than enough independence compared to other writers and that a $10 million investment in an uncertain project wasn't in their business interests. On the whole, though, it seems clear that Bezos's purchase of the Post is leading the paper in a digital direction, which isn't entirely surprising given that this is where Bezos has made his mark for the past twenty years.