Joe Biden For Secretary Of State?
According to reports, Vice-President Biden is on a Clinton campaign short list for Secretary of State.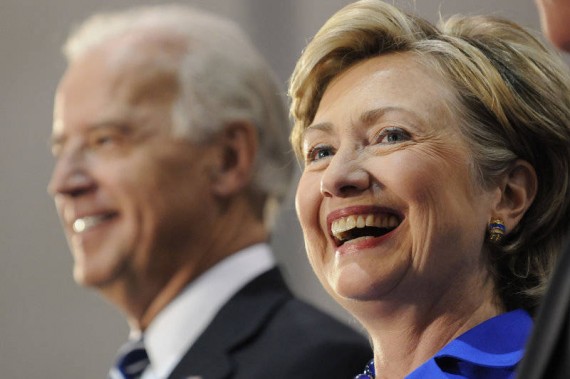 Politico and other news outlets are reporting that Vice-President Biden is reportedly on the Clinton campaign's short list for Secretary of State:
Joe Biden is at the top of the internal short list Hillary Clinton's transition team is preparing for her pick to be secretary of state, a source familiar with the planning tells POLITICO.

This would be the first major Cabinet candidate to go public for a campaign that's insisted its focus remains on winning the election, and perhaps the most central choice for a potential president who was a secretary of state herself.

Neither Clinton, nor her aides have yet told Biden. According to the source, they're strategizing about how to make the approach to the vice president, who almost ran against her in the Democratic primaries but has since been campaigning for her at a breakneck pace all over the country in these final months.

"He'd be great, and they are spending a lot of time figuring out the best way to try to persuade him to do it if she wins," said the source familiar with the transition planning.

The vice president, who chaired the Senate Foreign Relations Committee before joining the administration, is one of the most experienced and respected Democrats on the world stage. He's also coming to what would be the close of a 44-year career in Washington, first with six terms in the Senate and then two terms as President Barack Obama's closest adviser — and the keeper of the portfolio on some of the most difficult international issues, including Iraq and Ukraine.

Those will carry over to the next administration, as will a concern within Clinton's circle and throughout the current White House that Donald Trump's campaign has created lasting damage to America's relationships around the world.

Biden's already been deployed to mitigate that damage by Obama. In August, he traveled to Latvia to assure NATO allies that America's commitment to them will hold, despite Trump's questioning of the alliance's value and worries especially within the Baltic region about Russian aggression.

Just on Monday, on a stop at a Clinton campaign office in Toledo, Biden said that he'd spoken to the Latvian president, who'd urged him to come to Europe and reassure people that if Russia invades, NATO will defend them.

At that same stop, Biden said he'd hoped to continue some level of involvement in domestic and foreign policy, but added, "I may write a book. This might disappoint you, it won't be a tell-all book."

(…)

In Biden, Clinton would be tapping a seasoned hand on foreign policy, a glad-handing pol with a long memory and a well of deep relationships around the globe.

But she'd also be choosing someone with whom she repeatedly clashed as secretary of state, with the vice president often playing the skeptic while she supported more aggressive action. They differed over leaving troops in Iraq, the surge in Afghanistan, and whether to arm Syria's rebels and bomb Libya — and Clinton took the more hawkish line in every case. During the Obama administration's lengthy review of Afghanistan policy early in his tenure, for instance, a skeptical Biden urged the president not to escalate the war, while Clinton backed Gen. Stanley McChrystal's request for 40,000 more troops.
Given Biden's experience in foreign policy, both as a Senator and as Vice-President, it's easy to see why his name might end up on the short list of a Democratic President for a position such as Secretary of State. There are few people in Washington who have as much experience in this area as Biden does, after all, and it was largely because of that experience that President Obama selected him as his running mate in 2008 to begin with. Additionally, one gets the impression from watching recent interviews with the Vice-President that he's of two minds about the fact that his career in public service might essentially be coming to an end in  January, so it's possible that something like this might appeal to him. At the same time, though, it's worth noting that Biden will turn 74 years old shortly after Election Day, and that he'd be 78 by the time the first term of a Clinton Presidency would come. Given the turmoil his family has been through over the past two years with the death of Beau Biden and the obviously difficult decision that Biden himself made not to run for President just last year, it's possible that he retiring to write a book may be exactly what he wants to do, Additionally, as much as Hillary Clinton says on the campaign stump that she's running to preserve the legacy of President Obama, she's going to have a decided interest in charting her own course. It would be somewhat difficult to do that if her Secretary of State is Obama's own Vice-President, who sometimes disagreed with her on foreign policy issues when she served as Secretary of State.
If Biden isn't the choice for what many consider the most important of all the Cabinet positions, then it appears the other names on the list consists mainly of Democratic foreign policy experts:
Among the names most discussed: former undersecretary of state Wendy Sherman, the point person on the Iran deal and a favorite within the State Department; former Deputy Secretary of State Bill Burns, who now heads the Carnegie Endowment for International Peace; Nick Burns, the former under secretary of state of political affairs under George W. Bush who's been an active advocate for Clinton this year; Kurt Campbell, Clinton's assistant secretary of state for East Asian and Pacific Affairs when she was in the job; Strobe Talbott, the deputy secretary of state during Bill Clinton's first term and a longtime friend of the Clintons who's now the president of the Brookings Institution; and James Stavridis, the retired admiral who earlier this summer made it into consideration as the sleeper pick to be her running mate.
As Politico notes, picking one of those names wouldn't come with the 'star power' of recent Secretary of State picks such as Colin Powell, Condleeza Rice, Clinton herself, and Senator John Kerry, but perhaps it's better that the person occupying that position be someone well-versed in foreign affairs rather than someone picked due to the headlines that selecting them might generate.
Finally, there's one line from this morning's Politico piece that amused me, "Neither Clinton, nor her aides have yet told Biden." Well, he knows now.