Joe Biden Thinks Joe Biden Would Have Been A Darn Good President
Regrets, he's had a few.......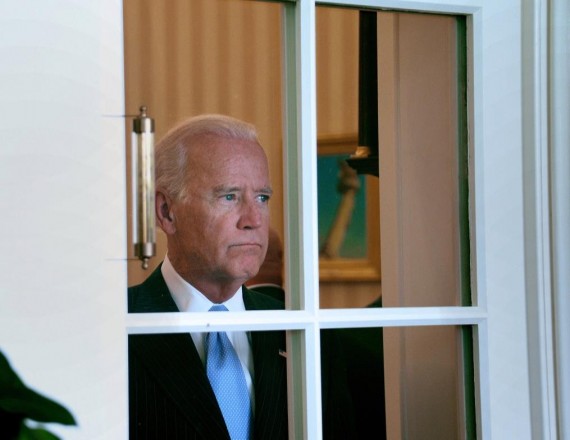 Even as he joins President Obama in coming as close as you can to endorsing Hillary Clinton without officially endorsing her just yet, Vice-President Joe Biden continues to speak with some regret about his decision not to run for President a third time:
Vice President Joe Biden is confident Hillary Clinton will win the Democratic nomination and ultimately the White House, but still believes he would be a better president.

"I had planned on running. It's an awful thing to say: I think I would have been the best president," Biden told Robin Roberts in an interview with ABC's "Good Morning America" that aired Wednesday.

But ruling out a White House run in 2016 was the right decision for Biden and his family, he said. "No one should ever seek the presidency unless they're able to devote their whole heart and soul and passion into just doing that," said Biden, who announced in October following the death of his son that he would not be pursuing the presidency. "And Beau was my soul. I just wasn't ready to be able to do that."

Biden acknowledged that Donald Trump, the presumptive Republican presidential nominee, has been underestimated since he launched his campaign last summer but signaled that his approach — which prevailed against 16 Republican rivals — won't be as effective against Democratic front-runner Hillary Clinton.

"I think what's gonna happen here is that the constant attack coming from [the] Republican side, the sort of vitriol that's pouring out, I don't think that's gonna fare well over the next several months," Biden said. "So I feel confident that Hillary will be the nominee, and I feel confident she'll be the next president."
Given the fact that Biden is coming to the end of a career in politics that began forty-six years ago when he was elected to the County Council for New Castle County, Delaware and included two prior ill-fated runs for the Presidency that, most people would agree, have been at least somewhat vindicated by a successful eight years as Vice-President, it's no surprise that that Biden is looking back at his October decision to forego a Presidential run with some degree of regret. Clearly, had it not been for his son's illness and death earlier last year, Biden most likely would have entered the race and it's easy for someone to conclude given the success Bernie Sanders has seen that the Vice-President would have been a formidable force in such a race. Personally, I'm not so sure that Biden would have been as strong a candidate as he obviously likes to think. For one thing, it's hard to see what constituency inside the Democratic Party he would have been able to rely upon in the manner that Hillary Clinton's primary campaign has been built on support from mainline Democrats, women, and minorities and Bernie Sanders has built his campaign on support from younger voters and the Democratic Party's progressive wing. Biden, perhaps, would have relied on white, blue color males as his base of support, but that group has largely been fairly loyal to Clinton. Second, in all honesty Biden's two bids for the White House indicate quite clearly that he isn't necessarily the greatest campaigner on the national stage on his own and there's little reason to believe that would've changed in 2016. Yea, he comes across as a nice, genuine guy as Vice-President but that image would have changed quickly under the lights of a Presidential campaign. Perhaps the calculus would be different if Hillary Clinton had not decided to run this time around, but of course in that case a potential Biden candidacy would have had to compete with any number of younger Democratic politicians who sat 2016 out in deference to Clinton, or simply because her campaign appeared to be so strong a year ago that getting into the race seemed foolish to everyone except Lincoln Chafee, Jim Webb, Martin O'Malley, and a certain socialist Senator from Vermont.
On a final note, one thing that interviews like this with both the Vice-President and President Obama indicate just how eager they are to hit the campaign trail for Clinton and begin the attacks on Donald Trump that we'll no doubt hear from them. As is traditionally the case, they are both sitting the race out until the primary process has resulted in a presumptive nominee, but once that happens we can expect them, and a host of other Democratic surrogates to be unleashed across the country to both rally support for Clinton and attack Trump. Given the wide target that Trump represents and the three decades worth of material on him, it's going to be quite entertaining.