John Hurt, Award-Winning British Actor, Dies At 77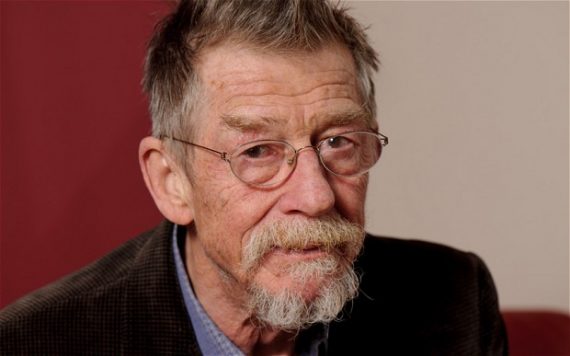 John Hurt, the award-winning British actor know for everything from his starring role in "The Elephant Man" to his appearance in science fiction classics such as "Alien" and "Doctor Who," has died at the age of 77:
John Hurt, an unprepossessing British character actor who vanished inside dozens of roles, from Shakespeare to science fiction, including John Merrick, the hideously deformed title character in the 1980 film "The Elephant Man," died on Wednesday in Norfolk, England. He was 77.

His wife, Anwen Hurt, confirmed his death. In June 2015, Mr. Hurt disclosed that he had pancreatic cancer.

Mr. Hurt was a rising stage actor in England in the 1960s but spent most of the remainder of his career compiling a long résumé in movies and on television. A chameleon of a performer, physically unimposing but with a rich, melodic voice, he played a number of leading roles, though he could never be described as a leading man. Critics often seemed challenged to explain the appeal of his presence.

In "The Naked Civil Servant" (1975), seen first on television in England, he was Quentin Crisp, a flame-haired raconteur and social butterfly whose forthright flamboyance as a gay man helped push the acceptance of homosexuality in Britain.

In a 1979 BBC mini-series, he was Dostoyevsky's Raskolnikov, the brooding, conscience-stricken killer in "Crime and Punishment." And in Michael Radford's 1984 adaptation of George Orwell's dystopian classic "1984," he was Winston Smith, the protagonist. Mr. Hurt's pallor, fearful expression and prominent ears made him an especially feral and unromantic rebel.

"His countenance is fishy and bizarre," Cintra Wilson wrote in Salon in 2004. "He has dark, verminous little eyes, a smirky little mouth full of nicotine-varnished teeth, and that British complexion that evokes a poached worm. Even in his early films, he has eye bags and looks like he put on a face that was at the very bottom of his laundry basket. His body, when it isn't a little overindulged around the abdomen, is scrawny. He has never, in any role, looked particularly masculine. The characters he plays are generally weak, immoral, murderous, slimy or insane. Yet to gaze upon John Hurt, in almost any role, is to feel a drooly adoration; he is irresistible."

Frequently cast in fantasy films as a credibly real character, Mr. Hurt could be kindly or cruel. He was the wand expert, Mr. Ollivander, in several Harry Potter films, and the führer-like dictator of a barely familiar England in the futuristic "V for Vendetta" (2005).

Mr. Hurt slipped so easily into makeup that it often seemed a form of disguise. Professorially bearded with a Brillo pad of silver hair, he was almost unrecognizable as Trevor Bruttenholm, the British paranormal expert who discovers the young title demon in the sci-fi thriller "Hellboy" (2004).

In "The Elephant Man," a film that also starred Anthony Hopkins and Anne Bancroft (it had no connection with Bernard Pomerance's stage play of the same name), Mr. Hurt found the apotheosis of this quality, the subordination of his own physical being to the character's. In the role of John Merrick, which required hours of makeup application before each day's filming, he was unrecognizable as the monstrous-looking but gentle sufferer of a rare affliction that enlarged his head, twisted his musculature and hampered his speech and mobility.

For the calm dignity he brought to this performance — a powerful reproof to those who demonized and humiliated Merrick — Mr. Hurt was rewarded with an Oscar nomination for best actor, critical plaudits and the admiration of the film's director, David Lynch, who said 10 years later, in an interview in The New York Times Magazine: "John Hurt is simply the greatest actor in the world." (Robert De Niro won the best actor award in 1981.)

Though Mr. Hurt was more familiar to audiences in Britain, where he was knighted in 2015, his work there found its way to recognition across the Atlantic as well. He appeared as Richard Rich, a young man in pre-Elizabethan England who yields to his ambition and betrays Sir Thomas More in the film "A Man for All Seasons" (1966). In 1983, he gave an acclaimed performance as the Fool in a television production of "King Lear," with Laurence Olivier in the title role.

And in "Scandal" (1989), he played an affable go-between who paired pretty girls with powerful men in a true-story, tabloid-fodder episode known as the Profumo affair, which ended the career of Britain's secretary of state for war, John Profumo, and tainted the conservative government of Prime Minister Harold Macmillan.

Mr. Hurt began appearing with greater frequency in American films in the late 1970s. The spur was the American broadcast, on PBS, of "I, Claudius," a BBC series based on Robert Graves's novels about the Roman empire. Mr. Hurt played the depraved, bloodthirsty emperor Caligula.

Some of his movie parts were in Hollywood trifles; in one, "King Ralph" (1991), he was the stodgily irate English opposition to the ascension to the English throne of an American yokel (John Goodman). But even before "The Elephant Man," he was nominated for an Oscar for his supporting role as a self-lacerating drug addict imprisoned in Turkey in "Midnight Express" (1978).

Mr. Hurt achieved cult status in Ridley Scott's "Alien" in 1979 as Kane, the first victim of the title space creature, who emerges bloodily from his chest. Testament to his appeal as a sacrificial lamb, it was one of many gruesome deaths Mr. Hurt suffered on film; he was stabbed, shot, hanged and burned to a crisp, all more than once. Indeed, in "Spaceballs," Mel Brooks's 1987 spoof, he reprised Kane's death: As the little monster explodes from his rib cage, he says with some exasperation, "Oh, no, not again."

John Vincent Hurt was born in Chesterfield, Derbyshire, England, on Jan. 22, 1940. His father was an Anglican clergyman; his mother an engineer.

John appeared in school plays, often in female roles because, he said, he was small and his voice was high. His parents approved of his acting, but not as a profession — "They thought it represented something risqué and populist; it was out of the question," he told The New York Times Magazine in 1990 — and they sent him to art school instead.

He later auditioned for and was accepted by the Royal Academy of Dramatic Art in London. He made his film debut in 1962 in "The Wild and the Willing," a drama about academic life in which he played the feckless roommate of a rebellious student played by Ian McShane. The same year, he appeared onstage at the Royal Shakespeare Company in "Infanticide in the House of Fred Ginger," a controversial work that ended with the gratuitous killing of a child.

Through the 1960s and early '70s, his London stage credits included Harold Pinter's "The Caretaker" and "The Dumb Waiter"; Tom Stoppard's "Travesties"; and John Osborne's "Inadmissible Evidence," which starred Nicol Williamson.

His film credits during this time included the lead role in "Sinful Davey" (1969), a John Huston film based on the autobiography of a 19th-century Scottish rogue; and "10 Rillington Place," a 1971 drama based on the crimes of a real-life London serial killer, John Christie. Mr. Hurt played Timothy Evans, who in 1950 was wrongly convicted of some of Mr. Christie's crimes and executed.

His theater career had a resurgence in the 1990s. He appeared in London in Turgenev's "A Month in the Country" with Helen Mirren. Later, at the Gate Theater in Dublin, he took on the title (and only) role in "Krapp's Last Tape," Samuel Beckett's nostalgia-eviscerating portrait of a 69-year-old man revisiting his earlier life by means of listening to an old tape recording. It became a signature role. He performed it in London and appeared in a film version, directed by Atom Egoyan, before making his New York theatrical debut with it at age 71 at the Brooklyn Academy of Music in 2011.

"By now Mr. Hurt has the crusty Krapp thoroughly in his well-versed actor's bones, and there isn't a moment in his performance in which he is not fully inhabiting the corroded soul of the unforgettable character," Charles Isherwood, who had seen Mr. Hurt in the role in London 11 years earlier, wrote in The New York Times. "The performance has only grown more prickly, funny and moving with age."
Later in his career, before it was publicly revealed that he was suffering from the pancreatic cancer that apparently led to his death, Hurt played a crucial role in the 50th Anniversary episode of the long-running British science-fiction show "Doctor Who" where he turned in a performance that dominated the small screen as much as he had dominated the movie screen in the past. It was among his final performances and a fitting end to a long and accomplished career.