John Lewis Dead at 80
A civil rights legend has passed.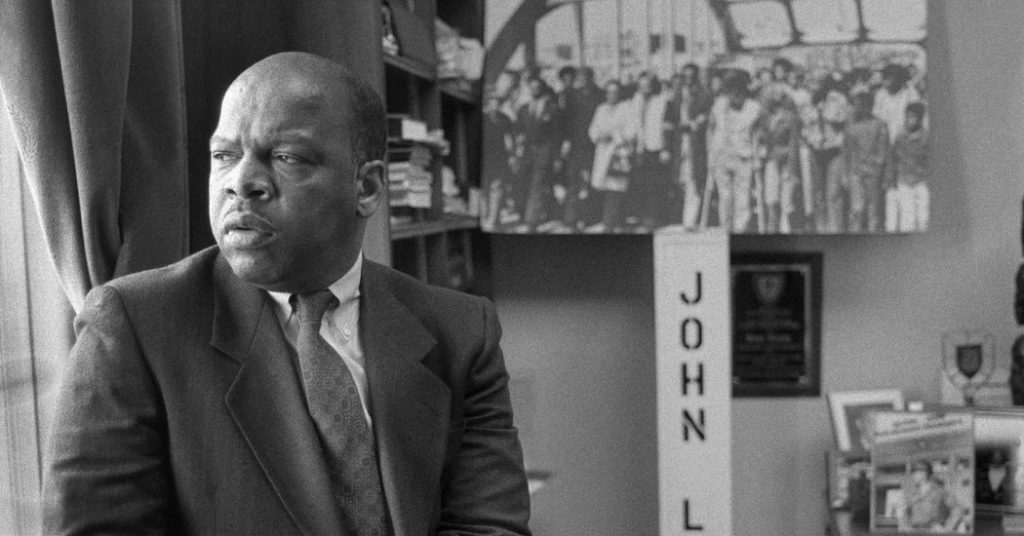 NYT ("John Lewis, Towering Figure of Civil Rights Era, Dies at 80"):
Representative John Lewis, a son of sharecroppers and an apostle of nonviolence who was bloodied at Selma and across the Jim Crow South in the historic struggle for racial equality, and who then carried a mantle of moral authority into Congress, died on Friday. He was 80.

His death was confirmed in a statement by Nancy Pelosi, the speaker of the House of Representatives.

Mr. Lewis, of Georgia, announced on Dec. 29 that he had Stage 4 pancreatic cancer and vowed to fight it with the same passion with which he had battled racial injustice. "I have been in some kind of fight — for freedom, equality, basic human rights — for nearly my entire life," he said.

On the front lines of the bloody campaign to end Jim Crow laws, with blows to his body and a fractured skull to prove it, Mr. Lewis was a valiant stalwart of the civil rights movement and the last surviving speaker at the historic March on Washington for Jobs and Freedom in 1963.

More than a half-century later, after the killing in May of George Floyd, a Black man in police custody in Minneapolis, Mr. Lewis welcomed the resulting global demonstrations against police killings of Black people and, more broadly, against systemic racism in many corners of society. He saw those protests as a continuation of his life's work, though his illness had left him to watch from the sidelines.

"It was very moving, very moving to see hundreds of thousands of people from all over America and around the world take to the streets — to speak up, to speak out, to get into what I call 'good trouble,'" Mr. Lewis told "CBS This Morning" in June.

"This feels and looks so different," he said of the Black Lives Matter movement, which drove the anti-racism demonstrations. "It is so much more massive and all inclusive." He added, "There will be no turning back."
WaPo ("John R. Lewis, front-line civil rights leader and eminence of Capitol Hill, dies at 80"):
John R. Lewis, a civil rights leader who preached nonviolence while enduring beatings and jailings during seminal front-line confrontations of the 1960s and later spent more than three decades in Congress defending the crucial gains he had helped achieve for people of color, has died. He was 80.

His death was announced in statements from his family and from House Speaker Nancy Pelosi. Advisers to senior Democratic leaders confirmed that he died July 17, but other details were not immediately available.

Mr. Lewis, a Georgia Democrat, announced his diagnosis of pancreatic cancer on Dec. 29 and said he planned to continue working amid treatment. "I have been in some kind of fight — for freedom, equality, basic human rights — for nearly my entire life," he said in a statement. "I have never faced a fight quite like the one I have now."

His last public appearance came at Black Lives Matter Plaza with D.C. Mayor Muriel E. Bowser (D) on a Sunday morning in June, two days after taping a virtual town hall online with former president Barack Obama.

While Mr. Lewis was not a policy maven as a lawmaker, he served the role of conscience of the Democratic caucus on many matters. His reputation as keeper of the 1960s flame defined his career in Congress.

When President George H.W. Bush vetoed a bill easing requirements to bring employment discrimination suits in 1990, Mr. Lewis rallied support for its revival. It became law as the Civil Rights Act of 1991. It took a dozen years, but in 2003 he won authorization for construction of the National Museum of African American History and Culture on the Mall.

In 2012, when Rep. Paul C. Broun (R.-Ga.) proposed eliminating funding for one aspect of the Voting Rights Act, Mr. Lewis denounced the move as "shameful." The amendment died.

Mr. Lewis's final years in the House were marked by personal conflict with President Trump. Russia's interference in the 2016 election, Mr. Lewis said, rendered Trump's victory "illegitimate." He boycotted Trump's inauguration. Later, during the House's formal debate on whether to proceed with the impeachment process, Mr. Lewis had evinced no doubts: "For some, this vote might be hard," he said on the House floor in December 2019. "But we have a mandate and a mission to be on the right side of history."
Former President Barack Obama issued a statement on Lewis' passing:
America is a constant work in progress. What gives each new generation purpose is to take up the unfinished work of the last and carry it further — to speak out for what's right, to challenge an unjust status quo, and to imagine a better world.

John Lewis — one of the original Freedom Riders, chairman of the Student Nonviolent Coordinating Committee, the youngest speaker at the March on Washington, leader of the march from Selma to Montgomery, Member of Congress representing the people of Georgia for 33 years — not only assumed that responsibility, he made it his life's work. He loved this country so much that he risked his life and his blood so that it might live up to its promise. And through the decades, he not only gave all of himself to the cause of freedom and justice, but inspired generations that followed to try to live up to his example.

Considering his enormous impact on the history of this country, what always struck those who met John was his gentleness and humility. Born into modest means in the heart of the Jim Crow South, he understood that he was just one of a long line of heroes in the struggle for racial justice. Early on, he embraced the principles of nonviolent resistance and civil disobedience as the means to bring about real change in this country, understanding that such tactics had the power not only to change laws, but to change hearts and minds as well.

In so many ways, John's life was exceptional. But he never believed that what he did was more than any citizen of this country might do. He believed that in all of us, there exists the capacity for great courage, a longing to do what's right, a willingness to love all people, and to extend to them their God-given rights to dignity and respect. And it's because he saw the best in all of us that he will continue, even in his passing, to serve as a beacon in that long journey towards a more perfect union.

I first met John when I was in law school, and I told him then that he was one of my heroes. Years later, when I was elected a U.S. Senator, I told him that I stood on his shoulders. When I was elected President of the United States, I hugged him on the inauguration stand before I was sworn in and told him I was only there because of the sacrifices he made. And through all those years, he never stopped providing wisdom and encouragement to me and Michelle and our family. We will miss him dearly.

It's fitting that the last time John and I shared a public forum was at a virtual town hall with a gathering of young activists who were helping to lead this summer's demonstrations in the wake of George Floyd's death. Afterwards, I spoke to him privately, and he could not have been prouder of their efforts — of a new generation standing up for freedom and equality, a new generation intent on voting and protecting the right to vote, a new generation running for political office. I told him that all those young people — of every race, from every background and gender and sexual orientation — they were his children. They had learned from his example, even if they didn't know it. They had understood through him what American citizenship requires, even if they had heard of his courage only through history books.

Not many of us get to live to see our own legacy play out in such a meaningful, remarkable way. John Lewis did. And thanks to him, we now all have our marching orders — to keep believing in the possibility of remaking this country we love until it lives up to its full promise.
Lewis lived to a ripe, old age and was one of the most admired men in American public life. He began his career marching so that men who looked like him could vote and wound up not only in Congress but seeing a Black man inaugurated President and awarding him our nation's highest civilian honor.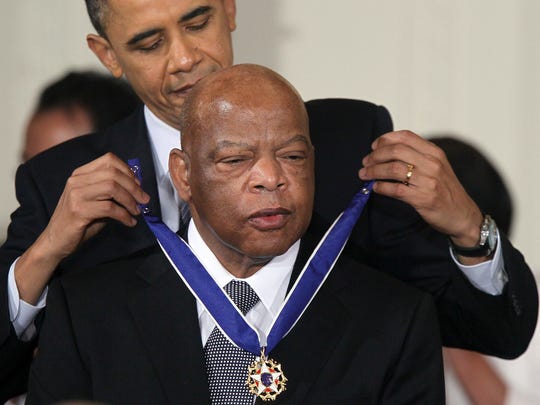 That's really quite remarkable.