John McCain In Trouble in Arizona?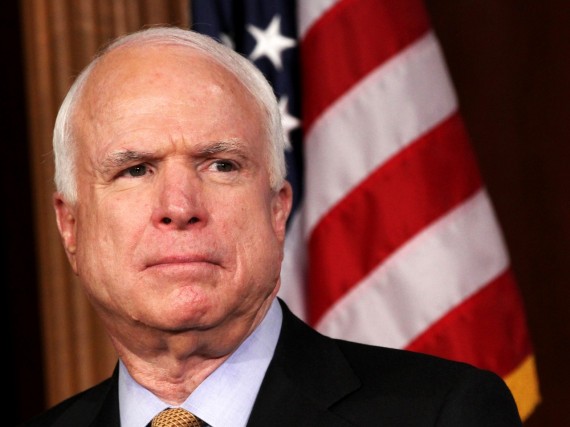 John McCain seems to be headed for the toughest re-election fight of his political career:
Sen. John McCain (R-Ariz.) is facing a tough reelection bid while fighting unfavorable ratings,according to a new poll.

The survey from the left-leaning Public Policy Polling (PPP) released Tuesday found that McCain leads the Republican primary field with 39 percent, followed by former state Sen. Kelli Ward, who has 26 percent. The other three GOP candidates are polling in the single digits.

But in a hypothetical head-to-head match-up, McCain ties Ward with 41 percent.

The incumbent GOP senator also has an unfavorable rating among Republican primary voters, pollsters found, with 35 percent viewing him favorably and 50 percent giving him an unfavorable rating. He fares worse among those who describe themselves as "very conservative."

If McCain wins the primary, his prospects in the general election are far from certain. He leads Rep.Ann Kirkpatrick (D-Ariz.) by 6 points, 42 to 36 percent, but has a similar unfavorable rating among all Arizona state voters.

If Ward wins the GOP nomination, however, the general election race is even tighter. She leads Kirkpatrick, 37 to 35 percent.

"John McCain's going to have a hard time getting through the Republican primary," Dean Debnam, president of Public Policy Polling, said in a statement. "Even if he does survive Kelli Ward, the general election's likely to be tough for him too."
The General Election could be tough for any Republican in Arizona, of course, thanks to the fact that Donald Trump is at the top of the ticket and Arizona is a state where the Latino vote is having an expanded influence with each election. McCain has responded to this by generally distancing himself from Trump in the weeks since it became apparent that the New York businessman would be the nominee. In the end, that may not be sufficient, though.
Notwithstanding all of this, it's worth noting that McCain has faced troubles before only to emerge triumphant. Six years ago, McCain faced a strong Tea Party challenge thanks in no small part to his support for immigration reform. In the end, he won his primary over former Congressman J.D. Hayworth and another candidate rather easily and easily defeated his Democratic opponent that November. So, don't count McCain out just yet. But this race is one worth keeping an eye on since a Republican loss here could make it hard for the GOP to hold on to control of the Senate.