John McCain Cruises To Primary Victory
As expected, John McCain easily defeated his primary opponent yesterday.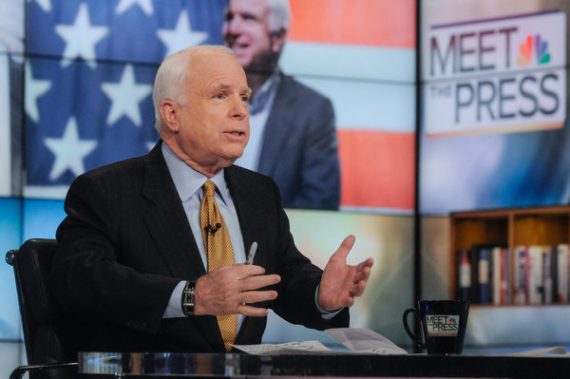 At one point during the 2016 election cycle, John McCain was seen as one of the Republican Senators most vulnerable to a primary challenge. As I noted earlier this week, McCain has been a target of the hard right in the Republican Party ever since he backed comprehensive immigration reform in the mid-2000s, and the failure of a similar attempt to unseat him six years ago only seemed to make Tea Party and other forces more intent on getting him this time around. Additionally, McCain has been among those Republicans who has been most critical of Presidential nominee Donald Trump, although he has said publicly that he supports the party nominee. Unlike six years ago when he faced something of a gadfly opponent in the form of former Congressman J.D. Hayworth this time around he was challenged by Kelli Ward, a more credible albeit incredibly inexperienced one-term state legislator who had the backing of Tea Party and Trump supporters. In the end, though, McCain made quick work of Ward and now looks ahead to a November battle with Congresswoman Ann Kirkpatrick:
In the end, it wasn't even close.

Republican Sen. John McCain won an easy victory over his primary challenger on Tuesday in Arizona, defeating former state Sen. Kelli Ward — the most prominent anti-incumbent Senate primary challenger of 2016 — by a double-digit margin. McCain had 55 percent of the GOP vote to Ward's 35 percent when The Associated Press called the race soon after it started tallying the votes.

It was an anticlimactic victory for McCain, who was seen at the beginning of the election cycle as the Republican senator most vulnerable to a challenge from the right. A Public Policy Polling survey last year prompted intense speculation about McCain's future when it found 50 percent of Arizona GOP primary voters disapproving of his job performance.

But, in an early blow to her candidacy, Ward never earned the support of the conservative groups that had been involved in successful challenges to GOP senators like Indiana's Richard Lugar, and she struggled to compete against the better-financed McCain. Senate Conservatives Fund, which warned in a fundraising letter last year that McCain was "in real trouble," didn't endorse her. Neither did the Club for Growth, the best-funded conservative outside group.

"When we looked at the Arizona Senate race early on, we saw candidates like [GOP Reps.] Matt Salmon and David Schweikert could have a path to victory," Club for Growth President David McIntosh said.

But Salmon and Schweikert both declined to run, and the Club didn't see a way for Ward to bring down McCain.

The Arizona senator's allies, meanwhile, started maneuvering more than two years ago to ensure McCain defeated his primary opponent, no matter who it was. After the Arizona Republican Party censured McCain in 2014, McCain's allies worked to purge the state party of potential troublemakers and replace them with McCain loyalists.

A super PAC backing McCain, Arizona Grassroots Action PAC, poured nearly $2.7 million into the primary. The U.S. Chamber of Commerce spent another $1.2 million.

"Regardless of opponent, this was always going to be a tough race," said Jon Seaton, a GOP operative who worked on McCain's presidential campaign eight years ago and took charge of Arizona Grassroots Action PAC with another McCain veteran, Christian Ferry. "It's the reason we started laying the groundwork so early. A segment of the Arizona primary electorate opposes John McCain almost no matter who he's running against."

The super PAC gave McCain the cover to focus on his presumed general election opponent, Democratic Rep. Ann Kirkpatrick. While McCain started attacking her months ago, Arizona Grassroots Action delighted in calling attention to Ward's affinity for conspiracy theories, mocking her for supporting "oddball bills" in a digital ad last year. The bulk of the super PAC's TV ads were devoted to painting Ward as an unsteady voice on terrorism and national security — issues that happen to be strengths of McCain's.
In the end, Ward was even less of a challenge than Hayworth had been, but that was likely thanks to the fact that most outside Tea Party groups had abandoned Arizona a long time ago when it was apparent that McCain would easily win re-election. In any case, McCain now heads into a General Election battle with a stronger Democratic opponent than he has faced in most of his re-election battles to date. So far, the polling of the race between McCain and Congresswoman Kirkpatrick has been sparse, but it nonetheless shows McCain in a good position. A recent CNN/ORC poll, for example, gives McCain a thirteen point advantage, and he has an eight point advantage in the RealClearPolitics average. To be fair, that number is somewhat suspect given the limited number of polls that have been taken in the state gives the CNN/ORC numbers an outsized influence right now. Presumably, that will change if and when other polling agencies decide to start polling in the state.
As with Rubio and other Senators, of course, it's possible that John McCain could face troubles from the presence of Donald Trump at the top of the ticket. McCain has said that he supports the party nominee, although he did not attend the Republican National Convention and is unlikely to campaign with Trump this fall, and this will likely be used against him by Democrats going forward. Presently, Trump has a narrow lead in Arizona in both a head-to-head match and a four-way race, but his margins are far smaller than those by which Republicans have won in the state in most of the recent past. Because of this, Democrats are likely to focus on the top of the ticket in an effort to hurt McCain going forward. Whether it works or not remains to be seen, but at the moment I'd say that McCain is probably a safe bet to keep his seat regardless of what happens at the Presidential level.