Journalist Gwen Ifill Dies At 61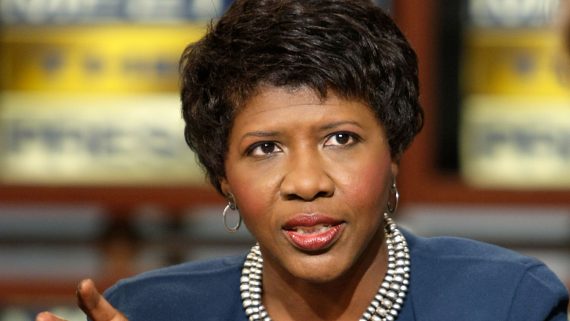 Gwen Ifill, a print journalist who made the transition to television late in her career only to become a huge success in a very quick period of time, has died at the age of 61 after a battle with cancer:
Gwen Ifill, a groundbreaking journalist who covered the White House, Congress and national campaigns during three decades for The Washington Post, The New York Times, NBC and, most prominently, PBS, died on Monday at a hospice in Washington. She was 61.

The cause was complications of uterine cancer, her brother Roberto said.

In a distinguished career, Ms. Ifill was in the forefront of a journalism vanguard as a black woman in a field dominated by white men.

She achieved her highest visibility most recently, as the moderator and managing editor of the public affairs program "Washington Week" on PBS and the co-anchor and co-managing editor, with Judy Woodruff, of "NewsHour," competing with the major broadcast and cable networks for the nightly news viewership. They were the first all-female anchor team on network nightly news.

Last spring, she and Ms. Woodruff were the moderators of a Democratic primary debate between former Secretary of Stat

She also wrote "The Breakthrough: Politics and Race in the Age of Obama," a book published the day President Obama was inaugurated in 2009.

Speaking at a news conference on Monday, the president said, "Gwen was a friend of ours. She was an extraordinary journalist; she always kept faith with the fundamental responsibilities of her profession: asking tough questions, holding people in power accountable, and defending a strong and free press that makes our democracy work."

Ms. Woodruff, in a phone interview on Monday, described Ms. Ifill as "a fiend about facts" who "loved storytelling and loved helping people understand what was going on in the world around them."

She added, "For young women of color looking for a role model, she was it."

Ms. Ifill had taken a monthlong leave from her PBS programs this year without disclosing her medical condition. She went on leave again a week ago, missing election-night coverage.

On Oct. 7, though, in an online column for PBS titled "The End Is in Sight," she volunteered some parting wisdom for candidates that, unwittingly, might have proved prescient for Mrs. Clinton.

"Once a candidate, they can no longer claim outsider status, and he or she begins to look more ambitious than chaste," Ms. Ifill wrote. "Hillary Clinton was a popular secretary of state, but now she is just Hillary Clinton. There's something about actually wanting a thing that makes voters think less of you."

The daughter of Caribbean immigrants, Ms. Ifill said she had known since she was 9, growing up in the tumultuous 1960s, that she wanted to be a journalist.

"I was very conscious of the world being this very crazed place that demanded explanation," she recalled in a 2011 interview with the Archive of American Television.

"I didn't see a whole lot of people who looked like me doing it on television," she added, but "you get used to being underestimated."

"I got my first job by exceeding expectations," she said. And she kept going: "This is the way it is. How do I get around it, get through it, surprise them?"

Gwendolyn L. Ifill (she loathed her middle name and refused to reveal it) was born on Sept. 29, 1955, in Jamaica, Queens, to the former Eleanor Husband and Oliver Urcille Ifill Sr., an A.M.E. minister.

With her father being periodically reassigned, she grew up in several places — Queens, Staten Island, Manhattan, Buffalo, Pennsylvania and Massachusetts — living in church parsonages and sometimes in federally subsidized housing.

"I knew who these people were because they were me," she said of her public housing neighbors.

Charlayne Hunter-Gault, a former "NewsHour" correspondent and a pioneering African-American journalist, said that she and Ms. Ifill, both daughters of ministers, were equipped with a moral armor "that served her and me well as we traversed roads not usually traversed by women who looked like us."

Ms. Ifill once said that being a preacher's daughter also "means you always have to be good."

In addition to her brother Roberto, an economics professor, Ms. Ifill is survived by another brother, Earle, a minister; and a sister, Maria Ifill Philip, who is retired from the State Department.

She graduated in 1977 with a bachelor of arts degree from Simmons College, an all-women's school in Boston, where she majored in communications.

After an internship at The Boston Herald-American, she wrote about food there before reporting on education in the aftermath of the tumult over busing to desegregate schools in Boston. Politics, she learned, pervaded every aspect of public policy.

Joining The Baltimore Evening Sun in 1981, she was assigned to report on local politicians — most of whom, she said, she found to be committed to public service. She left The Evening Sun in 1984, hired by The Washington Post, and covered her first presidential campaign for that newspaper. As a neophyte, she was usually assigned to losing candidates who, aware of her specialty, were none too happy to see her coming.

Ms. Ifill joined The Times in 1991, becoming a White House correspondent and covering Bill Clinton's 1992 presidential campaign. In 1994, Tim Russert recruited her to cover Capitol Hill for NBC. On her first assignment, she forgot to take a cameraman along.

In 2004, she moderated the debate in which Senator John Edwards criticized Vice President Dick Cheney's former employer, the Halliburton Company, prompting Mr. Cheney to plead, "I can respond, Gwen, but it's going to take more than 30 seconds."

"Well," Ms. Ifill replied, "that's all you've got."

She was also credited with raising an issue that more conventional moderators might not have: the rate of AIDS deaths among black women in America. Neither candidate was prepared to respond.

In 2008, some supporters of Gov. Sarah Palin of Alaska suggested that Ms. Ifill might be biased in favor of Senator Joseph R. Biden Jr., Mr. Obama's running mate, because she was writing a book about Mr. Obama.

Other Republicans, though, defended her as objective, before and after the debate. James Rainey wrote in The Los Angeles Times that Ms. Ifill had "reached a high standard for reason, fairness and class." (Queen Latifah played Ms. Ifill when "Saturday Night Live" lampooned the debates.)

"My job as a reporter," Ms. Ifill explained, "is not to know what I think."

(…)

"I loved covering presidential politics not so much because of the candidates, but because of the people it allowed me to talk to," she said.

Would she ever have wanted to become a candidate herself?

No, she replied. "It's much more fun to watch and to ask than to actually have to account for your behavior."
I haven't been watching much news on PBS, so I haven't seen Ifill in action in the years since the left NBC except for her role in recent Presidential debates. In that context, though, she was always well prepared, hard-hitting, and to the point in her questioning and often hit on topics that other moderators would miss. It's a shame that cancer took her at far too young an age.