Judeo-Christian Principles and "Socialism"
If you believe that the United States is built on Judeo-Christian principles, why would you oppose the redistribution of wealth?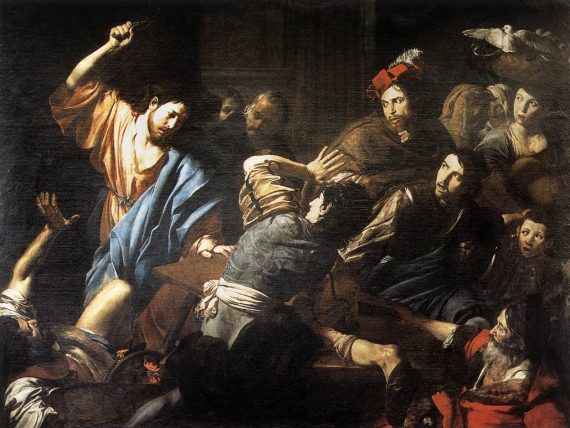 I saw this quote in an article on the elections by George Packer.
A Republican poll watcher who only gave her name as Lorna said, "I'm a constitutional conservative and I do not ever approve of distribution of wealth, and I am not a socialist, this country is not socialist, we are founded on Judeo-Christian principles. [emphasis added]
And I have to admit that I'm baffled that so many of the same people who claim that the country is built on Judeo-Christian principles are also opposed to the redistribution of wealth. Because generosity to the poor–including redistribution–is very much a Judeo-Christian principle.
For example, from the Book of Acts, Chapter 4:
All the believers were one in heart and mind. No one claimed that any of their possessions was their own, but they shared everything they had. With great power the apostles continued to testify to the resurrection of the Lord Jesus. And God's grace was so powerfully at work in them all that there were no needy persons among them. For from time to time those who owned land or houses sold them, brought the money from the sales and put it at the apostles' feet, and it was distributed to anyone who had need.
The Old Testament is even more full of commands for the state that fall under what a lot of the Tea Partiers would consider "socialist", from gleanings to the Year of Jubilee to prohibitions against the charging of interest.
Then, of course, there's this famous story:
Just then a man came up to Jesus and asked, "Teacher, what good thing must I do to get eternal life?"

"Why do you ask me about what is good?" Jesus replied. "There is only One who is good. If you want to enter life, keep the commandments."

"Which ones?" he inquired.

Jesus replied, "'You shall not murder, you shall not commit adultery, you shall not steal, you shall not give false testimony, honor your father and mother,'[a] and 'love your neighbor as yourself.'[b]"

"All these I have kept," the young man said. "What do I still lack?"

Jesus answered, "If you want to be perfect, go, sell your possessions and give to the poor, and you will have treasure in heaven. Then come, follow me."

When the young man heard this, he went away sad, because he had great wealth.
The Bible is many things, but it's not particularly pro-capitalist nor is it anti-redistribution.
This is not to say that a good Christian can't support a secular state, or think that redistribution is bad politically, even as he himself gives to private charity. But generosity to the poor is a fundamental Judeo-Christian principle, and it's nonsensical to simultaneously believe that the country's government is based on Judeo-Christian principles and then be opposed the government operating on those principles.