July Jobs Report Disappoints
After two months of fairly respectable jobs numbers, the July jobs report turned out to be fairly disappointing:
America's employers added 162,000 jobs in July, fewer than expected, with the previous two months revised downward slightly as well.

The unemployment rate, which comes from a different survey, ticked down to 7.4 percent as people got jobs or dropped out of the labor force.

The job gains reported by the Labor Department on Friday were concentrated in retail, food services, financial activities and wholesale trade. The manufacturing sector gained 6,000 jobs; government employment stayed basically flat.

July represented the 34th-straight month of job creation, but the latest pace of employment gains is still not on track to absorb the backlog of unemployed workers anytime soon. At the average rate of job growth seen so far this year, it would take more than seven years to close the so-called jobs gap left by the recession, according to the Hamilton Project at the Brookings Institution.

Other indicators disappointed, too, with both average hourly wages and the length of the private-sector workweek shrinking modestly in July.

"I honestly didn't think it would be this hard," said Keith Aiken, 38, who moved into a homeless shelter in Greensboro, N.C., about a month ago. His employer of more than a decade, a group home for people with disabilities, shut down last August, and he has been looking for work ever since.

After state officials ended North Carolina's eligibility for federal unemployment benefits last month, Mr. Aiken's benefits stopped and he was no longer able to pay his rent.

"Hopefully something will come open pretty soon," he said, noting that he is looking into contract labor in Iraq or Afghanistan. "I like to think I'm down but not quite out yet."

The outlook for workers like Mr. Aiken is unclear.

Some economists are hopeful that the pace of hiring will pick up once Congress's latest across-the-board budget cuts have worked their way through the system at the end of the fiscal year on Sept. 30. But battles in Washington over the debt ceiling and further austerity measures mean that the drag from a shrinking government could continue into next year and beyond.

"Whether there's less fiscal drag, more fiscal drag, or a train wreck, we still really don't know," said Joshua Shapiro, chief United States economist at MFR.

Analysts are also questioning the disconnect between job growth and other measures of the country's economic health. The current rate of job creation would typically coincide with faster-growing economic output.

But the country's gross domestic product, a broad measure of the production of goods and services, grew at a relatively tepid annual rate of 1.7 percent in the second quarter of this year and 1.1 percent in the first quarter, much less than would be predicted from recent hiring trends.

Trends in output and job growth seem unlikely to stay decoupled for too long, some economists say, in which case output should start to pick up, or job growth should start to slow, or both.

"I think with the economy showing 1 percent growth on average over the last three quarters you're locked into 150,000 jobs per month for the rest of this year," said Steven Ricchiuto, chief United States economist at Mizuho Securities.
At first glance, of course, the drop in the unemployment rate looks like a good thing. In reality, though, it's clear that the drop in the unemployment rate is due in large part to the fact that people continue to drop out of the labor market due to lack of success, not because they're finding jobs.  The extent to which labor force participation has collapsed since the beginning of the recession can be easily seen in this chart: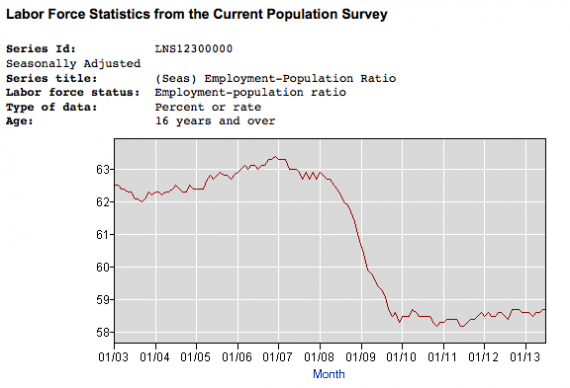 Undoubtedly, some portion of this drop in labor force participation can be attributed to retirement, early or otherwise, but that clearly can't explain the entire drop off, nor can it explain why it's taken so long for the rate to rise to anything close to where it was before the recession began. We're living in a world where large numbers of people have simply given up on the labor market, and it's hard to see any reason why they'll be returning any time soon.