Just Rattle the Saber More Loudly
Will louder threats move the Iranian regime to back down?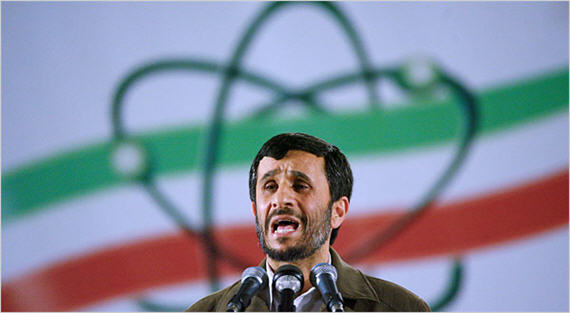 Today's drumbeat to war with Iran comes from David Ignatius, writing in the Washington Post:
Recent history shows that the Iranian regime will change behavior only if confronted with overwhelming force and the prospect of an unwinnable war. Short of that, the Iranians seem ready to cruise along on the brink, expecting that the other side will steer away.

[…]

History shows that the clerics in Tehran won't accept a deal unless they conclude that there's no alternative but a punishing war. Somehow, the United States must convince Iran that this confrontation is deadly serious — and then work to find the rational pathway toward agreement.
Unfortunately, decades of mixed messages conveyed to the Islamic Republic of Iran have rendered any given day's message ambiguous. Perhaps I misunderstand what Mr. Ignatius is saying but I interpret him as urging the U. S. that rattling the saber a little more loudly is likely to accomplish a foreign policy objective, getting the Iranians to abandon the nuclear weapons development program that our own intelligence apparatus continues to maintain they do not have. In my view escalating rhetoric, an exercise of our own in brinksmanship, runs the risk of crossing an important psychological barrier.
In their article, "The Rubicon Theory of War", its authors, Dominic D.P. Johnson and Dominic Tierney, note:
When people believe they have crossed a psychological Rubicon and perceive war to be imminent, they switch from what psychologists call a "deliberative" to an "implemental" mind-set, triggering a number of psychological biases, most notably overconfidence. These biases can cause an increase in aggressive or risky military planning. Furthermore, if actors believe that war is imminent when it is not in fact certain to occur, the switch to implemental mind-sets can be a causal factor in the outbreak of war, by raising the perceived probability of military victory and encouraging hawkish and provocative policies.
Preventive war other than that sanctioned by the United Nations Security Council is an illegal act of aggression under international accords to which the United States is party. It is also immoral. As Pat Lang and Larry Johnson (not to mention countless others in the intervening years) pointed out a half dozen years ago, nothing short of a full scale invasion and occupation of Iran is likely to force Iran to forgo any nuclear ambitions it has.
So, sanctions—yes. Covert action—sure. An escalating level of war rhetoric? No, if we wish to avoid an illegal, immoral, and futile war with Iran.
Prudently, the Pentagon and the Obama Administration have avoided that escalation of war rhetoric. Newspaper columnists, particularly those who, like Mr. Ignatius represent the prevailing wisdom, and Republican presidential candidates should follow suit.