Kavanaugh Stalker Charged with Attempted Murder
A man who claims he was going to kill the Supreme Court Justice is in jail.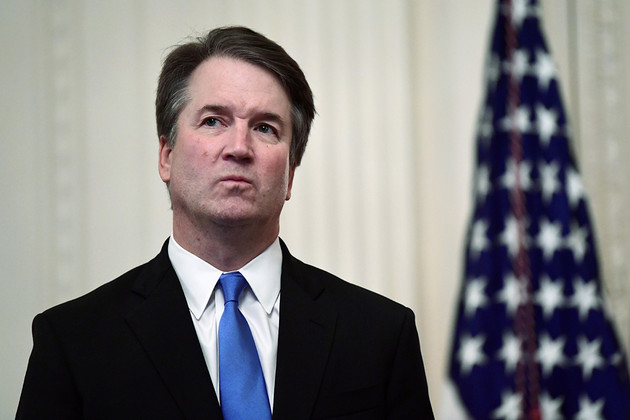 WaPo ("Man with gun is arrested near Brett Kavanaugh's home, officials say"):
A man with a gun and a knife was detained by police early Wednesday near the Maryland home of Brett M. Kavanaugh after making threats against the Supreme Court justice, according to local and federal officials.

Nicholas John Roske, 26, of Simi Valley, Calif., was charged with attempted murder of a Supreme Court justice after he called authorities and said he was having suicidal thoughts and wanted to kill a specific justice, according to federal prosecutors.

Roske was "upset" by the leaked draft of an opinion by the Supreme Court signaling that it is positioned to overturn Roe v. Wade, the 49-year-old decision that guarantees a person's constitutional right to abortion, as well as the recent school shooting in Uvalde, Tex., according to an affidavit filed Wednesdayin federal court.

"Roske stated that he began thinking about how to give his life a purpose and decided that he would kill the Supreme Court Justice …," the affidavit said, adding that he allegedly planned to break into the justice's home to kill him as well as himself.

The affidavit does not identify which justice Roske was threatening, but Supreme Court spokeswoman Patricia McCabe said in a statement that a man was arrested near Kavanaugh's residence after making "threats against Justice Kavanaugh." Efforts to reach Roske's family were unsuccessful.
CNN ("Armed man arrested near Brett Kavanaugh's home charged with attempting to murder a US judge") adds:
The man, Nicholas John Roske, 26, of Simi Valley, California, had called emergency authorities saying he was having suicidal thoughts and had a firearm in his suitcase, leading to his arrest, according to the criminal complaint.

[…]

On Wednesday morning, Roske was carrying a suitcase and backpack filled with a tactical knife, a Glock 17 pistol, two magazines, ammunition, pepper spray and zip ties, the FBI said.

Roske also had on hand a hammer, screwdriver, nail punch, crowbar, pistol light and duct tape, the affidavit said.

Roske appeared in a Greenbelt, Maryland, federal court Wednesday and agreed to remain in jail. A preliminary hearing is scheduled for June 22.
Clearly, Roske had the means of killing Kavanaugh. The fact that he called authorities ahead of time and didn't engage in a gunfight with police, despite possessing a Glock and plenty of ammunition, does lead to questions about how serious he was about an assassination attempt. And, as is often the case in these situations, there are multiple pointers to mental illness.
Regardless, the thought that government officials need protection in their homes from those who disagree with their policy judgments is worrisome.
The White House says President Joe Biden condemns the actions of the armed individual arrested outside Kavanaugh's home. White House spokesman Andrew Bates told CNN "President Biden condemns the actions of this individual in the strongest terms, and is grateful to law enforcement for quickly taking him into custody."

"As the President has consistently made clear, public officials — including judges — must be able to do their jobs without concern for their personal safety or that of their families. And any violence, threats of violence, or attempts to intimidate justices have no place in our society. He has said that himself, and his spokespeople have been forceful about this from the podium."

Bates noted that Biden "supports legislation to fund increased security for the court and judges."
Honestly, especially with regard to the abortion issue, I'm a little surprised that this hasn't become a thing before now. I would have predicted it coming from the anti-abortion side, which has often employed violence and intimidation against abortion providers and their clients. But with Roe apparently about to end, throwing the issue back to the states, it's now the abortion rights side that's up in arms.
There has been a rise in threats against the court amid the national abortion rights debate and protests that have taken place across the US. The Department of Homeland Security issued a memo last month warning law enforcement that there are potential threats to members of the Supreme Court after a draft opinion overturning Roe v. Wade was leaked.

The memo also said Supreme Court police have noticed a major uptick in social media threats of violence, with some currently under investigation. Some of those threats have been directed at the justices and the court building, which is now surrounded by fencing

[…]

The court did not respond to a question if Kavanaugh was at the building Wednesday morning. The building has been closed to the public since March 2020, and justices no longer announce their opinions from the courtroom bench due to covid protocols.

Attorney General Merrick Garland said Wednesday that "threats of violence and actual violence against" Supreme Court justices "strike at the heart of our democracy and we will do everything we can to prevent them and to hold people who do them accountable." "This kind of behavior is obviously behavior that we will not tolerate," Garland told reporters. "Threats of violence and actual violence against the justices of course strike at the heart of our democracy and we will do everything we can to prevent them and to hold people who do them accountable."

Maryland Gov. Larry Hogan said in a statement that there has been "heightened security" at the homes of justices since last month. "I call on leaders in both parties in Washington to strongly condemn these actions in no uncertain terms. It is vital to our constitutional system that the justices be able to carry out their duties without fear of violence against them and their families," said Hogan, a Republican. "We will continue to partner with both federal and local law enforcement officials to help ensure these residential areas are secure," Hogan said.
The Volokh Conspiracy's Josh Blackman thinks the Court should speed up its announcement:
Every day that goes by, and Dobbs remains undecided, is a day that the lives of the Justices and their families are at risk. Immediately after the leak, I wrote that the Court should issue a one-sentence per curiam opinion, with a reasoned decision to follow–follow the path of Ex Parte Quirin. Lurking in the back of mind was the risk that a Justice could be assassinated. Now, that risk looks so much more real.

Why, then, has the Court not issued a decision in Dobbs yet? We know the majority opinion was finished in February. Yet, at least in May, the Chief Justice still had not circulated his much-vaunted concurrence. My cynical take was that "circulating the draft opinion at the latest possible juncture creates chaos, and makes it more likely that things can move around without sufficient deliberation."

Or maybe there is a less cynical, but equally dangerous explanation. Shortly after the leak of the Dobbs opinion, Chief Justice Roberts proclaimed, "The work of the Court will not be affected in any way." Perhaps Roberts thinks that by deviating from the normal course, the Court would be sending a signal that the leak did affect the Court's business. If so, Roberts continues to live in a different reality than the rest of us. Justice Kavanaugh nearly faced an assassination attempt. A group bearing the name of Ruth Bader Ginsburg advertises nightly protests outside of his home. Similar protests are scheduled outside of the homes of other Justices. Their lives have been turned upside down. All of the other Justices are at similar risk. The way to ensure that the Court "will not be affected in any way" is to decide a case as soon as it is ready, and remove the threat that someone will try to deprive the majority of the fifth vote.

Why is there a delay? So Roberts can take yet another ill-fated attempt to pick off one or two votes? A real leader would have put aside his quixotical quest for balance. Every day that passes, as the Chief haggles over votes, a target remains on the backs of his colleagues.

The Dobbs 5 should immediately issue an unsigned per curiam order, with an opinion to follow, even over the Chief Justice's objection. The Justices should send a clear and unequivocal message that they will not be intimidated by these acts of violence.
While his premise, that the leaked memo increased the level of tension around the issue and it will remain high until the decision is final, is correct, I disagree that the Court should therefore rush its work. Roberts is right: carrying on normal order is essential under the circumstances. I don't think there are any votes up for grabs here and think the leak and ensuing threats has likely hardened the resolve of conservative Justices. But, to the extent there may be a Justice or two on the fence, it's absolutely essential to keep working the opinion as usual. It will certainly be the most important ruling of the term.