Keeping Control Of The Senate Just Got More Difficult For Republicans
GOP control of Indiana's Senate seat appears to be in jeopardy, and that will have serious implications for the battle to control the Senate.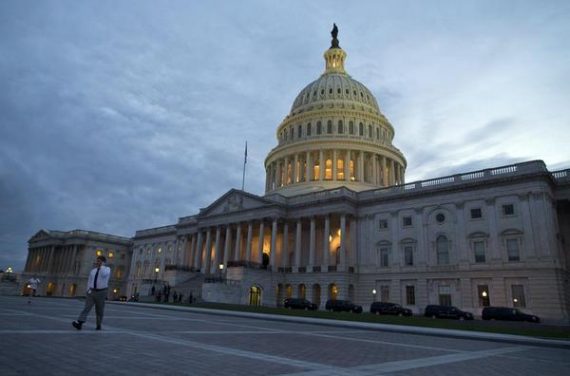 The latest poll out of Indiana seems to show that Republicans may have trouble holding on to Indiana's Senate seat now that Evan Bayh has entered the race, and that could have serious implications for the battle for control of the Senate:
Former Sen. Evan Bayh (D) leads by seven points in the latest Indiana Senate race poll by Monmouth University.

The Indiana race is shaping up as a key contest in Democratic efforts to win a Senate majority.
In the survey of likely Indiana voters, Bayh, also a former Indiana governor, led Rep. Todd Young (R) 48-41, with Libertarian candidate Lucy Brenton polling at 4 percent.

Monmouth has not previously polled this race, but a July poll by Democrat-leaning pollster Garin-Hart-Yang Research Group showed Bayh ahead by 21 points, 54-33.
This seat is current held by Republican Senator Dan Coats, who himself returned from retirement to win the seat in in the 2010 election after Bayh announced that he was retiring. Last year, though, Coats announced that he was retiring after just one term back in office, thus creating an open seat. Initially, it looked as though Coats' seat would stay Republican but the calculus of the race changed significantly when Bayh announced last month that he was getting into the race to get his old seat back. Given that he remains quite popular among Indiana voters, it was assumed that Bayh would prove to be a formidable challenger to the Republican nominee, Congressman Todd Young, and this poll would seem to confirm that fact. Perhaps the most significant thing about the poll, and the one that will likely make Republicans who want to hold on to control of the Senate, is the fact that Bayh has this lead notwithstanding the fact that Donald Trump seems to have a rather comfortable lead in the Hoosier State. No doubt this has much to do with the fact that Trump chose Indiana Governor Mike Pence as his running mate. Whatever the case, though, the fact that Young is down seven points to Bayh in the same poll that has Trump leading by eleven points is quite problematic for Young's campaign to say the least.
I already noted last week the extent to which Republican control of the Senate is at risk this year, and the extent to which Trump's candidacy is posing problems for incumbent Republicans in states such as Ohio, New Hampshire, and Pennsylvania. This news out of Indiana just serves to place another seat in danger for the GOP, although this time it's clearly not something that can be blamed on Trump specifically. Instead, it's likely due to the fact that Bayh has remained a popular political figure in in the Hoosier State and that is giving him a tremendous advantage in his bid to return to the Senate, and to help Democrats regain control of the Senate. In order to do that, Democrats need to win back at least five seats to force a tie which could be broken by a Democratic Vice-President, and six seats to win an outright majority. So far, polling would seem to indicate that they are likely to win back the seats in Wisconsin and Illinois. If Indiana gets added to that list, then they would be half way to their goal and would need to win three races of out of the remaining Republican seats considered to be potentially vulnerable, a list that includes Ohio, Pennsylvania, New Hampshire, North Carolina,  Missouri, Arizona, and Florida. This calculation assumes that Democrats don't lose any seats they currently control, of course, but right now the only Democratic seat that appears to be at serious risk of flipping is the open seat in Nevada that was created as a result of Harry Reid's retirement. In that race, Republican Congressman Joe Heck has the narrowest of leads over his Democratic opponent in a race that looks as though it will go down to the wire.
In any case, the addition of Indiana to the list of vulnerable Senate seats, along with the fact that Hillary Clinton appears to be making serious plays for traditionally red states such as Georgia and Arizona, just adds to the list of headaches for Republicans, as if they needed any more. At the very least, it appears to be clear that if Clinton manages to win the General Election by the margins we're seeing in polling right now, the odds that Republican Senate candidates in vulnerable states will be able to pull off wins will become even more unlikely. In the end, I wouldn't expect the Democrats to do as well as at the Senate level as Republicans did in 2014, but even if they walk away from Election Day with a slim 51- 49 majority in the Senate, that will make all the difference for the first two year years of what is likely to be the second Clinton Administration, especially when it comes to matters since as Cabinet and Judicial appointments. Based on the math, there's a good likelihood that Republicans could win the Senate back in 2018, but those two years alone would give the party the ability to get a lot done that would otherwise not be possible if the GOP retains control of both houses of Congress. That's why you can expect Republicans to start backing away from Trump and concentrating on down ballot races if Clinton's lead in September is similar to where it is right now, or worse. Of course, by then it may turn out to be too little, too late.