Democratic Hopes Of Winning Back The Senate Seem To Be Slipping Away
Democratic hopes of retaking the Senate aren't going so well at the moment.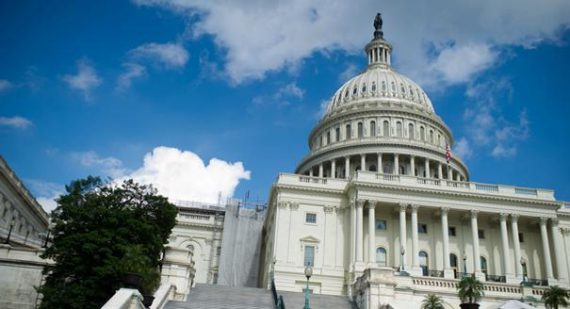 While most of the attention of the political media has been focused on he race for President, Republicans and Democrats are also battling for control of the Senate. While previous years have seen Democrats at a disadvantage in having to defend seats in increasingly Republican states, a phenomenon which resulted in the GOP picking up nine seats in the 2014 midterm election, this year's election has been one that many analysts believed would be to the advantage of Democrats seeking to win back the Senate. The main reason for this, of course, is the fact that several of the seats that Republicans are trying to defend are in states that have gone for the Democratic candidate in at least one or both of the last two Presidential elections. This put as many as eight seats on the list of vulnerable Republican seats, and to retake the Senate Democrats need to win five of them to take control of the Senate, or only four if the Democrats win the White House and with it the tie-breaking vote of a Democratic Vice-President. With Donald Trump at the top of the Republican ticket, many assumed that the odds of the GOP holding onto the Senate would shrink significantly. As it turns out, though, Democrats are finding it much harder than they anticipated:
Democrats are now facing a tougher road to capturing the Senate majority as the presidential race tightens and Donald Trump is not proving to be the dramatic drag on down-ballot candidates that Republicans once feared.

Trump's resilience and faltering Democratic campaigns in battleground states mean the fight for the Senate has settled into a knuckle-to-knuckle brawl likely to result in a chamber that will be closely divided or potentially even tied.

Democrats can still manage to win the four or five seats they need to claim the Senate majority, but the battle has shifted from purple states that Barack Obama twice carried — Ohio and Florida — to Indiana, Missouri and North Carolina, where Obama lost in 2012.

While Democrats are continuing their efforts in select states to tie incumbent Republican senators to Trump, Republicans are looking to flip that script in those redder states, yoking Democratic candidates to their own unpopular nominee.

"Evan Bayh voted with Hillary Clinton up to 85 percent of the time," a voice-over intones in an ad now being aired in the Hoosier State by a major Republican super PAC. "Bayh voted with them; not with Indiana."

The significant shift in the Senate battlefield appears to be the result of voters separating Trump — once considered so toxic that House Speaker Paul D. Ryan (R-Wis.) waffled about whether to support him — from Republicans running on the same ballot with him. That recognition could lead to more voters splitting their ticket between Clinton and a Republican House or Senate candidate.

"There is very much a feeling among voters that Donald Trump is sort of his own brand," said Ian Prior, the communications director of the GOP-allied Senate Leadership Fund super PAC, citing internal research. "People don't view him as this traditional Republican where he says something and that means that everybody else in the House or Senate must agree with him."

Trump is also holding his own at the top of the ticket, with a new Washington Post/ABC poll showing him locked in a virtual tie with Clinton among likely voters, with Clinton leading 46 to 44 percent.

With six weeks until Election Day, a new map has emerged as Democrats trying to buck recent history in winning back the majority in a presidential election year. Over the past 60 years, the majority has only changed hands once in those 15 presidential elections — in 1980, when Ronald Reagan's landslide swept Republicans into the Senate majority.
As things stand right now, Democrats seem likely to pick up Republican seats in at least two states, well below where they need to be on Election Day. Their best state at the moment is Wisconsin, where former Senator Russ Feingold has an average 9.7 point lead over Senator Ron Johnson according to RealClearPolitics. Another state that is clearly in the Democratic column is Illinois, where Senator Mark Kirk is trailing Congresswoman Tammy Duckworth, although the margin between the two has tightened in recent weeks. Despite that surge, Kirk is likely to lose simple due to the fact Illinois will go heavily for Hillary Clinton in November. Beyond these two states, though, Democratic candidates don't seem to be far as well as anticipated even in states where Democrats have done well in Presidential elections in recent years. Ohio Senator Rob Portman, for example, currently has a comfortable lead over former Democratic Governor Ted Strickland and in Florida, Marco Rubio has a 6.1 point lead over Congressman Patrick Murphy in the RealClearPolitics average. Similarly, Senator Kelly Ayotte has a somewhat surprising 2.5 point lead over Governor Maggie Hassan, who has not led in a poll in the Granite State in nearly a month now. Meanwhile, in Pennsylvania Senator Pat Toomey finds himself in a competitive race against Democrat Kathleen McGinty that could go either way and which is far more competitive than the Presidential election in the Keystone State.
Outside of the vulnerable list candidates, Democratic hopes in other parts of the country don't appear much better.Of the open seats this year, for example, the Democrats best hope of success appears to be in Indiana where former Senator Evan Bayh continues to hold a modest lead over Republican Congressman Todd Young, although that lead is far smaller than what many observers anticipated when Bayh announced that he was going to try to win back his old Senate seat. Democrats seem likely to lose the open seat race to succeed Harry Reid, though. In that race, Republican Congressman Joe Heck has a solid lead over former Nevada Attorney General Catherine Cortez Masto, Finally, in two other races where Democrats had hoped of possibly making a run, in North Carolina and Missouri, the Republican candidate appears well-positioned for re-election absent a massive change in the polls over the coming weeks.  Currently then, this leaves the Democrats with picking up four seats while Republicans pick up one seat currently held by a Democrat, leaving the Republicans with the slimmest of majorities at 51-49 if the election were held today. Nate Silver, meanwhile, forecasts a 50.2% chance that the GOP holds on to the Senate, and a  49.8% chance of a Democratic takeover. Obviously, these number could change over the next six weeks, but they represent good news for Republicans,  who will have an opportunity to pick up seats in the Senate in 2018, and a problem for Democrats, who could be faced with the prospect of winning the White House only to see both houses of Congress remain in Republican hands.
Obviously, a good part of the reason that the battle for control of the Senate has gotten more difficult for Democrats can be attributed to the fact that the Presidential race has tightened significantly and, especially, the fact that Donald Trump's rise in the polls has largely negated for the moment any negative impact he might have on down ballot races. If there's any change in the nature of the race for President, that could have an impact on the down ballot races, of course, but for now things are looking much better for Republicans in the Senate than many people anticipated, and that could have a real impact on the climate in Washington if we need up with two more years of a Democratic President and a Republican Congress.