GOP Control Of The Senate At Risk As Trump Flounders
With Donald Trump floundering, there are a whole lot of nervous Republican Senators up for re-election.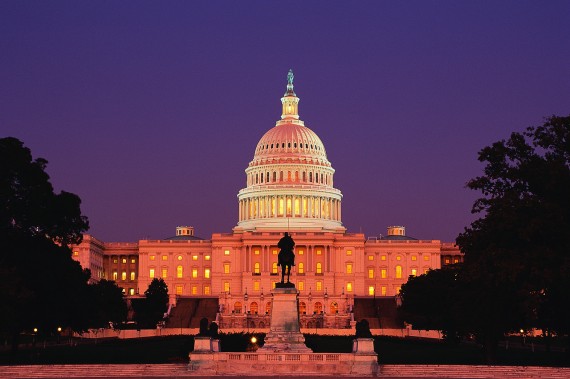 Two years ago, Republicans staged one of the more impressive mid-term election performances of recent memory when the picked up nine Senate seats to take back control of the upper chamber of Congress for the first time since losing control back in the 2006 election. Now, with the Presidential race titling strongly in favor of Democratic nominee Hillary Clinton, signs are beginning to emerge that the GOP Senate majority could be at serious risk on Election Day. Already, most analysts have written off Wisconsin Republican Ron Johnson, who is way behind in the polls in his rematch race against former Senator Russ Feingold, and Mark Kirk of Illinois, who has perhaps the worst uphill battle of any other incumbent given both his opponent and the fact that Illinois is a state where Democratic turnout for the Presidential race is likely to overwhelm Republican turnout by a significant margin. Winning two races isn't going to be enough for Democrats to take control of the Senate, though. To do that, they're going to need to pick up a net of six seats, although winning five along with the Presidency would be enough to give them control thanks to the tie-breaking vote that would be cast by Vice-President Tim Kaine. Unfortunately for Republicans, there's a good possibility that this could happen.
The first piece of evidence in favor of this idea comes in the form  of a trio of new polls from Quinnipiac:
Florida Sen. Marco Rubio and Pennsylvania Sen. Pat Toomey are running neck-and-neck with their Democratic challengers, according to a new poll.

Rubio is edging out Rep. Patrick Murphy 48%-45% and Rep. Alan Grayson 49%-43% in Florida — Grayson and Murphy face off in the August 30 primary — according to a new poll Thursday from Quinnipiac University.

Pennsylvania's Toomey, meanwhile, would lose to Democrat Katie McGinty 47%-44% if the election were held today, the poll found.

The bright spot for Republicans looking to keep control of the Senate in November is Ohio Sen. Rob Portman, who is pulling away from Democrat Ted Strickland, 49%-40%, according to the poll.
Democrats need to pick up at least four seats in November to win control of the Senate, and the poll shows the Republican incumbents in these three swing states easily outperforming Donald Trump there. But if Trump continues his slide in the polls, he could pull down Portman, Rubio, Toomey and other vulnerable incumbents with him.

"In each of the three key swing states, the incumbent U.S. senators seeking re-election are running better than Trump. But if Trump continues to lag behind in the presidential race, that will make it more difficult for GOP candidates, logic holds, up and down the ballot," said Peter A. Brown, assistant director of the Quinnipiac University Poll, in a statement.
The good news for Portman and Rubio at least is that, at the moment, Trump appears to be running stronger in Ohio and Florida than he is in Pennsylvania or any of the other states where vulnerable Republicans face the prospect of having to find a way to win their Senate race despite the fact that the top of the ticket is losing. In some cases, they are at least succeeding in keeping the race competitive at the moment. Pat Toomey, for example, is doing far better in Pennsylvania than Donald Trump and he is largely running his own campaign independent of the Trump campaign in the state, such as it is. The same appears to be true for Rubio and Portman, this despite all three of these candidates have endorsed Trump or, as they usually put it, "the party's nominee." Notwithstanding that endorsement they are doing everything they can to stay away from Trump and his rhetoric, and that may be what ends up saving them in the end.
Beyond the three races included in this poll, there are a number of points of vulnerability for Senate Republicans, including one that is a recent addition to the list.
Up north in New Hampshire, Democratic Governor Maggie Hassan has a narrow one point lead against Senator Kelly Ayotte in the RealClearPolitics average. However, that narrow lead is arguably offset by a recent poll for a local television station that shows Hassan leading Ayotte by ten points at the same time that the same poll shows Clinton leading Trump by seventeen points in a head-to-head match and fifteen points in a four-way race with Gary Johnson and Jill Stein. If this poll is accurate, then it may mean that the race in the Granite State has changed significantly in favor of the Democratic candidates at both the Presidential and Senate levels. Another state where the GOP could be in danger of losing a seat is Indiana where Senator Dan Coats announced earlier this year that he was retiring, thus creating an open seat. For most of the spring and summer, it was looking as if that seat would easily stay Republican but that changed when former Senator Evan Bayh announced that he was going to mount a bid to return to the Senate. Bayh remains quite popular in Indiana, so it is expected he will prove to be a formidable challenger to the Republican nominee, Congressman Todd Young. Other Republican held seats that could potentially be vulnerable in November include North Carolina, where Richard Burr currently has a 4.0 point lead over his Democratic opponent in a state where Hillary Clinton is threatening to take a state that went to Romney four years ago away from Trump, Missouri, where Roy Blunt has a 4.7 point lead over his opponent while Hillary Clinton may be threatening in a state that has been up in the air for several election cycles and may be ready to go for a Democrat in a year with a candidate like Trump on the ballot, and even Arizona, where John McCain faces both a tough primary battle and a General Election that appears to be closer than usual thanks to Trump's weakness in the state.  Finally, there's the one state where the GOP stands a chance of flipping a Democratic seat. In Nevada, Congressman Joe Heck has a narrow lead over his opponent while Hillary Clinton has a narrow lead over Trump in both a head-to-head and four-way race.
As I said, Democrats need at least six seats to take control of the Senate this year. So far, they appear to have two of those seats — in Illinois and Wisconsin — firmly in their control. Assuming that continues, that means they need to net +4 of the remaining eight seats in order to take control of the Senate. Whether they succeed on that end may well depend largely on how much of a drag Donald Trump ends up being on the rest of the Republican field. With that in mind, it's no surprise that top Republicans are already urging that the party move resources away from the race for President in an effort to protect down-ballot races:
More than 70 Republicans have signed an open letter to Republican National Committee Chairman Reince Priebus urging him to stop spending any money to help Donald Trump win in November and shift those contributions to Senate and House races.

The letter comes as a number of Republican senators and high-profile GOP national security officials have come forward saying they cannot vote for Trump.

"We believe that Donald Trump's divisiveness, recklessness, incompetence, and record-breaking unpopularity risk turning this election into a Democratic landslide, and only the immediate shift of all available RNC resources to vulnerable Senate and House races will prevent the GOP from drowning with a Trump-emblazoned anchor around its neck," states a draft of the letter obtained by POLITICO. "This should not be a difficult decision, as Donald Trump's chances of being elected president are evaporating by the day."

Former Sen. Gordon Humphrey of New Hampshire and former Reps. Chris Shays of Connecticut, Tom Coleman of Missouri and Vin Weber of Minnesota are among the Republicans lending their name to the letter. Close to 20 of the co-signers are former RNC staffers, including Mindy Finn (former RNC chief digital strategist), Christine Iverson Gunderson (former RNC press secretary), Virginia Hume Onufer (former RNC deputy press secretary), Beth Miller (former RNC field communications division director), Heather Layman (former deputy press secretary), B. Jay Cooper (former RNC communications director under four chairmen) and Patrick Ruffini (former RNC ecampaign director).

Republican Andrew Weinstein, a vocal anti-Trump Republican, is one of the operatives organizing the letter, which began circulating earlier this week and is expected to be sent next week. Weinstein served as director of media relations for the Dole/Kemp presidential campaign and was deputy press secretary to then-House Speaker Newt Gingrich.

Weinstein said that the letter is coming from "People who want the party to protect its majorities in the Senate and the House. It's not an endorsement of anybody."

A spokesman for the RNC did not immediately respond to a request for comment.
If Trump continues to flounder,  you can except for the calls like this for a shift in strategy on the part of the RNC and other party organizations to become louder and, in the end, it seems as though it may be the most logical thing for the GOP to do. If Trump loses as badly as some polling already indicates he could, it seems likely that he's not going to spend much time trying to help rebuild the GOP from whatever is left in his wake, and Republicans shouldn't want his help in any case. With disaster looming, the smartest thing to do is to try to protect the Senate and House majorities, as well as the races further down the ballot at the state level, rather than waste resources on a Presidential race that even the candidate seems to be giving up on. 000