Republican Party Wins Senate, Poised To Add To New Majority
2014 was not supposed to be a wave election, but it clearly qualifies as one.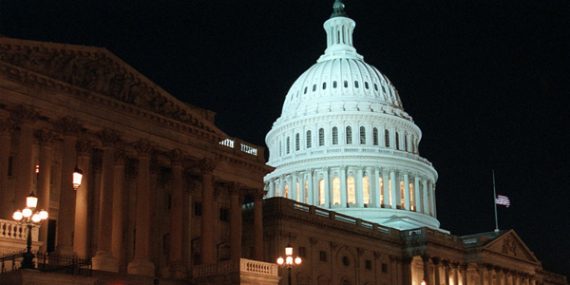 In what can only be called a sharp and stunning rebuke of President Obama and the Democratic Party akin to the results seen in elections such as those in 1994, 2006, and 2010, the Republican Party has taken control of the Senate even though the outcome of several races, and therefore the final balance of power, remains up in the hair:
Republicans wrested back control of the Senate on Tuesday by adding at least seven seats to their ranks, riding discontent and resentment about President Obama and his policies and consolidating Republican power on Capitol Hill.

Republicans picked up the sixth seat they needed with a win in North Carolina, as Thom Tillis, the State House speaker, defeated the incumbent, Kay Hagan, a Democrat, according to projections by The Associated Press. In Iowa, the Republican Joni Ernst, a state senator, defeated Representative Bruce Braley to win the seat vacated by longtime Senator Tom Harkin, who is retiring at the end of this year.

Voters in Arkansas and Colorado also ousted the Democratic incumbents Mark Pryor and Mark Udall, and elected Republicans in West Virginia, Montana and South Dakota.

With several contests still too close to call late Tuesday, unofficial results showed Republicans emerging as winners in enough states to claim victory. The party's leaders in Washington will now control both chambers in Congress as Mr. Obama struggles to fashion an agenda in the remaining two years in his term.

Six years ago, Mr. Obama swept into office, carrying Democrats with him and using majorities in both chambers to push through health care and economic stimulus legislation. But two years later, a Tea Party revolt gave Republicans control of the House and made Representative John A. Boehner of Ohio the House speaker. Mr. Obama returned the favor in 2012, winning re-election and claiming a new mandate for his agenda.

On Tuesday, Republicans completed a congressional takeover that will most likely elevate Senator Mitch McConnell of Kentucky to become the chamber's majority leader, deposing Senator Harry Reid, Democrat of Nevada.

The outcome is a blow to Democrats, who struggled in vain to defend incumbent senators in deeply conservative states where anger and frustration at Mr. Obama made him unpopular. The president was largely unwelcome in almost all of the Senate contests, where Democrats sought to distance themselves from Washington and the president's accomplishments.

In Colorado, Representative Cory Gardner knocked off Mr. Udall in a state that President Obama had won twice and where Democrats had pointed to a strong ground game that they said would hold off the Republican challenge.

In Arkansas, Representative Tom Cotton, the Republican candidate, defeated Mr. Pryor after hammering the Democrat's ties to Mr. Obama in a state where the president is deeply unpopular. Mr. Cotton, an Iraq combat veteran and a first-term congressman, won despite feverish campaigning by former President Bill Clinton on behalf of Mr. Pryor, according to projections by The Associated Press.

In West Virginia, Shelley Moore Capito, a Republican, easily defeated her Democratic opponent to replace Senator Jay Rockefeller, who is retiring after 30 years in the Senate.

Mike Rounds, a former Republican governor of South Dakota, won the third pickup to add to the Republican gains, according to projections by The A.P. And in Montana, Representative Steve Daines, a Republican, won a seat that had been in Democratic hands for decades.

In an outcome that diminished the chances of the Democrats' clinging to the majority, the Republican businessman David Perdue defeated Michelle Nunn, a Democrat, and avoided a runoff in Georgia's Senate race, The A.P. reported. Democrats had hoped that Ms. Nunn, the daughter of former Senator Sam Nunn, could grab a Republican seat.

And the Democrats lost their opportunity to pick up a Republican-held seat in Kansas when Senator Pat Roberts, the longtime incumbent, was projected by the news networks to be the victor over Greg Orman, a businessman who ran as an independent.

In New Hampshire, Senator Jeanne Shaheen, a Democrat and former governor, beat back a challenge from Scott Brown, a former Republican senator from Massachusetts, The A.P. projected

Mr. McConnell of Kentucky handily won re-election, giving the Republicans the first victory.
 The Washington Post, meanwhile pointed to exit polls that seemed to lay responsibility for the loss directly at the feet of President Obama:
The rapid-fire victories represented a repudiation of the president, who rode into office on a mantle of change in 2008 and was re-elected in 2012 but whose second term has bogged down in a problems ranging from crises abroad to the arrival of Ebola in the United States. Throughout the hard-fought the campaign, Obama was a target of Republican candidates and in the end was reduced to campaigning only in secure Democratic bastions.

"We are heading to Washington…and we are going to make 'em squeal!" a jubilant state Sen. Joni Ernst told cheering supporters in Iowa, where she defeated Democratic Rep. Bruce Braley in the seventh GOP pickup of a Democratic-held seat.

As polls closed in Arkansas, where Rep. Tom Cotton (R) captured incumbent Sen. Mark Pryor's Senate seat, Sen. John Boozman said the results were more a "referendum" on the president than a statement about the Republican Party and its agenda.

"Our party did better with its operation and it had better candidates, but this election was about what was occurring in the country and the world," Boozman, the state's incumbent Republican senator said in an interview. "People are concerned about the Middle East, they're worried about what's happening at home. That created this atmosphere for Republicans."

The Republican-controlled Senate, which will take office in January, is expected to complicate Obama's agenda in ways large and small. Not only will his nominees face tougher Senate scrutiny, his push for a sweeping international climate change agreement will face resistence. Republicans are expected to demand approval of the controversial Keystone XL pipeline and to push to dismantle key pieces of the Affordable Care Act.

(…)

About three-quarters of voters who had turned out are white — compared with 77 percent in 2010 and 72 percent in 2012. The split between Democrats and Republicans was an even 35 percent each in 2010, but early exit polls this year showed a narrow tilt toward Democrats.

The first voting stations opened at 6 a.m. on the East Coast and the final polls are set to close in the Aleutian Islands in the Pacific 19 hours later. Even then, the final determination of who will control the upper chamber might not be known, as a potential runoff in Louisiana and the counting of votes in other states could leave the outcome in doubt for weeks longer.
As things stand right now, the new Senate would have 52 Republicans, 43 Democrats, 2 Independents who caucus with the Democrats and a Virginia Senate race that remains up in the air, however as I write this it seems likely that the GOP will add to its majority in the coming month. First of all, the results from Alaska have yet to come in at this late hour but if that state follows the national trend then Senator Mark Begich seems likely to go down along with his six colleagues in Montana, South Dakota, Iowa, West Virginia, North Carolina, and Arkansas. Additionally, Mary Landrieu may have survived to take her bid for re-election to a Runoff Election on December 6th, but it seems clear that the trend there will likely lead to her losing to Congressman Bill Cassidy in the end. If the GOP picks up those seats, then the Republican majority would be 54 Republicans, 43 Democrats, 2 Independents and the Virginia race in a recount. A Warner win in the recount, which seems probable based on recent Virginia history with statewide recounts, would make it 44 Democrats, and a win in the recount in the recount would make it 55 Republicans. Leaving aside Virginia for the moment, another state that suddenly seems up in the air is Maine, where Angus King, who decided to caucus with the Democrats two years ago is likely going to be looked at as a potential party switcher this November when time comes for Senate leadership elections. Republicans are likely to make at least some effort to try to get him to switch votes this time around, something which he has at least hinted that he might be willing to do under the right circumstances. That means a potential GOP majority as high as 55 or 56 seats when the smoke clears. Not only would this give Mitch McConnell a lot of breathing room when he is pushing legislation through the Senate, it would also put the GOP in a much more comfortable position in 2016 when it comes to defending their majority.
There will be much written over the coming days and weeks over what all of this means, and what happens next in Washington, and there will be people on both sides of the political aisle trying to spin their own version of narratives that are meant as much to advance the interests of whatever faction that they happen to represent. As a preliminary matter, though, it seems hard to reject the idea that much of what happened in these races can be placed firmly on President Obama. As I've noted throughout 2014, the President's job approval numbers across the board were exceedingly low, and nothing that he did seemed able to bring those numbers out of the doldrums. Even international crisis such as the conflict in Ukraine, the war in Gaza, and the ISIS war, or a more domestic crisis situation like the Ebola scare that we are still dealing with failed to do much of anything to raise public opinion about the President and the job that he has been doing. For example, polling seems to indicate that the public is indeed concerned about things like ISIS and Ebola, but rather than seeing the kind of rally bump in the polls that a President usually gets in such situations, polling showed that the public had no confidence in the President or those under him to deal with these crises. That, in turn, placed yet more downward pressure on his job approval numbers, which ended up harming Democrats notwithstanding the fact that most of them were doing their best to distance themselves from him to the point that they didn't even want to acknowledge voting for him just two years ago. That's a classic rejected of a President like the ones we saw in years like 1986, 1994, 2006, and 2010, with the inevitable result that even Republican candidates running in Democratic states — such as Senators-Elect Cory Gardner in Colorado and Joni Ernst in Iowa — were able to overcome traditional Democratic advantages to win their elections. In other words, this was nothing less than a complete repudiation of the President and his party. The second time that has happened to this President in four years, and it happened notwithstanding the fact that, just two years ago, he stood victorious in his bid for re-election. That's historic in a way that seems unique to this President in that there are very few American Presidents who can say that they fell victim to two wave elections in the  course of their Presidencies, and make no doubt about it this was a wave election.
Where we go from here will depend a lot on what Republicans choose to do with the power they will have coming to them in January, but for now they are reveling in their victory, and it seems hard to deny that they deserve to claim that victory. Because very few people, myself included, saw it coming in the scope that it has occurred.