Ken Cuccinelli Has Not Called To Congratulate Terry McAuliffe, Why Does This Matter?
Ken Cuccinelli still hasn't called to congratulate Terry McAuliffe. Why does this odd custom continue?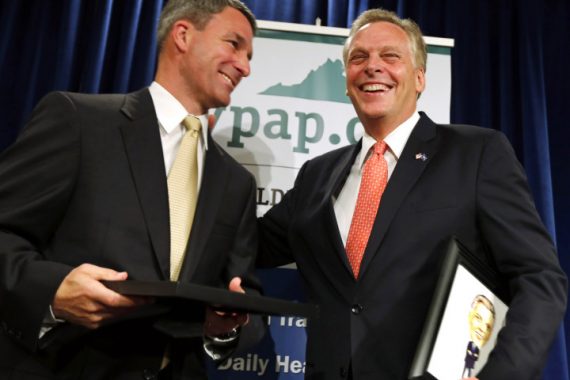 At some point along the way it became a custom in politics, at least in high profile races, for the loser(s) in political race to call their rival(s) and congratulate them on their victory. Given that these phone calls typically come at the end of a hard fought, sometimes bitter, election campaign, it's best to view these calls as a custom that people continue to follow because it's something that has always been done, but where there really isn't any sincerity. After all, does anyone really believe that the man or woman who just lost an election is happy that they other guy won? Of course they aren't. Indeed, sometimes, these calls take on a comical nature, such as in 2000 when Al Gore initially called to concede the election, only to call to take that concession back after doubts started to be raised about the outcome in Florida. Nonetheless, the custom continues, even in an era when it would be just as easy to send a "congratulatory" text message or Tweet, which is why some are raising eyebrows at the fact that Ken Cuccinelli has yet to make such a call to Terry McAuliffe in the wake of Tuesday night's loss:
Attorney General Ken Cuccinelli (R) had not called Democrat Terry McAuliffe after losing the Virginia gubernatorial race and had no plans to do so as of late Wednesday morning, according to a report in The Washington Post.
Cuccinelli has already publicly conceded he lost the race.

At a press conference later on Wednesday McAuliffe said he had still not heard from Cuccinelli.

"I have not had the opportunity yet to speak to the attorney general," McAuliffe said.
Kevin Drum wonders why these calls are considered necessary, and why it should be a big deal if they don't happen:
Let's see a show of hands on this. How many people think we should do away with the whole tradition of a congratulatory phone call from the loser of a political campaign? Is it an insincere gesture that's nonetheless useful as a public way of bearing witness to the peaceful transfer of legitimate power in a democracy and keeping up a facade of civility? Or is it just a pointless and humiliating ritual that's long since worn out its welcome? What say you?
These situations are slightly different when there's an incumbent involved either in the election itself, or as the person leaving office at the end of a term. President Obama met with President Bush within days after winning the 2008 election, for example, and McAuliffe will be meeting with outgoing Virginia Governor Bob McDonnell today. As both a symbol of the peaceful transition of power, and the start of a transition process, such a meeting is both symbolically important and practically necessary. When you're talking about two people who just happened to be running for the same office, though, it's unclear that the whole custom serves any purpose other than to create a false air of collegiality among people who, just days before were attacking each other pretty harshly on the campaign trail.
So, yea, maybe you can say not making the phone call when it's become something of a custom now stands out like a sore thumb as being kind of rude. However, that doesn't mean that the call itself is really all that a big deal, or that it serves to do anything other than force a losing candidate to put on a false face of graciousness when in all likelihood all they really want to do is get some rest after a long and grueling campaign.