Kentucky's Governor-Elect Proposes Solution To The Kim Davis Problem
Kentucky Governor-Elect is backing a change in state law that would eliminate the problems created when Kim David refused to issue marriage license to same-sex couples.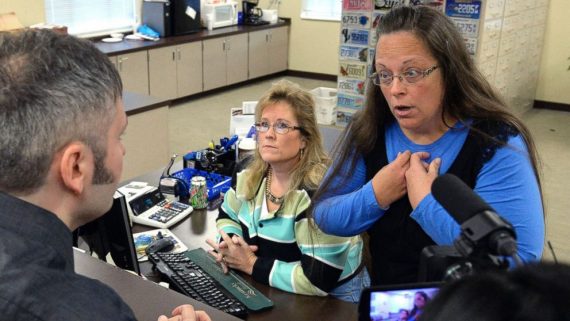 Kentucky Governor-Elect Matt Bevin is wants to change state law that will essentially get Kim Davis and other County Clerks who share her views on same-sex marriage off the hook for any further legal liability if they refuse to issue marriage licenses to same-sex couples while at the same time allowing those licenses to be issued:
Two months after a county clerk in Kentucky became a national figure and was jailed for refusing to grant marriage licenses bearing her name to same-sex couples, the state's governor-elect said Friday that soon after taking office, he would order new licenses that do not have clerks' names, a change that would address one objection raised by opponents of same-sex marriage.

Lawyers for Kim Davis, the clerk in Rowan County who has said that same-sex marriage violates her Christian beliefs, have argued that forcing her to issue licenses with her name on them violated her rights by suggesting that she endorsed the unions. The courts have not agreed, but lawmakers have said the conflict could be resolved by altering the licenses.

"One thing I will take care of right away is we will remove the names of the county clerks from the marriage forms," Matt Bevin, the Republican governor-elect, said Friday at a news conference at the State Capitol in Frankfort.

The departing governor, Steven L. Beshear, a Democrat, has insisted that an act of the Legislature was required to change the form and that a governor could not do it unilaterally.

"The idea that cannot be done is baloney," said Mr. Bevin, who won election on Tuesday, and will take office on Dec. 8. "We will do that by executive order. We will do that right out of the gate."

After the Supreme Court's landmark ruling in June that same-sex couples must be allowed to marry, Ms. Davis refused to put her signature on any marriage licenses. A federal judge ordered her to comply with the ruling, and when she still refused, he found her in contempt and had her jailed for five days in September. At the judge's direction, her office has been issuing licenses signed by her deputy clerks.

Ms. Davis was not the only local official in the country to defy the justices' ruling, but she became the national symbol of resistance to it, and a rallying point for conservatives who propelled Mr. Bevin to victory. His Democratic opponent in the race, Attorney General Jack Conway, had argued that Ms. Davis should simply do as the courts ordered, but he, too, raised the possibility of resolving the conflict by removing clerks' names from licenses.

Ideally, Mr. Bevin has said, a marriage license should not be something that the government grants; rather, it should be a form that anyone can download at will, and then submit to the government purely to be recorded.
Bevin's proposal would have to make it through the Kentucky legislature, which is currently split between a Republican controlled State Senate and a Democratic controlled House of Representatives, but it seems unlikely that this is the kind of legislation that would face many obstacles even from the Democrats. If this were passed into law, it wouldn't really have any impact on the ability of gay and lesbian couples in Kentucky to get marriage licenses. The only thing that would change would be what the wording on the form says and whether or not the County Clerk has to sign off on the document in question. As long that document is considered valid under state law and the couples to whom it is given are considered legally married under state law, then the requirements of the Supreme Court's decision in Obergefell v. Hodges, and the Court order that was issued in Davis's case back in August, will have been met. The reason that this isn't an acceptable alternative at the moment is because, under Kentucky law, marriage licenses must be signed off on by the Clerk or one of their deputies, and Davis's refusal to do that and her order to her deputies that they not do so either was a clear violation of the law.
On some level, of course, I don't necessarily like the idea of Davis and the people she represents being handed what amounts to a victory here, but I don't think there's really any basis to complain that much about it. Even before Bevin's election or the Supreme Court's decision, Kentucky was always free to change the legal form that the state issues to married couples, and as long as the law doesn't discriminate against same-sex or other couples legally eligible to be married then any changes now are not legally objectionable. Additionally, if making this change eliminates the reason that Clerk's Offices in Kentucky might be tempted to violate the law and discriminate against gay couples then I suppose that it is the best that can be made of a ridiculous situation.
None of this is to endorse the bigoted position that Davis takes when it comes the rights of same-sex couples, of course, or to justify her refusal to comply with the law and the valid orders of a Federal District Court Judge. That may be how some of her supporters paint it, but there's not really much that can be done about how they characterize it. If this change in the law eliminates the ability of Davis or those like her to deny other people equal rights, though, then I think we should just count that as a win and move on to the next battle.