Kushner and Corruption
The circumstantial case for corruption by Kushner is growing.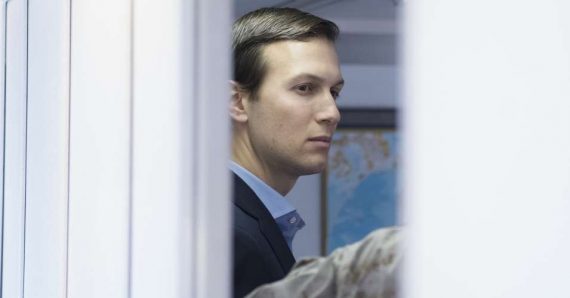 NY Magazine has a round-up of some of the concerns over Jared Kushner:  Qatar Refused to Invest in Kushner's Firm. Weeks Later, Jared Backed a Blockade of Qatar.
What might be motivating Kushner to leverage his current position in the White House to his own personal gain?  Well,
In 2007, Jared Kushner decided that the real-estate market had nowhere to go but up. And so the 26-year-old mogul decided to plow $500 million of his family's money — and $1.3 billion in borrowed capital — into purchasing 666 Fifth Avenue for twice the price it had previously sold for. Even if we'd somehow avoided a global financial crisis, this would have been a bad bet: Before the crash, when the building was almost fully occupied, it generated only about two-thirds of the revenue the Kushners needed to keep up with their debt payments.

After the crisis, however, things got really hairy. The Kushners were forced to sell off the building's retail space to pay their non-mortgage debt on the building — and then to hand over nearly half of the office space to Vornado as part of a refinancing agreement with the real-estate giant.

The office space that the Kushners retained is worth less than its $1.2 billion mortgage — which is due early in 2019. If their company can't find some new scheme for refinancing and redeveloping the property by then, Kushner will have cost his family a fortune.
And, hence:
In the months between his father-in-law's election and inauguration, Kushner divided his time between organizing the transition, and seeking capital from (suddenly quite interested) investors aligned with foreign governments: During that period, Kushner attempted to secure a $400 million loan from the Chinese insurance firm Anbang, and a $500 million one from former Qatari prime minister and billionaire investor Sheikh Hamad bin Jassim al-Thani, also known as "HBJ." Anbang pulled out once the deal attracted critical media scrutiny, and HBJ jumped ship when the Kushners failed to find a second major source of capital.

In those same weeks, Kushner met with Sergey Gorkov, head of the Kremlin-affiliated Vnesheconombank. The senior White House adviser has insisted that this meeting was strictly political; Gorkov maintains it was strictly business.

All of these interactions are currently being scrutinized by Special Counsel Robert Mueller.

They have also, apparently, been studied by top government officials in the United Arab Emirates, China, Israel, and Mexico — all of whom have privately discussed strategies for exploiting Jared Kushner's business interests for geopolitical gain, according to a report from the Washington Post on Wednesday.
All of this underscores why Kushner does not have a security clearance and should easily demonstrate why he should not be working in the White House.  He clearly and unequivocally has conflicts of interest given his personal and family business needed.  This is an excellent illustration of two related facts.  First, just because one is wealthy does not mean one is immune from corruption in public life (indeed, the stakes of one's corruptibility may simply be higher).  Second, there is a reason we want those serving in government to build as big a wall as possible between their time in public life and their private businesses.
And if America's allies and adversaries are looking for further (circumstantial) evidence that U.S. foreign policy might be for sale, the New York Times provided some this week, when it revealed that Kushner's family company had won $500 million in financing last year from a pair of American firms right after their top executives had White House meetings with one Jared Kushner.
I am fairly confident in saying that if we in the US were seeing this kind of behavior from the in-law of the president or prime minister of another country, we would not have a hard time coming to the conclusion that the dealings in question were corrupt.
Kushner's portfolio in this White House is absurd on its face (Middle East Peace, modernizing the bureaucracy, criminal justice reform, to name only three tasks assigned to him), even if he was a well-trained wunderkind.  It is beyond belief when one considers that he is a real estate developer whose main qualification is being born into the right family.
As the NY Mag piece aks:
Even if this is appearance is deceiving, why isn't the mere semblance of such high corruption enough to bounce Kushner from the White House? Are Kushner's personal skills really more valuable than his conflicts of interest are toxic? Is a real-estate heir who has no policy-making experience, background in geopolitics, or security clearance — but does have significant business interests in Israel — really such an ideal choice for brokering peace in the Middle East?
Indeed, although not surprising for a White House that clearly does not understand government or governing and wishes to run the executive branch as much like a family business as is possible.
This should be obvious:  someone who is in a compromised position financially, and who could easily benefit from a high government position, should not be in a high government position.