Robert Mueller Investigating Jared Kushner's Finances
Special Counsel Robert Mueller has a Trump family member in the cross hairs.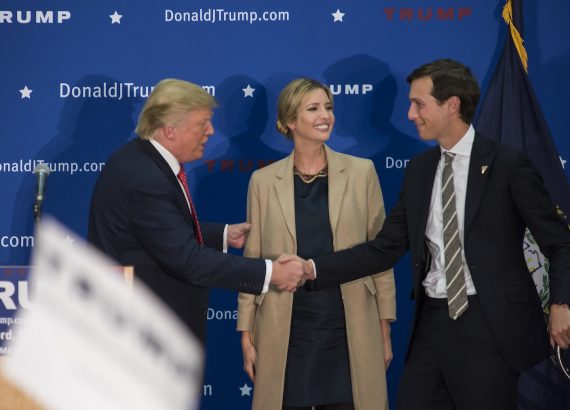 In yet another new development in the rapidly unfolding investigation into Russian interference in the election and all of the things that seem to be tied to it, The Washington Post reported late yesterday that special counsel Robert Mueller is investigating the finances of Trump son-in-law Jared Kushner:
Special counsel Robert S. Mueller III is investigating the finances and business dealings of Jared Kushner, President Trump's son-in-law and adviser, as part of the investigation into Russia's interference in the 2016 presidential election, according to U.S. officials familiar with the matter.

FBI agents and federal prosecutors have also been examining the financial dealings of other Trump associates, including former national security adviser Michael Flynn, former campaign chairman Paul Manafort and Carter Page, who was listed as a foreign-policy adviser for the campaign.

The Washington Post previously reported that investigators were scrutinizing meetings that Kushner held with Russians in December — first with Russian ambassador Sergey Kislyak, and then with Sergey Gorkov, the head of a state-owned Russian development bank. At the time of that report, it was not clear that the FBI was investigating Kushner's business dealings.

The officials who described the financial focus of the investigation spoke on the condition of anonymity because they were not authorized to speak publicly.

At the December meeting with Kislyak, Kushner suggested establishing a secure communications line between Trump officials and the Kremlin at a Russian diplomatic facility, according to U.S. officials who reviewed intelligence reports describing Kislyak's account.

The White House has said that the subsequent meeting with the banker was a pre-inauguration diplomatic encounter, unrelated to business matters. The Russian bank, Vnesheconombank, which has been the subject of U.S. sanctions following Russia's annexation of Crimea, has said the session was held for business reasons because of Kushner's role as head of his family's real estate company. The meeting occurred as Kushner's company was seeking financing for its troubled $1.8 billion purchase of an office building on Fifth Avenue in New York, and it could raise questions about whether Kushner's personal financial interests were colliding with his impending role as a public official.

Mueller's investigation is in a relatively early phase, and it is unclear whether criminal charges will be brought when it is complete.

"We do not know what this report refers to," Jamie Gorelick, an attorney for Kushner, said in an email. "It would be standard practice for the Special Counsel to examine financial records to look for anything related to ­Russia. Mr. Kushner previously volunteered to share with Congress what he knows about ­Russia-related matters. He will do the same if he is contacted in connection with any other inquiry."

Kushner has agreed to discuss his Russian contacts with the Senate Intelligence Committee, which is conducting one of several investigations into Russian meddling in the 2016 election.

Kushner rarely speaks publicly about his role in the White House, but he has become a major figure in the administration with a sprawling list of policy responsibilities that includes Canada and Mexico, China, and peace in the Middle East.

Peter Carr, a spokesman for Mueller, declined to comment for this article but said that "the Special Counsel's Office has undertaken stringent controls to prohibit unauthorized disclosures and will deal severely with any member who engages in this conduct."
This isn't the first time that Kushner's name has come up in connection with the ongoing investigation. Several weeks ago, it was reported that a "senior White House official" was a "person of interest" in the investigation, and several days later it was reported that Jared Kushner was the "focus" of at least part of the investigation, although it wasn't made clear at the time in what respect that was the case. Since then, there have been numerous reports that Kushner and his family apparently have financial ties to Russian banks and financiers who have a close relationship with Russian President Vladimir Putin. Kushner, who retained private counsel with regard to these investigations weeks ago, hasn't commented about any of these matters directly, and neither has his family. From the reports, though, it seems clear that Mueller and his team of investigators, which has expanded steadily in recent weeks to include not just allegations of Russian interference in the election and contacts between Russian officials and the Trump campaign but also an investigation of potential obstruction of justice by the President of the United States. Additionally, it is being reported that Mueller has hired thirteen lawyers to assist him in the ongoing investigation and that there are plans for more hiring in the near future, a sign that Mueller is gearing up for what is likely to be a long-term and wide-ranging investigation.
As I said when I first posted about Kushner's potential involvement in this investigation, the fact that Trump's son-in-law and, apparently, his family are part of Mueller's investigation puts President Trump in a rather awkward position. Unlike other campaign officials such as Paul Manafort, Roger Stone, Carter Page, or Michael Flynn, Trump can't exactly distance himself from his own son-in-law. Even if Kushner weren't working in the White House and wasn't apparently Trump's go-to man on everything ranging from domestic policy to crafting a Middle East peace plan, There's really no credible way to push him to the side or disassociate from him the way that Trump has with others in the past. If it does turn out that the investigation is moving closer to him, or to other matters dealing with the Trump family then the President is going to find himself in deeper trouble than he already is.