Kyrsten Sinema: Expert Troll
The enigmatic Senator is a world-class attention seeker.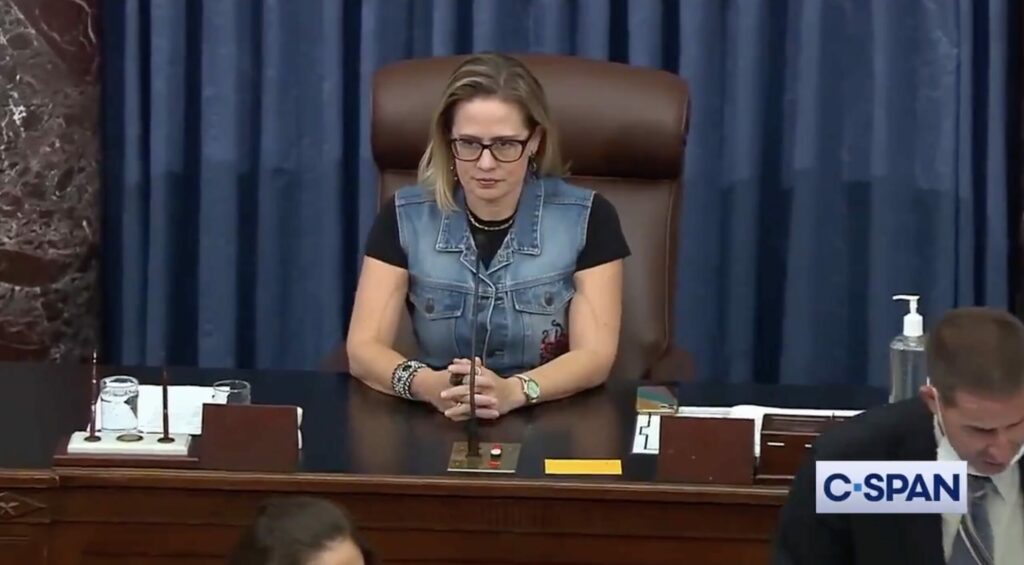 Arizona Senator Kyrsten Sinema, who is competing with her West Virginia colleague Joe Manchin for most frustrating member of the Democratic caucus, wore the above outfit to preside over the World's Greatest Deliberative Body yesterday and not everyone is happy about it. Many think it's simply not appropriate to wear such casual dress in such august a locale and it is decidedly against the Capitol's dress code—outmoded though it may be.
There were many jokes at Sinema's expense, many of them tacky. But this one was epic: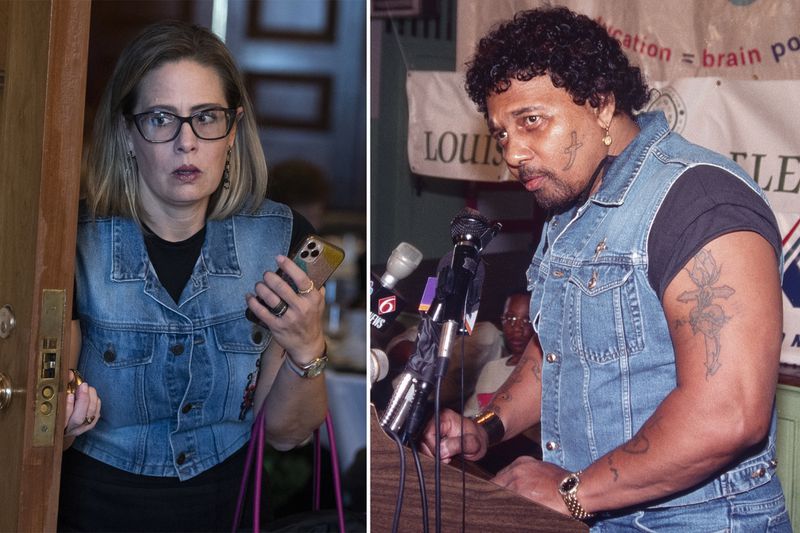 I'm sufficiently traditionalist to think Senators ought to wear suits but, all due respect to Aaron Neville, Sinema pulls it off pretty nicely.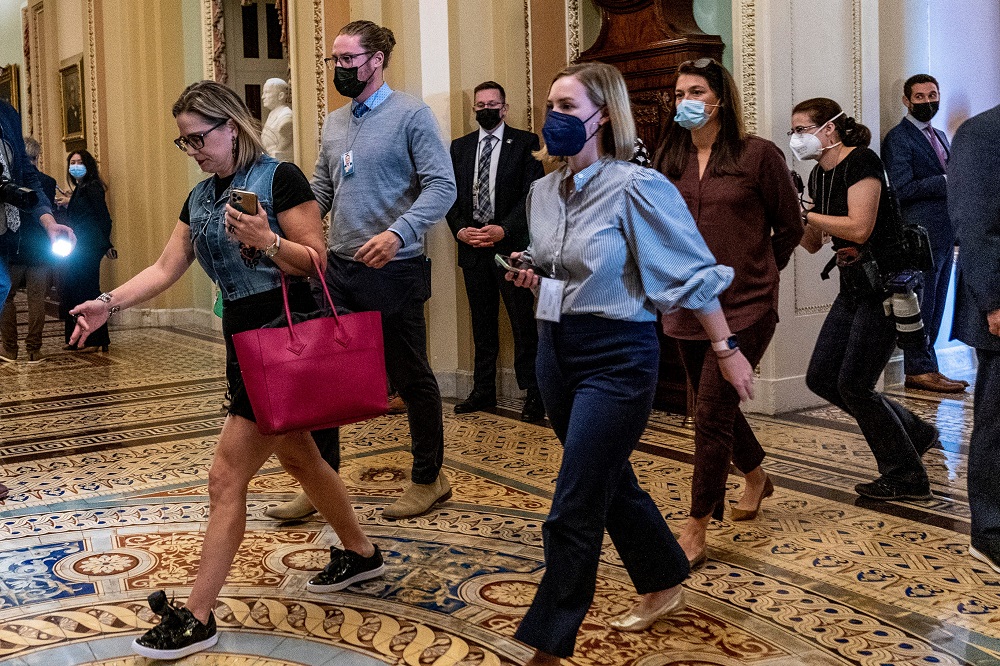 And, frankly, in an era when Members of Congress are wearing "Let's Go Brandon" ball caps to work, I think I'm going to give Sinema a pass.
But I think this helps answer the question I asked a little over a month ago: "What's Kyrsten Sinema's Game?" She's trolling us. She's a smart, attractive woman who wants attention and is very good at getting it.
The Arizona Republic's Bill Goodykoontz has been following her for years and has certainly noticed a trend:
Sinema has refused to back President Joe Biden's "Build Back Better" infrastructure bill. It's been high drama and low comedy along the way, with "Saturday Night Live" taking shots at her in two of its first three episodes of the new season. The spotlight is squarely on her.

Sinema is savvy. She knows people are watching.

We get it, senator. You're a rebel. The "(expletive) off" ring you wore was a pretty solid clue.

[…]

This is the most visible member of the Senate who is currently involved in highest-stakes negotiations on legislation that could shape the future of the country showing up dressed for some kind of Scottsdale version of a biker rally.

Do her clothes matter? Not a bit.

Does whatever message she's sending matter? Yeah, it does.

It's possible, though not likely, that Sinema woke up late and grabbed the first piece of clothing she could find on her way to, um, something that would put her squarely in the public eye.

Yeah. Definitely unlikely.

Sinema often uses fashion to make political statements. From the start of her stint in the Senate, in fact, where her outfit made headlines. I described it at the time as "a pink coat worn over a sleeveless white blouse with matching bracelet and flower-print skirt; she also wore a fur-looking thingamajig over her shoulders for the actual swearing-in."
POLITICO's Hank Stephenson is even more blunt:
At the national level, though, Sinema's brand isn't so much progressive betrayal as raw confusion. When Saturday Night Live parodied Sinema as one of two Democrats opposing President Joe Biden's domestic agenda, the writers knew how to have fun with her biographical details — "as a wine-drinking bisexual triathlete, I know what the average American wants" — and her fashion sense ("all the Scooby Doo characters at the same time"). But when it came to what motivates her, they drew a blank, settling simply on "chaos."

Chaos isn't a bad way to describe her impact in Washington right now; she's not only holding up her own party's biggest national priority, but she's famously unclear about her reasons why. Joe Manchin (W.Va.), the other most-intransigent Democrat, can't stop talking about his motives. Sinema isn't even calling her friends. She's rocketed into the national zeitgeist as an enigma, one of the least understood politicians in Washington.

Back home, some of her oldest allies — as well as critics — have an insight for the Democrats who are trying to corral her, and it's not necessarily a comfortable one: Get used to it. Politically, Sinema's career looks like she experienced a personal revolution; she began as a left-wing agitator and ended up as a Republican-friendly moderate. But in Arizona, many people see those positions as almost beside the point: For them, Sinema is better understood in terms of pure ambition, and the constant triangulation needed to hold office in a purple state that fancies itself charting an independent course, whatever that requires in the moment.
After a longish discourse on her ideological inconsistency and penchant for partnering with folks who seem furthest from her philosophically in order to get bills passed, he notes,
Even among her critics, Sinema is widely regarded as among the savviest political operators in Arizona history. She has the book smarts of a lawyer, the emotional intelligence of a social worker and the determination of a triathlete, because she is all of those things.

Nobody gets to the U.S. Senate without a healthy dose of ambition and hubris. But her detractors say in that regard, too, she's off the charts: That she's only ever cared about herself, that she craves the limelight, that she's abandoned all principles she once held dear in exchange for power.

"Kyrsten is one of the most brilliant people I've ever known, if not the most brilliant," says a former Democratic lawmaker who once was close with her in the legislature and was granted anonymity to speak candidly. That's what makes her conduct in Washington so disappointing: "I don't think her motivation for casting the votes that she does today has anything to do with what her actual true beliefs are."

Instead, the former colleague says her decisions are based on cold hard political calculations — and a need to feed her hunger for attention, more than power even.

"If she lost the Senate race and got a TV show on Fox or whatever, I think she'd be just as happy," the former lawmaker says. "What she wants is Cecily Strong to play her on SNL. Anyone who thinks that she was insulted by that doesn't know her."
If this is indeed her game, she's winning.