Lame Duckin'
As expected, the Congress has overridden his veto of the NDAA.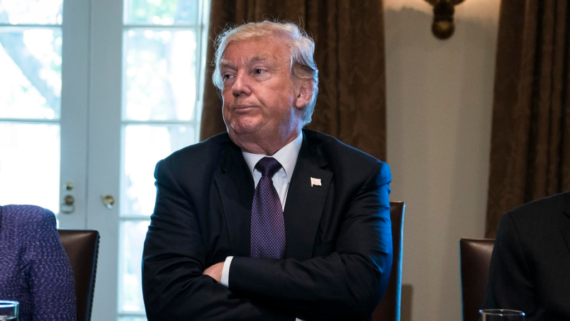 Via the NYT: Senate Overrides Trump's Veto of Defense Bill, Dealing a Legislative Blow:
The Senate on Friday voted overwhelmingly to override President Trump's veto of the annual military policy bill as most Republicans joined Democrats to rebuke Mr. Trump in the final days of his presidency.

The 81-to-13 vote was the first time lawmakers have overridden one of Mr. Trump's vetoes. It reflected the sweeping popularity of a measure that authorized a pay raise for the nation's military.

The margin surpassed the two-thirds majority needed to force enactment of the bill over Mr. Trump's objections, and only seven Republicans voted to sustain the veto. The House passed the legislation on Monday in a similarly lopsided 322-to-87 vote that also mustered the two-thirds majority required.
To be honest, I am not sure that Trump's lame duck status had all that much with this override, but it nonetheless is reflective of his lameness vis-a-vis governing (but the post title just seemed to fit). Fundamentally, the override underscores, yet again, his lack of basic understanding of governance.
After all, the bill originally passed with veto-proof majorities, which usually means, you know, that there are majorities who will override a veto.
It is weird how that works, yes?
Further, it was a case of Trump trying to leverage a defense spending bill that would provide a raise to service members because he wanted to block a provision that would require the re-naming of bases named for Confederates and because he wanted to leverage the bill to repeal a portion of federal law that shields hosting services from being directly responsible for content posted by users. Trump has also conflated his demand that relief checks be increased to $2,000 with this process (which has no direct relationship to that policy issue).
Those objections, registered late in the legislative process, infuriated lawmakers, who had labored for months to put together a bipartisan bill. They had prided themselves on passing the military bill each year for 60 years, and lawmakers in Mr. Trump's own party ultimately moved to mow over his concerns and advance the legislation. It was a sharp departure from the deference Mr. Trump has normally been shown on Capitol Hill by members of his party.

The vote on Friday ensures that the legislation will be enacted into law over Mr. Trump's objections, including the provision requiring the Pentagon to strip the names of Confederates from military bases that so riled the president. The bill also takes steps to slow or block Mr. Trump's planned drawdown of American troops from Germany and Afghanistan, and would make it more difficult for the president to deploy military personnel to the southern border.

[…]

The bill contains a 3 percent increase in pay for service members and a boost in hazardous duty incentive pay, new benefits for tens of thousands of Vietnam-era veterans who were exposed to Agent Orange and a landmark provision aimed at preventing the use of shell companies to evade anti-money-laundering rules.
To be honest this all just feels like Dan Drezner's toddler-in-chief bit made manifest. Like the toddler that throws a fit because he doesn't want to go to bed, nonetheless finds that bedtime can, and will, be enforced by the adults in the room.