Leak Reveals A Decade Of Trump Tax Information, But Nothing Very Illuminating
The New York Times has obtained about ten years worth of Donald Trump's tax returns from the late eighties to early nineties. They don't tell us much that we didn't already know.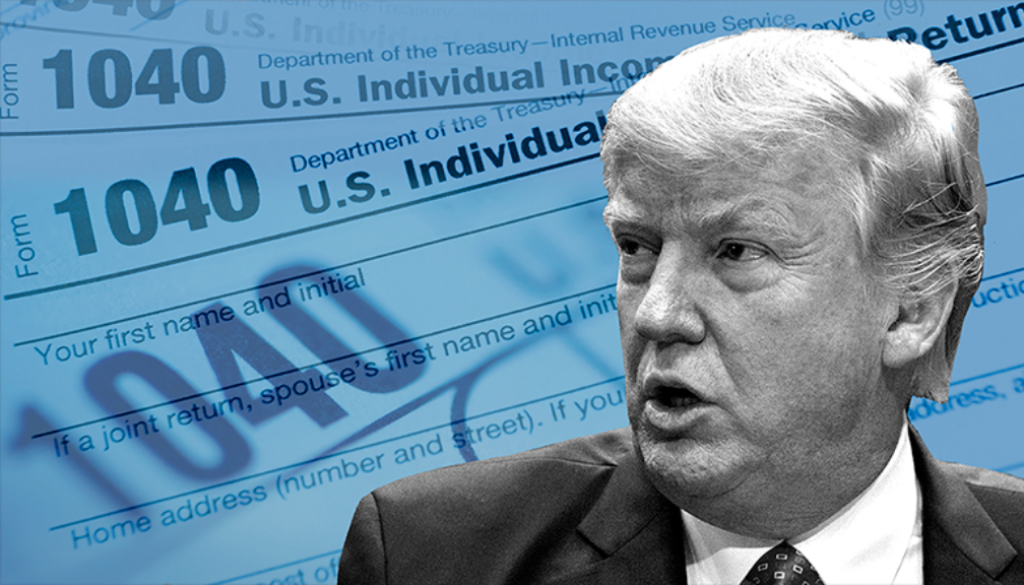 The New York Times got its hands on ten years worth of Donald Trump's tax information from the late eighties and early nineties and, to be quite frank about it, there really isn't much there:
By the time his master-of-the-universe memoir "Trump: The Art of the Deal" hit bookstores in 1987, Donald J. Trump was already in deep financial distress, losing tens of millions of dollars on troubled business deals, according to previously unrevealed figures from his federal income tax returns.

Mr. Trump was propelled to the presidency, in part, by a self-spun narrative of business success and of setbacks triumphantly overcome. He has attributed his first run of reversals and bankruptcies to the recession that took hold in 1990. But 10 years of tax information obtained by The New York Times paints a different, and far bleaker, picture of his deal-making abilities and financial condition.

The data — printouts from Mr. Trump's official Internal Revenue Service tax transcripts, with the figures from his federal tax form, the 1040, for the years 1985 to 1994 — represents the fullest and most detailed look to date at the president's taxes, information he has kept from public view. Though the information does not cover the tax years at the center of an escalating battle between the Trump administration and Congress, it traces the most tumultuous chapter in a long business career — an era of fevered acquisition and spectacular collapse.

The numbers show that in 1985, Mr. Trump reported losses of $46.1 million from his core businesses — largely casinos, hotels and retail space in apartment buildings. They continued to lose money every year, totaling $1.17 billion in losses for the decade.

In fact, year after year, Mr. Trump appears to have lost more money than nearly any other individual American taxpayer, The Times found when it compared his results with detailed information the I.R.S. compiles on an annual sampling of high-income earners. His core business losses in 1990 and 1991 — more than $250 million each year — were more than double those of the nearest taxpayers in the I.R.S. information for those years.

Over all, Mr. Trump lost so much money that he was able to avoid paying income taxes for eight of the 10 years. It is not known whether the I.R.S. later required changes after audits.


Since the 2016 presidential campaign, journalists at The Times and elsewhere have been trying to piece together Mr. Trump's complex and concealed finances. While The Times did not obtain the president's actual tax returns, it received the information contained in the returns from someone who had legal access to it. The Times was then able to find matching results in the I.R.S. information on top earners — a publicly available database that each year comprises a one-third sampling of those taxpayers, with identifying details removed. It also confirmed significant findings using other public documents, along with confidential Trump family tax and financial records from the newspaper's 2018 investigation into the origin of the president's wealth.

Several weeks ago, a senior official issued a statement saying: "The president got massive depreciation and tax shelter because of large-scale construction and subsidized developments. That is why the president has always scoffed at the tax system and said you need to change the tax laws. You can make a large income and not have to pay large amount of taxes."


On Saturday, after further inquiries from The Times, a lawyer for the president, Charles J. Harder, wrote that the tax information was "demonstrably false," and that the paper's statements "about the president's tax returns and business from 30 years ago are highly inaccurate." He cited no specific errors, but on Tuesday added that "I.R.S. transcripts, particularly before the days of electronic filing, are notoriously inaccurate" and "would not be able to provide a reasonable picture of any taxpayer's return."


Mark J. Mazur, a former director of research, analysis and statistics at the I.R.S., said that, far from being considered unreliable, data used to create such transcripts had undergone quality control for decades and had been used to analyze economic trends and set national policy. In addition, I.R.S. auditors often refer to the transcripts as "handy" summaries of tax returns, said Mr. Mazur, now director of the nonpartisan Urban-Brookings Tax Policy Center in Washington.


In fact, the source of The Times's newly obtained information was able to provide several years of unpublished tax figures from the president's father, the builder Fred C. Trump. They matched up precisely with Fred Trump's actual returns, which had been obtained by The Times in the earlier investigation.

The new tax information does not answer questions raised by House Democrats in their pursuit of the last six years of Mr. Trump's tax returns — about his recent business dealings and possible foreign sources of financing and influence. Nor does it offer a fundamentally new narrative of his picaresque career.


But in the granular detail of tax results, it gives a precise accounting of the president's financial failures and of the constantly shifting focus that would characterize his decades in business. In contrast to his father's stable and profitable empire of rental apartments in Brooklyn and Queens, Mr. Trump's primary sources of income changed year after year, from big stock earnings, to a single year of more than $67.1 million in salary, to a mysterious $52.9 million windfall in interest income. But always, those gains were overwhelmed by losses on his casinos and other projects.


The new information also suggests that Mr. Trump's 1990 collapse might have struck several years earlier if not for his brief side career posing as a corporate raider. From 1986 through 1988, while his core businesses languished under increasingly unsupportable debt, Mr. Trump made millions of dollars in the stock market by suggesting that he was about to take over companies. But the figures show that he lost most, if not all, of those gains after investors stopped taking his takeover talk seriously.
This isn't the first time that journalists have been able to obtain copies of the Presidents tax returns, although it does amount to the most extensive collection that any single news outlet has been able to obtain throughout Trump's entire career and most certainly since he entered the race for President in the summer of 2015. As with the previous two examples, though, these disclosures, though far more voluminous than those in the past, do not shed any light on Trump's financial situation in the twenty years before he ran for President or in the time since he became a candidate for office.
Roughly a month prior to the 2016 election, for example, a reporter at The New York Times received two pages of Trump's 1995 tax return from an anonymous source who had somehow obtained a copy of at least part of the return. The most notable thing about that partial return was that it showed that, at the time, Trump was carrying what would have likely been a multi-year deduction related to business losses in the early 1990s that, in theory, could have legally allowed him to avoid any real tax liability for a decade or more. This, of course, is consistent with what the Times has uncovered now. About a year later, MSNBC host Rachel Maddow made a big show out of the fact that she had obtained a partial copy of Trump's 2005 tax return, which in this case didn't really show anything extraordinary. As with the October leak, Maddow only received the two pages of Trump's Form 1040 and not any of the Schedules or supporting documents that were likely filed with the return(s), so there was nothing particularly illuminating about the leaked documents. One notable thing about the return leaked to Maddow, though, is the fact that it did not appear that Trump was still taking the same sizeable loss deduction he had ten years earlier, although that doesn't mean that he wasn't still taking advantage of it, as permitted by law, in years after 1995. In any case, as I said, neither of these releases were particularly illuminating, but that hasn't stopped some activists from forcing Trump to reveal more about his taxes.
There is one interesting item in the returns that is somewhat of a mystery:
One number from Mr. Trump's tax returns is particularly striking — and particularly hard to explain: the $52.9 million in interest income he reported in 1989.

Mr. Trump reported $460,566 in interest income in 1986. That number grew to $5.5 million the next year, and $11.8 million the next. Then came the outlier 1989.

Taxpayers can receive interest income from a variety of sources, including bonds, bank accounts and mortgages. High-yield bonds, though less common today, were popular with institutional investors in the 1980s. And to make $52.9 million in interest, for example, Mr. Trump would have had to own roughly $378 million in bonds generating 14 percent a year.

Hard data on most of Mr. Trump's business life is hard to come by, but public findings from New Jersey casino regulators show no evidence that he owned anything capable of generating close to $52.9 million annually in interest income.

Similarly, there is no such evidence in a 1990 report on Mr. Trump's financial condition, prepared by an accounting firm he hired at his bankers' request and based on his most current tax returns and audited financial statements.

Mr. Trump's interest income fell almost as quickly as it rose: He reported $18.7 million in 1990, and only $3.6 million in 1992.
This is an interesting item mostly because the tax return doesn't really explain what the interest income is from, or who may have paid it, because it is not required for taxpayers to disclose that information on the returns themselves. One possibility is that it was somehow related to one of Trump's famous real estate deals, of course, but that would have required that he be the one who actually loaned money to some person or entity. Another possibility is that the interest income is from bonds that Trump had invested in. Given the fact that this report actually increased Trump's overall tax liability in the given years, it seems clear that there is most likely nothing nefarious about this significant, albeit mysterious item in his return.
All of this comes at the same time that the issue of obtaining copies of the President's tax returns, which he continues to decline to make public, is once again becoming newsworthy. As I noted yesterday, Treasury Secretary Steve Mnuchin has informed the Chairman of the House Ways and Means Committee that he would not make copies of the President's returns available to the committee due to what Mnuchin asserts is the lack of a proper legislative purpose for the request. Additionally, California is becoming the latest state to consider legislation that would make a candidates ballot access conditional on their providing copies of their most recent returns. Both of these seem to be headed for inevitable court challenges.
In the end, it seems unlikely that this latest report from the Times, while extensive, will have much of a political impact. First of all, there's the fact that these reports are in some cases more than 25 years old and, in many respects, confirm things that we already knew about Trump and his finances. This includes his reliance on debt for many of his most famous projects and the fact that, in the late 80s and early 90s, he went through a business and financial crisis that nearly cost him his whole empire. This last fact is one that was well covered at the time by New York City newspapers where Trump was a regular subject, for example, and much of it had been revealed during the course of revelations of other matters that Trump was involved in such as his divorces from Ivana Trump and Marla Maples in 1992 and 1999 respectively. Because of that information the fact that the early 90s were a time of grave financial danger for Trump during which he was ultimately only rescued because his creditors made deals that kept him afloat rather than sending him into a bankruptcy that would have resulted in them receiving at best pennies on the dollar. Finally, while this report does shed a light on Trump's business and financial history, it doesn't tell us much that we didn't already know, and it doesn't tell us anything about his financial dealings with banks and other sources in the United States or elsewhere beyond 1994. For that reason, the actual value of these revelations is basically zero.