Limited Strikes, Limited Utility, Unlimited Fallout
We're almost certainly going to launch punitive strikes against Syria. They'll almost certainly be ineffective.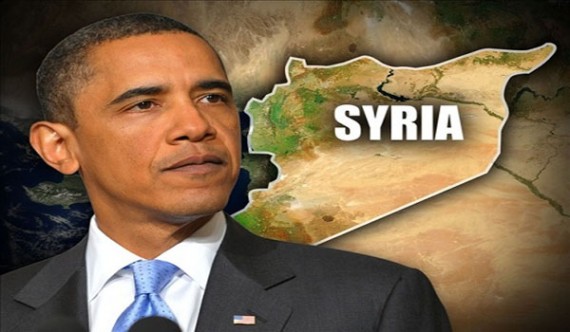 We're almost certainly going to launch punitive strikes against Syria. They'll almost certainly be ineffective.
As Ken Dilanian notes in a page 1 analysis in the LA Times, it's not as if there isn't a track record.
"If the U.S. does something and Assad is left standing at the end of it without having suffered real serious, painful enough damage, the U.S. looks weak and foolish," said Eliot Cohen, a professor at the Johns Hopkins School of Advanced International Studies.

"Can you do damage with cruise missiles? Yes," said Anthony Cordesman, military analyst with the Center for Strategic and International Studies. "Can you stop them from having chemical weapons capability? I would think the answer would be no. Should you limit yourself to just a kind of incremental retaliation? That doesn't serve any strategic purpose. It doesn't protect the Syrian people, it doesn't push Assad out."

Previous such punitive attacks were aimed at countries that had targeted or threatened American personnel or facilities. If Obama authorizes action against Syria, he would be striking a country that has posed no clear threat to the U.S.

However, Obama did authorize U.S. participation in a U.N.-approved mission to protect civilians in 2011 that ultimately led to the fall of Kadafi's government. Secretary of State John F. Kerry on Monday cited what he called "the indiscriminate slaughter of civilians" in the attack last week in Syria.

In 1986, after officials concluded that Kadafi had ordered a bombing that killed two U.S. service members in a Berlin disco, President Reagan authorized an airstrike in Tripoli. Among the targets was Kadafi's residence compound, but he had fled after having been warned.

In August 1998, days after Al Qaeda bombings of American embassies in Kenya and Tanzania killed 224 people, including 12 Americans, President Clinton signed off on plans to target Bin Laden with cruise missiles, and the U.S. fired 75 of them into terrorist training camps in Afghanistan.

Clinton's operation also targeted a pharmaceutical factory in Sudan that U.S. officials thought was making chemical weapons. Later evidence cast doubt on that claim.

Bin Laden and many of his top lieutenants escaped unharmed. Documents declassified in 2008 suggested the strikes may have brought Al Qaeda and the Taliban closer politically and ideologically. The U.S. invaded Afghanistan after the 2001 attacks when the Taliban refused to hand over Bin Laden.

In December 1998, Clinton ordered an operation designed to "strike military targets in Iraq that contributed to its ability to produce, store, maintain and deliver weapons of mass destruction," according to a Pentagon history.

Later evidence showed Hussein had shelved his banned weapons programs by then, but the attacks were at the time considered a military success, having inflicted serious damage on Iraq's missile development program.

However, Hussein's government survived, and he ended United Nations weapons inspections. The attacks also weakened the international sanctions against him, analysts say, because some countries in the coalition were opposed to the operation and became less committed to the penalties afterward.
Abdulrahman al-Masri and Oren Dorell, writing for USA Today, argue that limited strikes would have little impact on the conflict itself.
A limited strike against Syria might convince the Assad regime not to use chemical weapons again, but it won't change the balance of power in Syria's civil war or bring about President Obama's stated goal of regime change, Middle East analysts and rebel leaders agree.

Syria's President Bashar Assad has behind him Russia's veto at the United Nations, Iran's military backing, Hezbollah's foreign fighters and a rebel adversary infiltrated by Islamist groups the United States worries about arming.

Breaking up this morass will likely take more than the cruise-missile strike Obama and Western allies are considering.

"The threats to our interests have only gotten worse, and our inaction has been quite harmful to our interests," said Michael Singh, managing director of the Washington Institute of Near East Policy and a former senior director for Middle East affairs at the National Security Council under President George W. Bush.

"There's no reason to think those consequences won't continue to worsen, and yet you don't see any momentum toward any kind of effective action by the United States and our allies to do anything about it," he said.

Assad "has used all kinds of weapons, chemical and cluster bombs, during massacres in Syria," said Abu Jaafar al-Mugarbel, an activist based in Homs, in western Syria.

"There is nothing that can stop the regime from doing that except military intervention. It is not the best way forward but there is nothing else after all that has happened," he said.
Gary Hart, meanwhile, worries about unintended consequences.
We may choose to punish Assad for using chemicals on his own people, though I don't recall that we did so to Saddam Hussein in the 1980s, and it will make us feel better. But it will solve nothing in the long run. Unless we want to kill a great many people, and remain in Syria for much longer than in Iraq or Afghanistan, we cannot determine the outcome of this civil war. In neighboring Lebanon, a similar war raged for almost two decades.

If there are Syrian military targets isolated from urban concentrations, bombs away. But for most of these, including military-command facilities such as ministries of defense, expect heavy civilian casualties—widely reported on the evening news throughout the world. That always has the salutary effect of driving the "do something" experts off the cable talk shows.

Among those not in evidence on the cable shows are former or existing senior military commanders. Senior commanders in uniform are appropriately reluctant to advise the commander-in-chief in public. But their colleagues now in retirement are rarely so reluctant. Yet few, if any, are heard to demand that we "do something." And their silence is often a quality indicator of the thinking of their colleagues in uniform with whom they maintain close ties.
As to the utility of missile strikes on Assad's chemical stockpiles, Hart adds,
That surely could not be serious. There are close to a dozen and a half such sites and, once dispersed, the aerated chemicals might have the unintended benefit of crippling the Taliban in Afghanistan, among others, along the way.
Further, Nick Gvosdev warns that we risk losing leverage elsewhere:
Russia might decide to defect from the U.S.-led sanctions regime on Iran, throwing out a lifeline to the new administration of Hassan Rowhani (who will meet with Putin and Chinese president Xi Jinping in Kyrgyzstan next month). Putin may decide to continue to play the role of spoiler to U.S. plans and strategies around the world, to raise costs for U.S. action.

Secretly, however, Moscow may be quite prepared to let the United States find itself embroiled into yet another Middle Eastern crisis and, depending on how any strike on Syria would be handled, one which in turn might tie the United States down for the long term with coping not only with Syria but with Iran as well. A renewed U.S. focus on the Middle East ends any possibility that Washington would be able to spare the time, attention or resources to focusing on Russia's attempts at reintegrating the former Soviet space under Moscow's regional leadership. (It goes without saying that this would also effectively end any "pivot to Asia" for the foreseeable future.) Given recent U.S. statements that, in the absence of any UN resolution, the United States would not go in alone but would seek commitments from allies, this could put renewed pressure on the cohesiveness of a NATO alliance still under considerable stress in dealing with the Afghan mission. For the last decade, the mantra of the U.S. foreign-policy establishment vis-a-vis Russia has been "selective cooperation"—the United States would pursue cooperation with Moscow in those areas where it would most benefit U.S. interests but would retain the freedom to go against Russian preferences when necessary. But with America lacking good options on Syria—and with Russia not particularly inclined to help Washington out—it may be Russia that will be doing more of the "selecting" in the future.
That's assuming—as I do—that we'll limit ourselves to a token effort.