Lincoln Project's Dirty Tricks
Can we stop pretending these trolls and grifters are Republicans?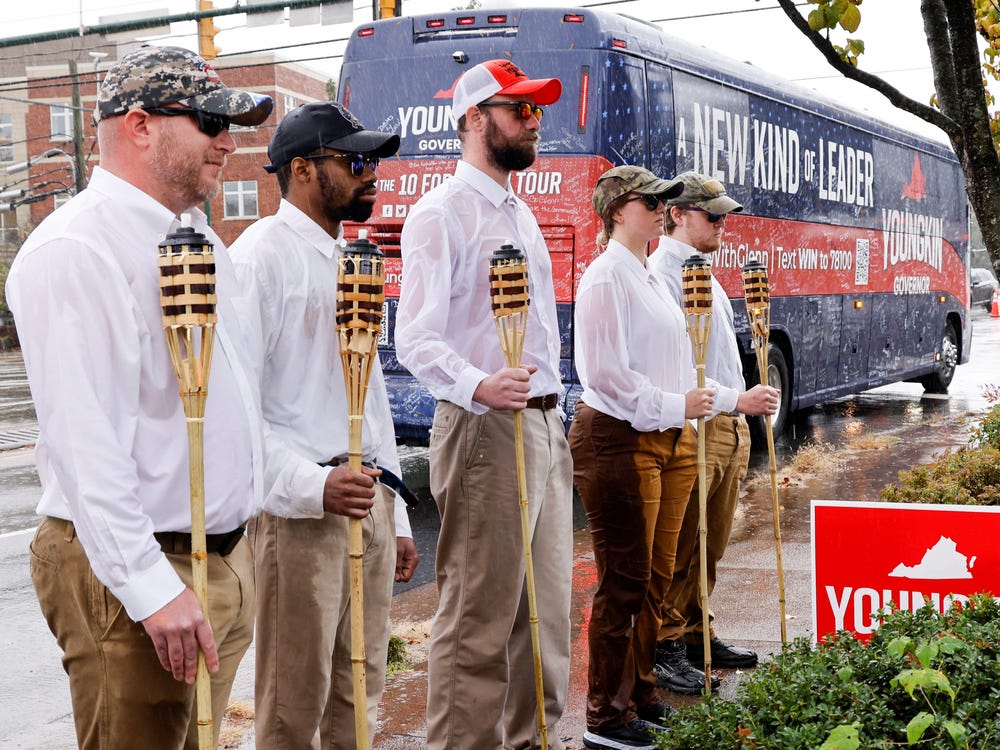 I found the juxtaposition of the above photo and the headline "The Lincoln Project sent a group posing as white supremacists with tiki torches to a GOP campaign event in Virginia ahead of the state's gubernatorial election" at Business Insider rather amusing. Clayton Bigsby notwithstanding, few were likely to be fooled.
Regardless, the story itself is mildly disturbing:
A group of people carrying tiki torches turned up to an event for Republican gubernatorial candidate Glenn Youngkin in Charlottesville, Virginia, on Friday, posing in front of his tour bus.

Turns out, they were sent by the Lincoln Project, an anti-Trump Republican group.

The tiki torches were a nod to the 2017 "Unite the Right rally" in Charlottesville, when white supremacists and neo-Nazis marched with tiki torches in hand, with some chanting "Jews will not replace us."

The stunt came the same week a civil trial began against the rally's organizers and days before Virginia's gubernatorial election on November 2.
I really wish media outlets would stop pretending that the Lincoln Project is a "Republican group." While there were some prominent #NeverTrump Republicans affiliated with the organization, it was always a grift at the leadership level. And it has long since morphed into a Democratic-leaning organization.
Regardless, people quickly caught on to the stunt, which seems to have backfired. Well, at least if the intent was to help McAuliffe rather than garner attention for the Lincoln Project.
WaPo ("Lincoln Project organized a group to carry torches at Youngkin event in Charlottesville"):
Before the Lincoln Project claimed responsibility, some Twitter users started suggesting it was a political stunt by Democratic operatives. Others shamed Youngkin for allowing the demonstration at the event. Both Youngkin and Democratic gubernatorial candidate Terry McAuliffe denied being connected to the group. The Youngkin campaign accused McAuliffe of setting up the event. Rich Anderson, chair of the Republican Party of Virginia, tweeted that the event was a "mockery" of the events in Charlottesville, blaming McAuliffe for the stunt and his "failure to lead" as governor in 2017. The state's Democratic Party called efforts to tie it with the event "shameful and wrong."

"What happened today is disgusting and distasteful and we condemn it in the strongest terms," McAuliffe campaign manager Chris Bolling said in a prepared statement after the Lincoln Project took responsibility for the matter. "Those involved should immediately apologize."

[…]

Mark Rozell, dean of the Schar School of Policy and Government at George Mason University, said that if the political stunt was intended to help McAuliffe, it took things too far. "The overreach backfires because it is so ridiculous in its execution it hurts the point they're trying to make," Rozell said.
The Hill ("Lincoln Project says it sent people with tiki torches to Youngkin event"):
McAuliffe's campaign condemned the stunt.

"What happened today in Charlottesville is disgusting and distasteful and the McAuliffe campaign condemns it in the strongest terms," McAuliffe's campaign manager Chris Bolling tweeted. "Those involved should immediately apologize."

The Virginia Democratic Party said it did not have "any role" in Friday's event, and said it was "shameful and wrong" to make any such allegations.

Vice News has identified one of the people involved as Lauren Windsor, a liberal activist known for going undercover to get politicians to share their unfiltered thoughts.

[…]

Connor Rogers, who previously worked as the Lincoln Project's digital director, said that Heather Heyer, the counter-protester who died in Charlottesville, is "not a prop or a stunt."
Dirty tricks of this sort have a long history but just have no place in our politics.