The Lincoln Project Grift
Its founders are laughing all the way to the bank.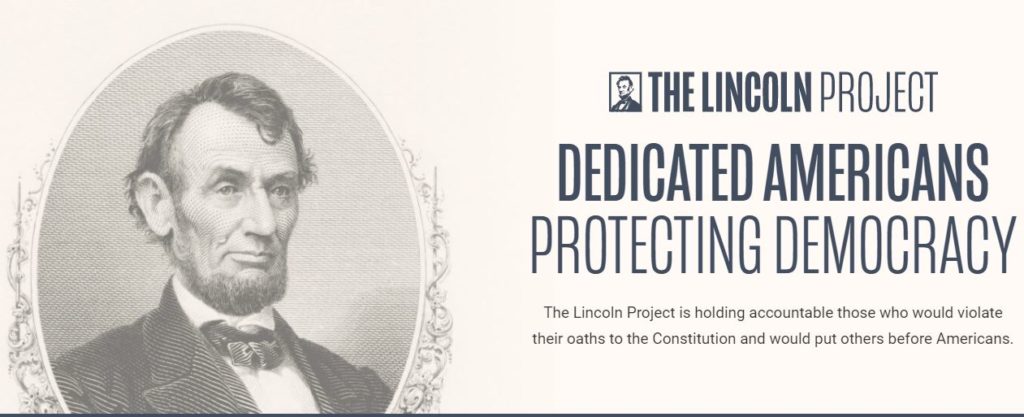 The most prominent of #NeverTrump organizations is falling apart at the seams. While masquerading as a home for reasonable Republicans "holding accountable those who would violate their oaths to the Constitution and would put others before Americans," it was really something else, entirely.
Axios details the string of stories that have come out in recent days and weeks:
This is quite the comeuppance for a group that got famous for trolling Trump on Twitter and seemed poised to really capitalize in the aftermath of the election.
The group was also on the verge of a huge victory. With Trump facing a historic wipeout, the Lincoln Project could claim it played a decisive role in his defeat, particularly for marshaling Republicans to Joe Biden's side. The group seemed poised to enter a new strata of success, one that wouldn't require its muse. The Lincoln Project had ambitions of creating a political influence company that would guide campaigns for years to come, while also negotiating with United Talent Agency on a host of projects befitting a multiplatform media behemoth: podcasts, books, movies, even a House of Cards-esque TV series.
Amanda Becker, writing at something called 19th News, interviewed several lower-level people in the organization. In addition to portraying a toxic workplace culture, shows how slapdash the organization was from the outset:
The interviews depict an organization that grew quickly, with little planning at its inception, and then began to spiral out of control as its founders quarreled over the organization's direction, finances, tactics and even who would own the donor data that the project would eventually amass. Some of the co-founders had an informal management agreement that excluded the others, without their knowledge. Several had private firms to which the Lincoln Project channeled tens of millions of dollars that are then not subject to disclosure, while others were paid relatively modest amounts directly or nothing at all. There were clashes over ego and resentments over podcasts and television contracts.

[…]

A three-person board — Galen, Madrid and Steslow — was created without input from some of the other co-founders. Eventually, disputes over that board, and its scope, led to bitter infighting that involved individual co-founders lawyering up and threatening one another with "oppo" research, Washington speak for the type of negative information amassed by a political campaign or organization to use against a rival.

In late 2020, Conway stepped in to help mediate what was quickly becoming a civil war within the organization. Madrid and Steslow departed in December after signing nondisclosure agreements and receiving separation packages that those familiar with the negotiations describe as lucrative.

On December 21, the Lincoln Project paid Madrid's firm, Grassroots Lab, two round sum payments of $1.1 million and $300,000. On the same date, it paid Steslow's firm, TUSK Digital, $900,000. All of the payments were described as for "political strategy consulting" on campaign finance filings.

The Lincoln Project was organized as a super PAC, meaning it could raise and spend unlimited sums of money but had to disclose only basic details about where the money was going. The firms that some of the co-founders brought with them to the Lincoln Project's work became a source of internal frustration, as more than half of the nearly $90 million raised by the project flowed to firms controlled by its various founders. Once it was there, there was usually no way to track how they spent or kept it.

As of late January, Galen's firm, Summit Strategic Communications, had received roughly $27.5 million from the Lincoln Project, with the bulk of that going to "independent expenditures" such as television or Internet advertisements and nearly $7 million to consulting. Steslow's firm, TUSK, received $22.4 million, with $7.1 million for consulting.

Schmidt's firm, SES Strategies, received $1.5 million for consulting, but he told the Chicago Tribune he returned it. Madrid's Grassroots Lab received nearly $2.2 million for consulting services. The Lincoln Project paid Horn directly in amounts of $5,000 or $10,000 per month, campaign finance filings show. In the fall, she began receiving additional payments from LPTV, but in all, her annual compensation was approximately $150,000, sources familiar with the situation said.

There is no way to determine what portion of the consulting fees went directly to the co-founders as their compensation for Lincoln Project work, or whether they paid one another, according to campaign finance experts. Super PACs are structured this way by design.

Super PACs are widely used by both political parties, but the percent of the Lincoln Project's money that went to vendors and firms connected to its co-founders raised eyebrows given the group's criticism of Trump-affiliated political groups that similarly directed money to the organizations of allies as a "criminal enterprise."
It's noteworthy that the page that listed the group's leadership and support team has been taken down entirely.
Regardless, everyone now seems to be where I was back in my July post "NeverTrump Democrats."
Additionally, it's worth noting that several of the founders, notably Steve Schmidt, Rick Wilson, and Reed Galen, are essentially professional grifters who are cashing in on the project […] Again, to the extent they're getting under Trump's skin and diminishing his already-slim re-election chances, I'm happy. But the consistent media narrative that this is somehow principled opposition to Trump and what he has done to the party is grating.
It's perhaps not surprising that National Review's David Harsanyi takes schadenfreude in declaring that, "Yes, the Lincoln Project Is an Ugly Grift." But David Sirota and Andrew Perez make the same declaration ("The Lincoln Project Was a Giant Grift") at Jacobin. The critiques are, not surprisingly, very different but they both hone in on the group's leadership raking in piles of money from anti-Trump donors, little of which was used to defeat Trump and even most of that was spent telling people what they already knew.
Regardless, while their reputation has taken a hit, it's not clear that any of this graft is illegal. With the exception of Weaver, who may well face criminal charges for his sexual predation, I suspect the rest will be just fine.