#NeverTrump Democrats
A movement that has grown beyond recognition.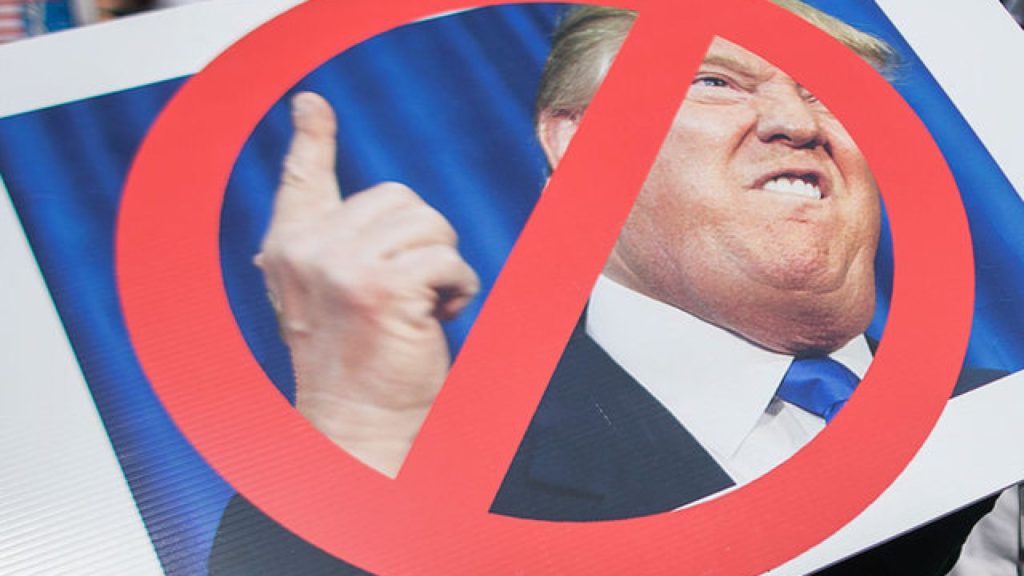 As Donald Trump became the frontrunner for the 2016 Republican nomination, a group of longtime members of the party, particularly national security professionals, signed open letters vowing they would never vote for him. A hashtag was born.
While I never signed one of the letters—I wasn't asked and would have declined it as pretentious since I'd never served in a previous Republican administration—I very much considered myself a #NeverTrumper. But, even on election eve, I had no illusions that it was a powerful movement:
The #NeverTrump movement, while it may well be enough to keep Trump out of the White House, is nonetheless a fringe. It consists mainly of opinion writers, Republican politicians who have retired from politics, and the national security establishment. And the very existence of the movement will be seen as evidence that the reason Trump failed to get elected was the RINOs, not a political movement that's out of step with modern America.
The movement has grown to more influence but, alas, to become unrecognizable.
WaPo ("The once-mocked 'Never Trump' movement becomes a sudden campaign force"):
Groups such as the Lincoln Project and Republican Voters Against Trump — which is focused on first-person testimonials like Josh's — emphasize guerrilla tactics and scathing ads as they troll the president. The movement seeks to build a national political operation to oust both the president and his supporters in Congress, with a particular emphasis on persuading white suburban voters who consider themselves true Republicans to break from the president, according to interviews with more than a dozen anti-Trump advisers and allies who are involved in the planning, some of whom spoke on the condition of anonymity to describe private discussions.

Advisers to the Lincoln Project, which they say has about 30 employees and raised $16.8 million this quarter, will soon expand to include ground operations. They are coordinating over 2,500 volunteers in Michigan and plan to next target Republican Sens. Susan Collins (Maine), Joni Ernst (Iowa), Thom Tillis (N.C.) and Lindsey O. Graham (S.C.), who they see as vulnerable after his challenger, Jaime Harrison (D), pulled in a staggering $13.9 million since April.
While I vowed early on that I would never vote for Trump (and, indeed, made a similar vow in 2012 "if any of the non-Mormons" won the nomination), it took me to the eve of the election to endorse Hillary Clinton.
I would, however, have still voted for a traditional Republican for Congress if I had had that option. And I urged my then-fellow Republicans to do the same:
I would urge other disaffected Republicans who can't countenance Trump to vote their conscience but to also be strategic. If you live in a swing state, voting Clinton is necessary this cycle; we simply can't risk a Trump presidency. In Red or Blue states, where the outcome is not in doubt, I can see the value in a vote for [Evan] McMullin to signal that you'd prefer what until recently would have been a "mainstream" Republican; again, however, he's not truly qualified for the job. Down ballot, at least in terms of U.S. House and Senate races, I would urge a vote against any but the staunchest and most consistent anti-Trump Republican. I haven't paid sufficient attention to any of the state-level contests to have a strong opinion as to how you should vote there. Still, repudiation of Trump types even at that level is essential; they're the breeding ground for tomorrow's House and Senate candidates.
The near-complete takeover of the GOP by Trumpists and their repudiation of all the principles they previously claimed to stand for in support of him led me to leave the party. And, while I don't think of myself as a Democrat—and have never lived in a state that had party registration—I am functionally a Democrat at this point, having voted in their presidential and House nominee in 2016, in their presidential primary in 2020, and exclusively for their candidates for federal and statewide office in between.
But a group seeking to not only defeat Trump but every vulnerable Republican in the Senate is in no way "Republican." They are, like me, effectively Democrats.
The Lincoln Project has been effective at trolling Trump on Twitter and with television advertisements. But, while their team includes many modestly prominent former Republican operatives (I'd never heard of most of them), it also includes the likes of Molly Jong-Fast and Rachel Bitecofer. They're hard-core progressives who wouldn't be voting for, much less working for, the Republican Party no matter who they nominated.
Which is, of course, fine. It's perfectly natural for Democrats to be working to defeat Trump. But we should stop pretending that these are Republicans disgusted by one particular individual who has co-opted their party banner.
Additionally, it's worth noting that several of the founders, notably Steve Schmidt, Rick Wilson, and Reed Galen, are essentially professional grifters who are cashing in on the project:
The Lincoln Project reported spending nearly $1.4 million through March. Almost all of that money went to the group's board members and firms run by them. The super PAC spent nearly $1 million with Summit Strategic Communications, a firm run by Lincoln Project treasurer Reed Galen. Another $215,000 went to Tusk Digital, a company run by Lincoln Project adviser Ron Steslow. Both companies received little business from other federal committees since Trump's inauguration. 
Again, to the extent they're getting under Trump's skin and diminishing his already-slim re-election chances, I'm happy. But the consistent media narrative that this is somehow principled opposition to Trump and what he has done to the party is grating.