Company Tied To Russian Oligarch Gave Money To LLC That Paid Off Stormy Daniels
New documents reveal that the Limited Liability Company that paid off Stormy Daniels also received payments from a company linked to a Russian oligarch.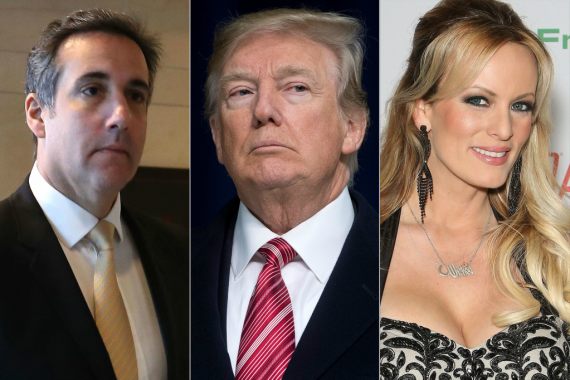 The limited liability company that was used as a conduit to make payments to adult film star Stormy Daniels apparently received money from a firm with links to a Russian oligarch:
A shell company that Michael D. Cohen used to pay hush money to a pornographic film actress received payments totaling more than $1 million from an American company linked to a Russian oligarch and several corporations with business before the Trump administration, according to documents and interviews.

Financial records reviewed by The New York Times show that Mr. Cohen, President Trump's personal lawyer and longtime fixer, used the shell company, Essential Consultants L.L.C., for an array of business activities that went far beyond what was publicly known. Transactions adding up to at least $4.4 million flowed through Essential Consultants starting shortly before Mr. Trump was elected president and continuing to this January, the records show.

Among the previously unreported transactions were payments last year of about $500,000 from Columbus Nova, an investment firm in New York whose biggest client is a company controlled by Viktor Vekselberg, the Russian oligarch. A lawyer for Columbus Nova, in a statement on Tuesday, described the money as a consulting fee that had nothing to do with Mr. Vekselberg.

Other transactions described in the financial records include hundreds of thousands of dollars Mr. Cohen received from Fortune 500 companies with business before the Trump administration, as well as smaller amounts he paid for luxury expenses like a Mercedes-Benz and private club dues.

References to the transactions first appeared in a document posted to Twitter on Tuesday by Michael Avenatti, the lawyer for Stephanie Clifford, the adult film star who was paid $130,000 by Essential Consultants to keep quiet about an alleged affair with Mr. Trump. The lawyer's seven-page document, titled "Preliminary Report of Findings," does not explain the source of his information but describes in detail dates, dollar amounts and parties involved in various dealings by Mr. Cohen and his company. Most of the transactions involved two banks: First Republic Bank and City National Bank.

The Times's review of financial records confirmed much of what was in Mr. Avenatti's report. In addition, a review of documents and interviews shed additional light on Mr. Cohen's dealings with the company connected to Mr. Vekselberg, who was stopped and questioned at an airport earlier this year by investigators for Robert S. Mueller III, the special counsel examining Russian interference in the 2016 presidential election.

Taken together, The Times's findings and Mr. Avenatti's report offer the most detailed picture yet on Mr. Cohen's business dealings and financial entanglements in the run-up to the election and its aftermath. Federal prosecutors in Manhattan are investigating Mr. Cohen for possible bank fraud and election-law violations, among other matters, according to people briefed on the investigation. Stephen Ryan, a lawyer representing Mr. Cohen, declined to comment.

Ms. Clifford, whose stage name is Stormy Daniels, is suing Mr. Cohen and Mr. Trump to break her nondisclosure agreement related to the $130,000.

It is unclear whether that or any of the other transactions were improper, but Mr. Avenatti has asserted that Mr. Cohen's use of Essential Consultants potentially violated banking laws. The financial records indicate that at least some of the money that passed through Essential Consultants was from sources and in amounts that were inconsistent with the company's stated purpose.

Mr. Cohen also used the company to collect $250,000 after arranging payments in 2017 and 2018 by a major Republican donor, Elliott Broidy, to a former Playboy model he allegedly impregnated, according to news reports last month.

Among the other payments to Mr. Cohen's company described in the financial records were four for $99,980 each between October and January by Novartis Investments S.A.R.L., a subsidiary of Novartis, the multinational pharmaceutical giant based in Switzerland. Novartis — whose chief executive was among 15 business leaders invited to dinner with Mr. Trump at the World Economic Forum in January — spent more than $10 million on lobbying in Washington last year and frequently seeks approvals from federal drug regulators. Novartis said in a statement that its agreement with Essential Consultants had expired.

In addition, Korea Aerospace Industries paid Mr. Cohen's company $150,000 last November, according to the records. The company, an aircraft manufacturer, has teamed with the American defense contractor Lockheed Martin in competing for a multibillion-dollar contract to provide trainer jets for the United States Air Force that is expected to be awarded this year. A representative for Korea Aerospace declined to comment.

AT&T made four payments totaling $200,000 between October 2017 and January 2018, according to the documents. AT&T, whose proposed merger with Time Warner is pending before the Justice Department, issued a statement on Tuesday evening confirming that it made payments to Mr. Cohen's firm.

"Essential Consulting was one of several firms we engaged in early 2017 to provide insights into understanding the new administration," the statement said. "They did no legal or lobbying work for us, and the contract ended in December 2017."

The payments by Columbus Nova occurred between January and August of last year. Andrew Intrater, the company's American chief executive and Mr. Vekselberg's cousin, donated $250,000 to Mr. Trump's inauguration, campaign finance records show. He and Mr. Vekselberg attended the event together and met with Mr. Cohen there, according to a person briefed on the matter. Columbus Nova retained him as a consultant soon afterward.
This report comes at the same time that CNN is reporting that Special Counsel's Robert Mueller's team has questioned Vekselberg in connection with the payments to Cohen:
Special counsel Robert Mueller's investigators have questioned a Russian oligarch about hundreds of thousands of dollars in payments his company's US affiliate made to President Donald Trump's personal attorney, Michael Cohen, after the election, according to a source familiar with the matter.

Viktor Vekselberg, chairman of asset manager Renova Group, is an oligarch close to Vladimir Putin, and last month the Trump administration placed him on a list of sanctioned Russians for activities including election interference. The purpose of the payments, which predate the sanctions, and the nature of the business relationship between Vekselberg and Cohen is unclear.

The scrutiny of the payments could add to the legal troubles for Cohen, whose home and office were raided last month as part of a criminal investigation by federal prosecutors in Manhattan. In court documents, the prosecutors said at least part of their inquiry stemmed from a referral from Mueller's office.

The questions asked of Vekselberg suggest that Mueller investigators have been examining some of Cohen's business relationships as part of the investigation into Russian meddling in the 2016 presidential election. Vekselberg is one of two Russian oligarchs the FBI stopped earlier this year after their private jets landed in New York-area airports as part of Mueller's investigation.

Investigators also asked Vekselberg about donations the head of his US affiliate made to Trump's inaugural fund and campaign funds, sources said.

The attorney for Stormy Daniels — the porn star who received $130,000 to keep quiet about an alleged affair she had with Trump a decade ago — produced information Tuesday evening that appears to add further details to CNN's reporting. Michael Avenatti alleged that Cohen received half a million dollars from a company affiliated with Vekselberg in the months after the presidential election.

Avenatti alleged the $500,000 went into the bank account for Essential Consultants, a shell company that Cohen set up before the election that was used to pay Daniels. Avenatti added that the payments occurred from January to August 2017.

CNN has reviewed documents that appear to show these payments. CNN has not independently authenticated the documents.

Prosecutors have not accused Cohen of wrongdoing in regard to the payments or any other business dealings.

FBI agents asked Vekselberg about payments his company's American affiliate, Columbus Nova, made to Cohen, according to one source. The Russian was questioned as well about $300,000 in political donations by Andrew Intrater, Vekselberg's American cousin who is the head of Columbus Nova, sources said.

Intrater was also questioned by Mueller's investigators, two sources told CNN. Last month, Vekselberg was placed on the US government's list of sanctioned individuals, prohibiting him from traveling to the US.

The payments occurred at the same time Cohen was trying to build a consulting and legal business after the election and around the time he left the Trump Organization. At that time, he was still Trump's personal lawyer. Even last month, as Trump responded to questions about the payment to Daniels, the President deferred to Cohen and said, "Michael is my attorney."

(…)

Vekselberg's cousin Intrater gave generously to support Trump.

He donated $250,000 to the Trump inauguration fund, $35,000 to the Trump Victory Fund, and $29,600 to the Republican National Committee in June 2017, according to the Center for Responsive Politics.

While it is illegal for foreigners to donate to US politics, Intrater is American.

However, the donations were a sharp increase from previous cycles and may raise questions for investigators. Intrater's only previous political donations included $1,200 to Democrat Bill Richardson's presidential run in 2008 and $2,600 in 2014 for Republican Chris Day's congressional race in New York. Renova Group donated between $50,000 and $100,000 to the Clinton Foundation, but it's not clear when the contribution occurred, according to the foundation's public list of donors.

Vekselberg may also be of interest to investigators because of his close ties to the Kremlin. He built his fortune following the collapse of the Soviet Union through a series of deals in the oil and gas sector. In 2004, he paid over $100 million to buy nine Faberge eggs from the American Forbes family, returning the second-largest collection of imperial eggs to Russia. Six years later, he was appointed by then-Russian president Dmitry Medvedev to lead the Skolkovo Innovation Center project, the Kremlin's answer to Silicon Valley.

From 2007 until March 2012, Vekselberg was a shareholder and chairman of the board of Rusal, the aluminum company controlled by Oleg Deripaska. Deripaska has business ties to former Trump campaign chairman Paul Manafort, who has been indicted on fraud and tax related charges as part of Mueller's investigation. Manafort has pleaded not guilty. Deripaska, who also was added to the US sanctions list last month, has sued Manafort over a soured investment deal.

Lamesa Investments Ltd, an affiliate of Renova, acquired a large stake in the Bank of Cyprus at the same time Wilbur Ross, then a private equity investor, made a capital infusion into the then-struggling bank. Lamesa now holds a 9.2% stake in the Bank of Cyprus. Ross resigned from his position as vice chairman of the bank after he was confirmed as Trump's commerce secretary.
While there's no evidence in what has been made public, the revelation of all this material, some of which requires a flow chart to keep track of, is significant in several respects. First of all, it's the first indication of any connections at all between Michael Cohen and Russian oligarchs who may have been involved with Russian efforts to interfere in the 2016 election. Previously, of course, Special Counsel Robert Mueller had passed off the material he had uncovered about Cohen's dealings with Daniels to the U.S. Attorney for the Southern District of New York, which has since undertaken an investigation of that transaction and a wide variety of other dealings that Cohen has been involved in both for his own benefit and, apparently, for Donald Trump. Second, this is the first indication that the Limited Liability Company that Cohen created prior to making the payment to Daniels has been used for other purposes. Until now, as far as we knew this company was used solely for the purpose of making the payment to Daniels and making a separate payment to a Playboy model on behalf of a top official with the Republican National Committee in a case that allegedly involved the woman becoming pregnant as a result of the relationship. It now appears that Cohen used this same LLC for other purposes, although it's unclear what that purpose was.
As of yet, none of this conclusively proves a link between Cohen and anything relevant to the Russia investigation, but it certainly does raise questions about the role that Cohen may have played in connection with the President's ties to Russia both before he became a candidate for President and after, It's already been reported, for example, that Cohen was Trump's emissary with regard to negotiations to build a Trump-branded property in Moscow that continued after Trump entered the race for President in 2015. Cohen may have also been involved in the negotiations that led to the Miss Universe pageant being held in Moscow in 2013, and even that Trump traveled to Russia for on at least one occasion. Additionally, it appears from at least some of what is being alleged in the dossier prepared by Michael Avenatti, the attorney for Stormy Daniels, establishes some indication of companies that may be linked to Russian oligarchs buying or attempting to buy access to Trump when he was a candidate and even after he became President. What this means is unclear at this point, but the fact that there may be a nexus between the Russia investigation and the Cohen investigation is certainly significant, and yet another reason why it's been reported that Trump reportedly fears the Cohen investigation more than he does the Russia investigation and worried that Cohen might flip and cooperate with investigators.
Here's the summary prepared by Avenatti:
Executive Summary Regarding Michael Cohen by Doug Mataconis on Scribd