Lindsey Graham Drops Out Of The Race For President
We won't have Lindsey Graham to kick around anymore.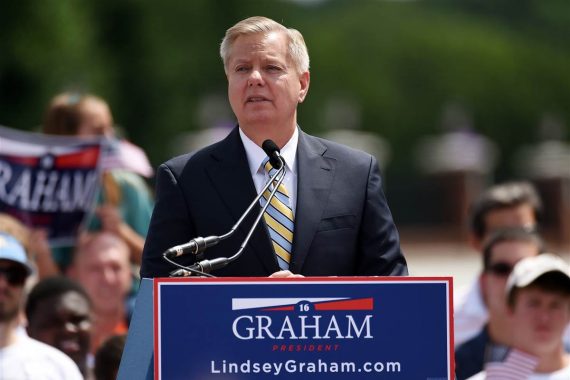 South Carolina Senator Lindsey Graham announced today that he was suspending his campaign, which is the modern way of saying that he's dropping out of the race for President:
South Carolina Sen. Lindsey Graham is suspending his presidential run, he told supporters on a conference call Monday.

His announcement came on the same day as the deadline hit for him to remove his name from the South Carolina primary ballot, a date that had been closely watched amid speculation that the low-polling Graham would want to avoid a potentially poor performance in his own state's contest.

"I was hoping not to have to make this call, but I think the time has come for me to suspend my campaign," he said as he opened the call.

Graham, a well-respected voice in the Senate who easily won reelection in 2014, despite several attempts to unseat him by primary challengers, has nonetheless failed to gain traction in the presidential contest. The senator, who entered the race in part because he hoped to push foreign policy issues to the forefront on the debate stage, has repeatedly been relegated to undercard contests, where he has earned positive reviews but hardly any boost in poll numbers.

"We've come to a point now where I just don't see how we grow the campaign without getting on the main stage," he said. "One of the biggest problems we've had was to get our voice on equal footing with others. This second-tier debate process has been difficult for us. I think we've done well in the debates, it's just hard to break through because the buzz doesn't last very long."

His latest RealClearPolitics national polling average is only .5 percent. In New Hampshire, the state in which Graham has made the biggest efforts, campaigning there as recently as this weekend with ally John McCain, Graham's average is 0 percent. Graham's exiting of the race comes just weeks before the next Republican presidential debate comes to his home state, on Jan. 14.
Graham's decision to drop out doesn't come entirely as a surprise, of course. From the beginning, Graham was essentially a non-factor in the national polls of the Republican race and, despite the help of his friend and Senate colleague John McCain, never really caught fire in New Hampshire which would seem to have been the  one of the two early state primaries where he might have had a chance of catching fire. Even in his home state, Graham was close to becoming a non-entity who could have come away from primary day with an embarrassingly bad showing that would endanger his political future should he decide to run for re-election in 2018. While some early polling in the Palmetto State did show Graham polling in double digits, once the race began in earnest over the summer he quickly began to fade even among home state voters to the point where he is now a 1.7% in the RealClearPolitics polling average, which is actually the best he does in the GOP race at any level at this point. As for why Graham chose to drop out at this point, it turns out that today is the last day that candidates can remove their names from the ballot for the February 20th primary in South Carolina, so Graham likely felt that getting the decision over with at this point was the best thing to do.
Given his low poll numbers, Graham's departure is unlikely to have much of an impact on the overall race, but that doesn't mean it will have no impact at all. It's long been obvious that one of the main reasons that Graham was running was because he believed that the race needed someone pushing a national security agenda that many Republicans had seemed to shy away from in the wake of the Iraq War and the Libya intervention, which Graham favored along with other hawkish Republicans like McCain. To a large degree, recent events have done much to turn the rhetoric in the race on national security issue back toward something that is more toward Graham's liking so, in some sense, he may feel that he's accomplished his goal. Withdrawing now means that national security Republicans who may have been holding off endorsing other candidates out of respect to Graham may now feel free to get more involved in the race by endorsing someone. Additionally, Senator McCain, who remains quite popular in New Hampshire, could end up backing another candidate, although the fact that McCain is facing a primary challenge of his own back home in Arizona and may not get heavily involved in the Presidential race now that his friend is out of the race. Other Republican hawks, though, may now look to other candidates. In that regard, the most likely potential beneficiary would seem to be Marco Rubio, who is very close to Graham on national security issues, and has sharp differences with both Donald Trump and Ted Cruz on some aspects of that policy area. Given the fact that these issues have often been important to Republicans in New Hampshire and, especially, South Carolina, this could be helpful to Rubio, who still seems to be searching for a winnable early state that would seem crucial if he's going to have a viable candidacy going forward.
As a brief aside, the reason that Graham is "suspending" his campaign rather than formally ending it has to do with the quirks of Federal Election Commission regulations. If a campaign is formally ended, it essentially means that a campaign must begin the process of providing the commission with a final accounting and the process of shutting down all operations, including fundraising and expenditures. Suspending the campaign means that, theoretically at least, the campaign could be revived at some point which means the FEC allows candidates to continue to send out fundraising appeals. Most candidates have used this mechanism to try to raise money to help pay off campaign debts, a process that can take many years depending on the size of the debt. Given the nature of Graham's campaign, it seems unlikely that he would have substantial debt, but by taking these steps he is able to address debt and other remaining issues at a more leisurely pace than would apply if the campaign were being formally ended. That's why most candidates who drop out, on both sides of the aisle, do so by suspending rather than ending their campaigns.
John McCain has already responded to Graham's announcement on his Twitter feed:
W/ @LindseyGrahamSC's announcement, Republicans lost most qualified, thoughtful & honest presidential candidate: https://t.co/YufPfUpczL

— John McCain (@SenJohnMcCain) December 21, 2015
It was a privilege to support my dear friend @LindseyGrahamSC – thank you for all you have done for the country you love & serve so well! — John McCain (@SenJohnMcCain) December 21, 2015
Graham was often the only entertaining part of the undercard debates that we've hard this cycle, though, so if we still have those heading into January they're going to be even more pointless and boring than they've already been.