Lindsey Graham Says War With North Korea Would Be "Worth It."
South Carolina Senator Lindsey Graham says war against North Korea would be worth it. Ignoring the fact that it would result in casualties unlike anything America has seen since the Vietnam War.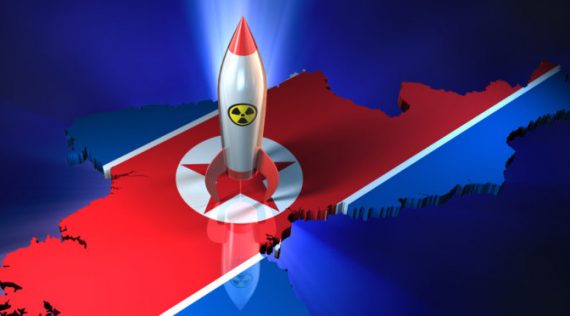 South Carolina Senator Lindsey Graham thinks a war with North Korea would be "worth it":
Sen. Lindsey Graham (R-S.C.) this week said that a war with North Korea would be "worth it" in the long term.

Graham made the comments in an interview with CNN.

"All the damage that would come from a war would be worth it in terms of long-term stability and national security," the senator told CNN.

Graham's remark comes amid reports that the U.S. is prepared for the possibility of a military strike against North Korea.

Korean leaders are pushing diplomacy in the troubled region in the weeks following the Winter Olympics. South Korea's president told President Trump in a phone call earlier this week that he is planning to send a special envoy to Pyongyang.

Graham has in the past repeated a warning that the U.S. is "headed toward a war" with North Korea and praised Trump's "fire and fury" rhetoric against the regime. He praised the Trump administration for drawing a hard line on North Korean aggression and also told CNN that he is "completely convinced" that Trump rejects a containment policy.

"They've drawn a red line here and it is to never let North Korea build a nuclear tipped missile to hit America," he said.
The first thing that stands out about Graham's remarks, though, is the fact that what he's suggesting is something that would be a massive violation of international law. This is especially galling given the fact that Graham is himself an attorney who served as an officer in the Air Force's Judge Advocate General office for more than thirty years both on active duty and a member of the military reserves. As law professor Majorie Cohn explained in The Huffington Post, a preemptive war like the one Graham is suggesting would violate several international treaties:
A preemptive strike on North Korea would be illegal. It would violate the United Nations Charter, which forbids the use of military force unless conducted in self-defense or when approved by the Security Council.
"Self-defense" is a narrow exception to the Charter's prohibition of the use of force. Countries may engage in individual or collective self-defense only in the face of an armed attack. There must exist "a necessity of self-defense, instant, overwhelming, leaving no choice of means, and no moment for deliberation," under the well-established Caroline Case. In the case of North Korea, there has been no armed attack, and there is no imminent threat of one.
The charter specifies that non-forceful measures, including diplomacy, must be pursued in order to maintain or restore international peace and security.

n Aug. 5, in response to North Korea's recent test launches of two intercontinental ballistic missiles, the UN Security Council unanimously enacted a sanctions regime that would reduce North Korea's annual export earnings by at least one-third, an estimated $1 billion. It would affect 90 percent of North Korea's economy. Resolution 2371 targets North Korea's primary exports, which include iron, iron ore, coal, lead, lead ore and seafood. It is also aimed at banks and joint ventures between North Korea and foreign corporations. The resolution imposes the toughest sanctions on North Korea to date.

The resolution does not, however, authorize the United States or any other country to use military force against North Korea. It ends by stating that the Security Council "decides to remain seized of the matter." That means that the Council, and only the Council, has the authority to approve military action.
In addition to being illegal under international law, a war in North Korea would also pose significant problems under the United States Constitution unless the President managed to obtain a declaration of war or similar resolution authorizing military action from Congress beforehand. The Constitution is clear that only Congress has the authority to declare war, while leaving the manner in which any such war to be decided by the President and those working under him such as the Secretary of Defense and the military leadership. While the Preisdent's role as Commander in Chief does appear to authorize him to act without pre-existing Congressional authorization, those situations are supposed to be limited. A preemptive war such as the one Graham is suggesting would clearly not fall into that category
The sheer arrogance and idiocy behind this comment from Graham cannot possibly be understated. As I've noted here several times in the past, a war on the Korean Peninsula would be unlike anything this nation or any of our allies have seen since young American men were being killed by the hundreds every day in Vietnam, or since the first Korean War itself which resulted in an estimated 2.7 million civilian casualties, just over 300,000 allied war dead (most of which were South Korean), more than 600,000 military deaths on the North Korean/Chinese side, plus roughly 800,000 wounded among the allied nations (again with the majority being South Korean) and a similar number wounded on the Communist side. (Sources here and here) This is a far cry from the wars that Americans have become used to since the post-Vietnam War such as the Persian Gulf War (341 Allied Killed In Action), the Afghan War (3,405 Allied KIA),  and even the Iraq War (4,809 Allied KIA). It's also worth noting that a new war on the Korean Peninsula would play out in real time in the United States and around the world in a way that the first war, or indeed Vietnam or any of the other recent wars, have been thanks not only to cable news but also social media and the Internet. It would be difficult if not impossible for Americans to avoid seeing the consequences of such a war and how they would react to that is hard to predict at this point
In addition to being utterly illegal, a new war in Korea would most likely not last nearly as long as the first one did, that doesn't mean that the toll it would inflict would not be horrible. As just one example of this, there's the fact that the current population of Seoul and its immediate metropolitan area is roughly 9.86 million people, making it more populated than cities such as Tokyo and New York City. The nearby city of Inchon, the city of General Douglas MacArthur's famous amphibious invasion that is credited with turning the tide of the Korean War when it helped to relieve a beleaguered South Korea, has a population of just under 2.9 million people. Both of these areas are well within the range of the tens of thousands of artillery pieces and rockets that North Korea has placed on its side of the Demilitarized Zone, as are a number of American military bases. Additionally, Japanese cities such as Toyko and Kyoto, and of course American bases in Japan, are well within the range of North Korean missiles that are most assuredly operational albeit likely to "only" carry conventional military casualties. In North Korea, the capital Pyongyang, which would be a prime target of American air power, is estimated to have a civilian population of just under 2.6 million people. Even in a short conflict, the potential for massive civilian casualties is something that can't simply be swept aside.
For Graham to simply brush aside the potential losses that would likely unfold from a war on the Korean Peninsula is irresponsible, callous, and stupid. While it is true that the likely outcome of a war in Korea would be the downfall of the Kim regime, the price that would have to be paid to get there, particularly by civilians in the Republic of Korea or Japan, is hardly something that can be dismissed in the cavalier manner that Graham does is outrageous and stupid. It's the same kind of attitude that led the United States to go to war in Iraq in 2003, which led to civilian casualties that are estimated to be well over 100,000 people and to continue to fight in Afghanistan despite the lack of a clear and coherent objective, leading to estimated civilian casualties numbering at least something more than 31,000 people. Graham's apparent lack of concern for a similar bloodbath in Korea is a sign of just how insane his position actually is.
None of this is to say, of course, that military action is or ever should be entirely off the table. Obviously, there are circumstances under which such an option is something that might have to be considered regardless of the cost. For example, if the DPRK begins offensive action of some kind against South Korea, the United States, or Japan, it would be irresponsible and unwise for an American President to fail to respond. Even in that case, though, the goal ought to be to both limit civilian casualties and to try to limit the actual conflict as much as possible. That's not what Graham is suggesting, though. He's suggesting the same kind of preemptive war that former Ambassador to the United Nations John Bolton is advocating and, as I noted earlier this week, that idea is simply insane.