Maduro Holds on in Venezuela
The key remains the military.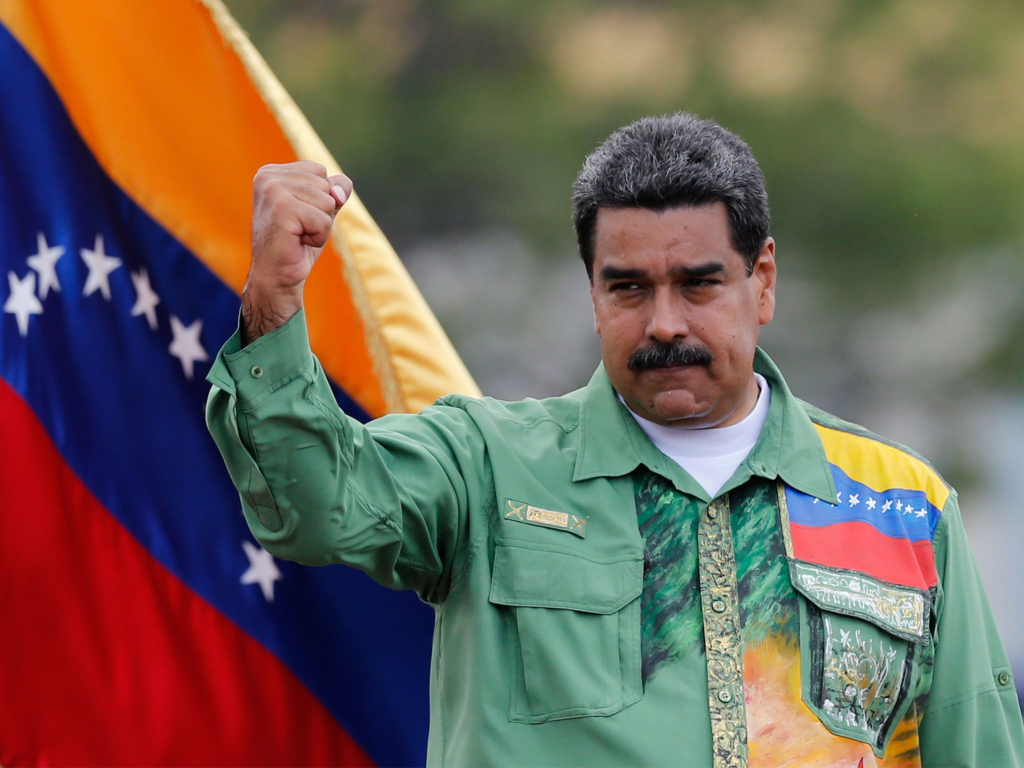 The German sociologist Max Weber, in a famous lecture entitled "Politics as a Vocation," defined the state as follows:  "the form of human community that (successfully) lays claim to the monopoly of legitimate physical violence within a particular territory."  In simple terms, he was addressing the fact that the government which controls a given territory has to have the ability to makes and enforce rules.*
One of the theoretical implications of this fact is that as the state deteriorates, one of the last institutions standing is often the military.  It also suggests that for a given regime to hold on to power, control of the force-generating mechanisms of the state (police and military) are essential to maintaining power even in the face of other challenges to said regime or to the weakness of the state itself.
Cue the following in WaPo:  How Nicolás Maduro has been able to cling to power.
He rules a nation where inflation is spiraling toward 10 million percent. The United States and about 50 other countries no longer recognize him as president. His popularity has slumped to around 14 percent.

And yet, Nicolás Maduro has so far withstood intense pressure from Washington and a Venezuelan anti-government movement that has filled the streets for weeks, including more rallies on Saturday drawing thousands of people.

The opposition leader, Juan Guaidó, has posed the strongest challenge to Maduro since the former union leader assumed the presidency in 2013.

How does Maduro manage to cling to power? The short answer is that the authoritarian leader has the military on his side. He has ensured their loyalty by offering promotions and allowing them to enrich themselves through state businesses or criminal activities, analysts say.
Indeed, it is what I said back in January:
Maduro's main and most salient support is coming from the armed forces (and the fact that he still controls the actual government apparatus in general).

[…]

The upper officers of the Venezuelan armed forces have done very well financially with Maduro and they therefore have a lot to lose if he leaves power.  While WaPo reports that Venezuela's opposition in talks with military officials to force out Maduro, Juan Guaidó says in interview, I take such a situation with a grain of salt. While I can certainly see some defections, it is unclear that any of the higher level commanders will see an advantage to switching sides.
The WaPo piece linked above it worth a read.  I will highlight three issues:
First, this is a concerning comparison, but it strikes me as possible:
"What happens if you don't break that military structure and the country continues to deteriorate? You have the terrible scenario of a Cuba or an Iran or a Syria or a Zimbabwe," said Luis Vicente Leon, head of the Datanalisis polling firm, referring to countries whose authoritarian governments dug in and survived, despite profound economic and political crises.
The Zimbabwe example is especially troubling, as it was a case in which even substantial economic hardship did not lead to the regime being ousted.
Second, really, this is the key:
But ultimately, Leon said, in Venezuela, the issue isn't whether the military is loyal to Maduro. "The military is not defending Maduro," he said. "They are defending themselves."
Third, a quick comment on this:
Leon noted that anti-government movements trying to replace authoritarian leaders in other countries have sometimes had to make unpalatable choices to ensure the military was in line. In Nicaragua, for example, when Violeta Chamorro won the presidency in 1990 and ended a decade of left-wing Sandinista rule, she gave a top Defense Ministry job to Humberto Ortega — the brother of the outgoing president. In Chile, Augusto Pinochet was permitted to stay on as head of the armed forces after stepping down as president.
Humberto Ortega was already Defense Minister when Chamarro was elected.  It is less that she gave him the job, but had to accept his continuation as part of the transition.  In Chile, Pinochet thoroughly controlled the transition to democracy, and moreover the military maintained a number of special prerogatives for some time after democratization.
Back to Venezuela, I will note that one development in the ongoing situation that I found fascinating was this (via the LAT):  Venezuela's opposition leader Juan Guaido returns home, risking arrest
Venezuela's self-declared interim president, Juan Guaido, returned to his nation Monday to cheers from supporters and uncertainty about whether Nicolas Maduro's government would have him arrested.

Guaido arrived at the main airport in Caracas, the capital, just after noon local time and was greeted by hundreds of supporters.

[…]

Guaido, who declared himself interim president on Jan. 23, was returning from a nine-day tour of Latin American countries that included a meeting with U.S. Vice President Mike Pence in Bogota, Colombia. He left his home country despite a travel ban imposed by Maduro, who has continued to threaten the young leader with imprisonment.

Maduro has said Guaido "will have to face justice." He told ABC in a Feb. 25 interview, "He can't come and go, and the law has prohibited him from leaving the country."

Guaido told followers that he had no problem reentering the country. He said immigration authorities at Maiquetia "Simon Bolivar" International Airport did not seize his passport but greeted him with "welcome, president."
So, is it the case the Maduro lacks the ability to actually arrest Guaidó, or does it mean that he doesn't take him seriously enough to arrest?  The situation continues to be strange,  Guaidó  clearly has more public support than Maduro, but  Maduro has all the levers of power.
Meanwhile, today via the BBC:   Venezuela braces for rival protests amid power cuts.
—
*Weber provides in his work the following more well-iterated definition.
The modern state:
1) possesses an administrative and legal order
2) is run by officials bound by that order
3) both the structures and the personnel that man the structures are bound by legislative action
4) has a territorial base
5) within that territorial base it controls a) citizens and b) activities within its borders
6) controls the legitimate use of force within its borders.
Source:  Economy and Society (although iterations of these notions can be found throughout his work).