Majority Of Americans Believe Trump Was Trying To Block Russia Investigation
Most Americans believe that President Trump has been actively trying to block the F.B.I.'s Russia investigation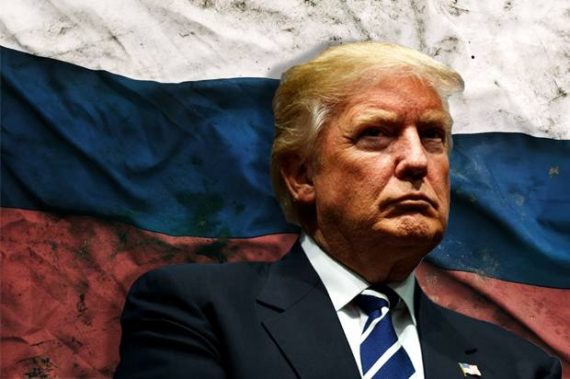 A new ABC News-Washington Post poll finds a majority of Americans believing that President Trump has been actively interfering in the ongoing F.B.I. investigation regarding Russian interference in the election and contact between the Trump campaign and Russian officials:
A majority of Americans report grave suspicions about President Trump's firing of FBI Director James B. Comey and his conduct during investigations of Russia's interference in the 2016 election, according to a new Washington Post-ABC News poll.

A 56 percent majority of U.S. adults say Trump is interfering with such investigations rather than cooperating, while 61 percent say Trump fired Comey to protect himself rather than for the good of the country.

Comey also faces serious credibility problems ahead of his highly anticipated Senate testimony Thursday, with 36 percent of Americans saying they trust what he says about Russia and the election "a great deal" or "a good amount," while 55 percent trust him less or not at all. The poll finds substantial skepticism across party lines, evidence that his role investigating the campaigns of Hillary Clinton and Donald Trump has taken a toll.

Trump is seen as even less trustworthy, however, with just over 1 in 5 saying they trust what he says about Russia's role in the 2016 campaign, while just over 7 in 10 trust him less. Fully half of adults say they do not trust what Trump says "at all" on these issues, compared with one-quarter who say the same of Comey. Fully 4 in 10 Americans have doubts about both Comey and Trump's statements on Russia and the election.

The Post-ABC poll was conducted Friday to Sunday, before The Washington Post reported Tuesdaythat the Director of National Intelligence told associates that Trump asked him if he could intervene with Comey on the FBI's Russia probe to back off its focus on former national security adviser Michael Flynn.

(…)

Political independents, a group that Trump won in last year's election, are also largely critical. By 63 to 20 percent, more independents say Trump fired Comey to protect himself rather than for the good of the country. And by roughly 2 to 1, more independents say Trump is trying to interfere with Russia investigations rather than cooperating with them (58 to 27 percent). More than three-quarters of independents say they trust Trump's statements about Russia "just some" or not at all.

Large majorities of Republicans say Trump fired Comey for the good of the country (71 percent) and that he is cooperating with investigations into Russia's election influence (77 percent). At the same time, roughly 1 in 5 Republicans say Trump fired Comey to protect himself, while about 1 in 6 think he is trying to interfere with investigations, criticisms shared by more than 3 in 10 conservatives.

Trump's trustworthiness also lags among fellow partisans, with less than half of Republicans (45 percent) saying they trust what he says about Russia investigations "a great deal" or "a good amount," while about as many trust him less (48 percent).

Comey's credibility on Russia investigations also has a partisan tinge, with 54 percent of Democrats saying they trust what he says compared with 32 percent of independents and 18 percent of Republicans. Even among Democrats, whose leaders have decried Comey's firing, about 4 in 10 say they trust the former FBI director "just some" or "not at all." Those doubts rise to 59 percent among independents and 76 percent among Republicans, ample skepticism ahead of the former FBI director's testimony this week.
The results are similarly troubling for Trump in the most recent Quinnipiac University poll::
President Donald Trump did something illegal in his relationship with Russia, 31 percent of American voters say, while another 29 percent say he did something unethical, but not illegal, according to a Quinnipiac University national poll released today. The president did nothing wrong, 32 percent of voters say.

President Trump's campaign advisors did something illegal in dealing with Russia, 40 percent of voters say, as 25 percent say they did something unethical but not illegal and 24 percent say they did nothing wrong.

The president's job approval rating dips to a new low, a negative 34 – 57 percent, compared to a negative 37 – 55 percent in a May 24 survey.
Given the evidence that has come out so far, and the fact that Trump's approval numbers are already low, it's not entirely surprising that the public is to say the least deeply suspicious of the President's motives and actions in connection with the Russia investigation. From the beginning, there has always been something suspicious about the relationship between Trump, his businesses and campaign, and Russia. Perhaps the most prominent thing has been the fact that Trump has been oddly obsequious toward Russian President Vladimir Putin since long before he even entered the race for President. At various times, Trump has praised Putin's leadership and dismissed concerns raised by reporters and others regarding the Russian leaders disdain for civil liberties, his treatment of the critics in the press and politics which have included imprisoning reporters and allegations of having opponents murdered. He has declined to criticize Putin for his actions in Ukraine that began with the seizure of Crimea and soon escalated into open support for separatists in eastern Ukraine to point of providing them with advanced weaponry capable of shooting down passenger planes. And, he has expressed open admiration for a leadership style that can only be described as authoritarian at the very least and vaguely Stalinist to say the worst. Additionally, there have been multiple reports of close relationships between Russian officials and people who are or have been close to Trump, including Paul Manafort, Michael Flynn, Carter Page, and Trump's son-in-law Jared Kushner. Obviously none of this one its own proves that Trump himself was talking with Russian officials during the campaign, or that there was collusion between the Trump campaign and Russian officials, but it is most certainly enough to warrant suspicion and justify an investigation.
This poll comes on the same day that The Washington Post came out with an additional report that appears to show an effort by Trump to interfere with the Russia investigation. This morning, it was reported that Trump asked Director of National Intelligence Dan Coats and C.I.A. Director Mike Pompeo to get Comey to "back off" the investigation of former National Security Adviser Mike Flynn.  During testimony today before the Senate Intelligence Committee today that was originally called to discuss general issues about the Foreign Intelligence Surveillance Act, those individuals declined to answer specific questions regarding their conversations with the President, saying that they would not do so in a public forum or before discussing the matter with Robert Mueller, who has been appointed as special counsel to investigate the Russia matter. It also comes on the same day that The New York Times is reporting that Comey told Attorney General Sessions that he did not want to be alone with the President in the future due to the fact that the President appeared to not understand the limitations that Comey was under in discussing the matter with anyone outside the Bureau. Comey, of course, is set to testify tomorrow morning on the matter of his discussions with the President regarding this matter. That testimony is likely to be among the most closely watched events on Capitol Hill in quite some time, and they could go a long way toward determining the future of the Trump Administration for the foreseeable future.