Majority Of Members Of Congress Are Millionaires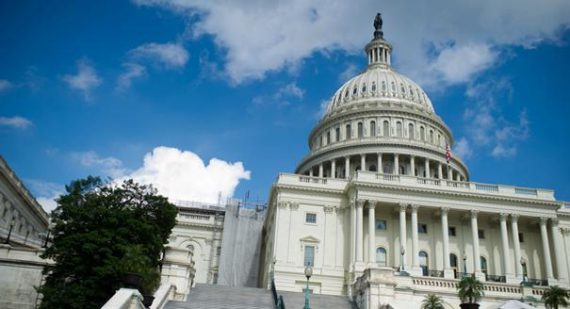 According to a new study, the majority of Members of Congress and the Senate are worth $1,000,000 or more:
WASHINGTON — It is hardly the kind of news that lawmakers in Congress would want to highlight during a week when unemployment benefits expired for more than a million Americans. But Congress has achieved something of a milestone.

For the first time in history, more than half the members of the House and Senate are now millionaires, according to a new analysis of financial disclosure reports filed last year.

The median net worth for lawmakers in the House and Senate was $1,008,767 — up 4.4 percent, according to the analysis, conducted by the nonprofit Center for Responsive Politics, which examines the influence of money on politics in Washington.

Over all, at least 268 of the 534 current members of Congress had an average net worth of $1 million or more in 2012, which is the year covered by the reports that each lawmaker had to file in 2013.

The wealthiest member of Congress, as has previously been the case, was Representative Darrell Issa, Republican of California, who had a net worth of between $330 million and $598 million, a significant chunk of which he earned through the Viper car antitheft system that is marketed and sold by a company he owned.

The poorest was Representative David Valadao, Republican of California, who listed debts of about $12.1 million, mostly from loans on a family dairy farm.

Democrats and Republicans in Congress were about equally wealthy, with Democrats boasting a median net worth of $1.04 million, compared to $1 million for congressional Republicans. The averages in both cases were up compared with the previous year, when the numbers were $990,000 and $907,000, the analysis showed.

Many of the members of Congress who were first elected in 2012 were unusually wealthy, helping drive up the overall standard of living among representatives and senators.
Digging deeper into the study, you find a distinct, albeit unsurprising difference, between the House and the Senate:
The median net worth for all House members was $896,000 — that's up from $856,000 in 2011 — with House Democrats (median net worth: $929,000) holding an edge over House Republicans (median net worth: $884,000). The median net worth for both House Republicans and Democrats was higher than in 2011.

Similarly, the median net worth for all senators increased to $2.7 million from $2.5 million, but in that body it was the Republicans who were better-off. Senate Democrats reported a median net worth of $1.7 million (a decline from 2011's $2.4 million), compared to Senate Republicans, at $2.9 million (an increase from $2.5 million).
Here's a nice chart showing the increase in wealth across partisan lines: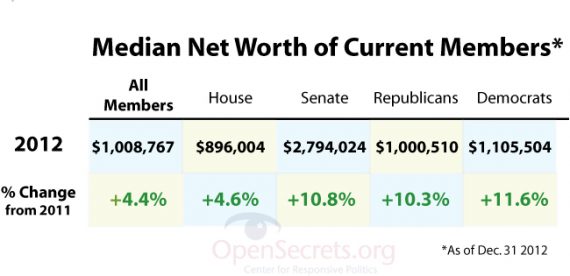 Congress. Nice work if you an get it.