Majority Oppose Trump's Border Wall, Favor More Liberal Immigration Laws
A new poll shows most Americans oppose President Trump's border wall and support more liberal immigration laws.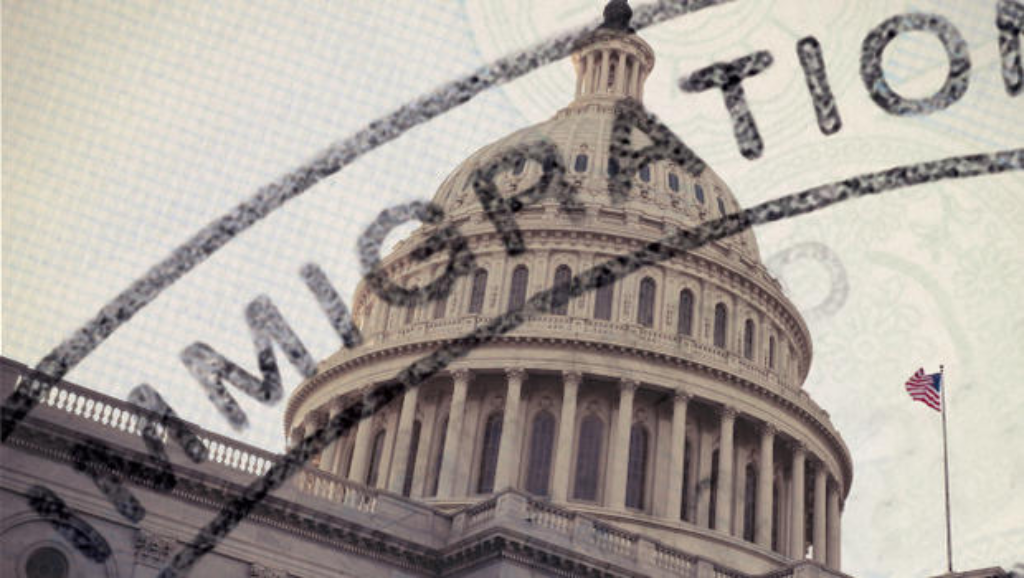 A new Gallup poll indicates that a majority of Americans oppose President Trump's border wall and favor far more liberal and open immigration than he and his supporters are advocating:
WASHINGTON, D.C. — Sixty percent of Americans oppose major new construction of walls along the U.S.-Mexico border — the goal behind President Donald Trump's budget showdown with Democratic leaders that led to a record 35-day partial shutdown of the federal government.

The shutdown, which ended Jan. 25, and the political battles that preceded it over the past several months have had little apparent effect on public opinion about a wall. Fifty-seven percent opposed major new construction of walls seven months ago, a statistically insignificant three-percentage-point difference from the current number.

The issue of a wall was proposed as a way to slow illegal immigration long before Trump made it his signature 2016 campaign pledge. Gallup has asked about it using various question wordings, but all polls have shown a majority opposed. Gallup first asked about it in 1993, when 71% said they opposed "erecting a wall along the border with Mexico." Opposition eased slightly in 1995, when 62% were against erecting a wall. In 2006, opposition to "building a wall along the border with Mexico" was 56%.

Public opposition to a border wall had increased by 2016, when Trump was pushing construction of the wall. Sixty-six percent opposed "building a wall along the entire U.S.-Mexico border" in June of that year.

The current poll was conducted Jan. 21-27; slightly more than two-thirds of the respondents (69%) were interviewed before Trump ended the shutdown. There is no significant difference in views of the wall between those interviewed during the shutdown and those interviewed after it.
Furthermore, the same poll shows that most Americans oppose the general position that President Trump and his fellow Republicans take on immigration issues as a whole:
Clear majorities of U.S. adults in the latest poll support two other actions related to immigration, while rejecting a third.

The vast majority of Americans (81%) favor allowing immigrants living illegally in the U.S. "the chance to become U.S. citizens if they meet certain requirements over a period of time." In 2016, the year Trump was elected president, 84% were in favor of a path to citizenship for those in the country illegally.
Though a majority of Americans reject major expansion of walls on the U.S.-Mexico border, three-fourths of the public favors another method of increasing border security — the hiring of "significantly more" border patrol agents.
Sixty-one percent oppose deporting all illegal immigrants back to their home country. In 2016, 66% were in opposition.

Since Trump's election, the proportion of Americans wanting to increase immigration levels has grown — from 21% in June 2016 to a record-high 30% now.

The percentage of Americans who want immigration levels decreased has been higher than those wanting it increased in every one of the 33 polls Gallup has conducted on the issue since 1965. However, the current one-point gap ties with the June 2018 poll for the smallest ever. Before Trump's election, the percentage preferring a decrease in immigration averaged 31 points higher than the percentage wanting an increase.
These numbers are hardly surprising, of course. Previous polling has clearly indicated that Americans as a whole do not support the President's border wall, are far more favorable towards ideas such as granting so-called "amnesty" to undocumented immigrants, making legal immigration easier, and protecting the so-called "dreamers" who were brought to the United States illegally as children and have lived nearly their entirely lives here in the United States. While not detailed in this particular breakdown of the poll, it's likely that, as in previous polling, Republicans and others supportive of the President are largely supportive of both the wall and his restrictive positions on immigration, including his seeming opposition to providing any kind of relief to beneficiaries of the Deferred Action For Childhood Arrivals (DACA) program. Taking into account the fact that this is the only group whose opinion the President seems to care about, it will likely be enough to convince the President to stick to the current, seemingly suicidal course.
For Democrats, of course, this is good news because it shows that they are largely winning the public relations battle on the wall and on immigration itself. This, along with their control of the House of Representatives and the filibuster in the Senate, gives them significant leverage when it comes to negotiating a deal on immigration. While polls like this might not influence the President, they could very well have an impact on Republicans eager to avoid another shutdown and hoping to find a way to get this matter behind them, If it doesn't and we head for another shutdown, then the onus is going to once again fall on Trump and the GOP to bear responsibility for something that is, in the end, completely unnecessary.