Majority Supports SCOTUS Decisions On Obamacare And Marriage, According To New Poll
A new poll shows that solid majorities of Americans support the Supreme Court's decisions on Obamacare subsidies and marriage. It's a different story for Republicans.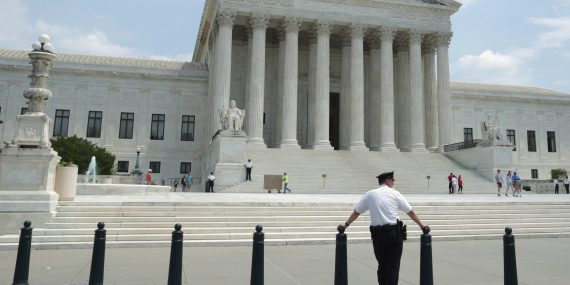 A poll conducted by CNN in the wake of the Supreme Court's rulings last week finds that a majority of Americans support both the decision on Affordable Care Act subsidies and the decision in Obergefell striking down the remaining state law bans on same-sex marriage:
Most Americans say they support each of the two major Supreme Court rulings issued late last week, and nearly four in 10 now say they view the Court as too liberal.

According to a new CNN/ORC poll, 63% support the Court's ruling upholding government assistance for lower-income Americans buying health insurance through both state-operated and federally-run health insurance exchanges. Slightly fewer, 59%, say they back the ruling which made same-sex marriages legal in all 50 states.

Support for each ruling is sharply divided by party, with most Democrats and independents behind both, and most Republicans opposed to both.

Democrats are more apt to say they back the ruling on the 2010 health care law sometimes referred to as Obamacare — 79% back it — than they are to support the same-sex marriage decision, of which 70% favor. Among Republicans, 54% said they oppose the ruling on health care, while 59% oppose the ruling on same-sex marriage, not a statistically-significant difference. Among independents, 63% support each ruling.

The 37% of Americans who say they see the Court as too liberal is the highest share to say so in CNN polling dating back to 1993. Fewer, 20%, say they feel the Court is too conservative and 40% see it as about right.

In a CNN/ORC poll in 2012, just after the Court issued its first ruling upholding part of the health care law, 30% said they felt the Court was too liberal, 22% that it was too conservative.

Republicans are most apt in the new poll to say the Court's ideology is too far to the left: 69% see the Court as too liberal. That's up from 2012, when 59% of Republicans called it too liberal.

Among Democrats, 34% now say they see the Court as too conservative and 15% too liberal, 49% say the Court is about right. In 2012, just 6% of Democrats described the Court as too liberal, but the share calling it too conservative was about the same at 35%.
These numbers aren't entirely surprising, of course, since they largely reflect where public opinion was before the Court handed down the two most high profile decisions of its term last month. On marriage, polling in late May had shown that support for same-sex marriage had reached its highest point ever with all trends pointing upward, while another poll showed that a majority of Americans said they would support a Supreme Court decision that found a right to same-sex marriage nationwide. On the Obamacare subsidies issue, a poll in early June showed that a majority of Americans said they wanted the Supreme Court to uphold subsidies for consumers who bought insurance on the exchanges set up by the Federal Government and that, if the Court ruled otherwise, that Congress should act to fix the statute. Given this, it's fair to say that, based on the results at least, the Supreme Court was in line with public opinion in both of the two major opinions it issued in the last month of its term.
Perhaps the most interesting and yet unsurprising data points in this poll come when you look at the breakdown based on political identifications. While majorities of Democrats and Independents, as well as self-described liberals and and moderates, all strongly support both Supreme Court decisions the same is not true of the Republicans and self-identified conservatives. On the question regarding the Affordable Care Act decision, the Court's ruling is opposed by 54% of Republicans and supported by 42% and opposed by 51% of conservatives and opposed by 44%. On the same-sex marriage ruling, the decision is supported by 40% of Republicans and opposed by 59% and supported by 34% and opposed by 65%. In both cases, one could argue that the opposition to the Court's decision is actually lower than might have been expected, but the numbers are still sufficiently high that it largely explains the rhetoric that we're seeing from many of the Republican candidates for President. While the nation as a whole seems to be fairly pleased with the decisions that the Court handed down, most Republican, and especially most conservatives, most certainly are not. Presumably, if these numbers were broken down further to find the opinions of hardcore and social conservatives such as those that play such an important role in early primary states such as Iowa, they would show that opposition is even stronger. Because of that, it is necessary for Republicans running for President to say what they have been saying over the past several days, although I am sure many of them actually believe it too. In any case, the interesting thing to watch will be how their pandering to the Republican base in the wake of these decisions influences how they're perceived outside the Republican Party, which of course matters once a General Election rolls around.