Manchin Opposes Democracy
Or, at least, he's willing to kill democracy in order to save it.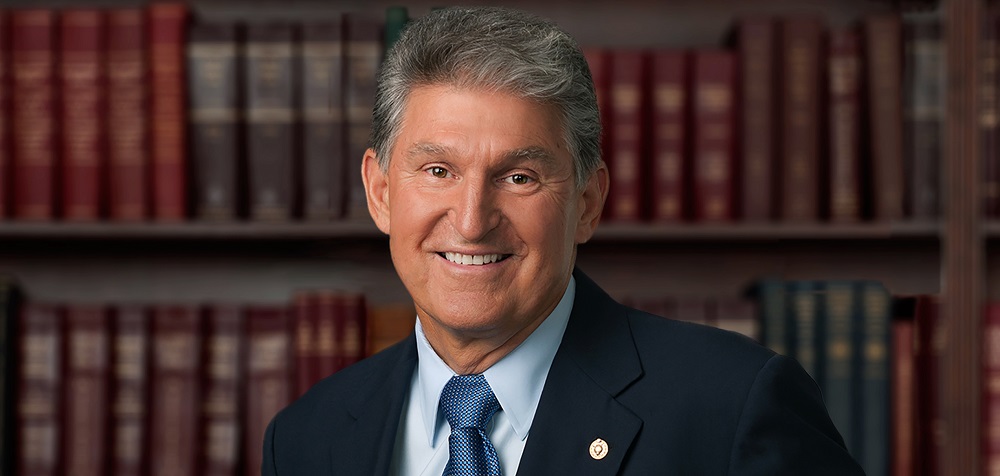 In a bizarre op-ed for the Charleston (WV) Gazette-Mail, Senator Joe Manchin explains "Why I'm voting against the For the People Act."
His opener sets the tone:
The right to vote is fundamental to our American democracy and protecting that right should not be about party or politics. Least of all, protecting this right, which is a value I share, should never be done in a partisan manner.
These sentences are contradictory. If one is genuinely protecting the right to vote, it can't be done in a partisan manner. It can have an ancillary benefit for one party and harm another but that's democracy, not partisanship.
During my time as West Virginia's secretary of state, I was determined to protect this right and ensure our elections are fair, accessible and secure. Not to benefit my party but all the people of West Virginia. For example, as secretary of state I took specific actions to establish early voting for the first time in West Virginia in order to provide expanded options for those whose work or family schedule made it difficult for them to vote on Election Day. Throughout my tenure in politics, I have been guided by this simple philosophy — our party labels can't prevent us from doing what is right.
Okay. But what if—I'm just throwing it out there—one of the parties wasn't guided by that philosophy? What if they had calculated that they can only win by suppressing the vote of demographics unfavorable to them? What then?
Unfortunately, we now are witnessing that the fundamental right to vote has itself become overtly politicized. Today's debate about how to best protect our right to vote and to hold elections, however, is not about finding common ground, but seeking partisan advantage. Whether it is state laws that seek to needlessly restrict voting or politicians who ignore the need to secure our elections, partisan policymaking won't instill confidence in our democracy — it will destroy it.
Ah, you get it, then. The first two paragraphs were just throat-clearing?
As such, congressional action on federal voting rights legislation must be the result of both Democrats and Republicans coming together to find a pathway forward or we risk further dividing and destroying the republic we swore to protect and defend as elected officials.
Ah. So . . . what if we lived in a political climate where this wasn't going to happen? What if there were, say, "state laws that seek to needlessly restrict voting or politicians who ignore the need to secure our elections" and "partisan policymaking" that "won't instill confidence in our democracy — it will destroy it." You'd want to do something about that if you were, say, a member of the U.S. Senate rather than Secretary of State of West Virginia, right?
Democrats in Congress have proposed a sweeping election reform bill called the For the People Act. This more than 800-page bill has garnered zero Republican support. Why? Are the very Republican senators who voted to impeach Trump because of actions that led to an attack on our democracy unwilling to support actions to strengthen our democracy? Are these same senators, whom many in my party applauded for their courage, now threats to the very democracy we seek to protect?
Yep. Pretty much.
The truth, I would argue, is that voting and election reform that is done in a partisan manner will all but ensure partisan divisions continue to deepen.
So, is the argument that FTPA is structured so as to achieve partisan advantage for Democrats? Or just that only Democrats are willing to vote for it? Only the former would constitute "done in a partisan manner."
With that in mind, some Democrats have again proposed eliminating the Senate filibuster rule in order to pass the For the People Act with only Democratic support. They've attempted to demonize the filibuster and conveniently ignore how it has been critical to protecting the rights of Democrats in the past.

As a reminder, just four short years ago, in 2017 when Republicans held control of the White House and Congress, President Donald Trump was publicly urging Senate Republicans to eliminate the filibuster. Then, it was Senate Democrats who were proudly defending the filibuster. Thirty-three Senate Democrats penned a letter to Sens. Chuck Schumer, D-N.Y. and Mitch McConnell, R-Ky., warning of the perils of eliminating the filibuster.
The letter really didn't say much of anything beyond meaningless platitudes about the right to debate, which isn't what's at stake here. (Most filibusters, including the one likely to stop the FTPA, are procedural measures to stop legislation. There's no debate involved at all.) But, sure, Democrats who signed that letter and now urging the end of the filibuster now that doing so accrues to their short-term benefit are being hypocritical.
It has been said by much wiser people than me that absolute power corrupts absolutely. Well, what I've seen during my time in Washington is that every party in power will always want to exercise absolute power, absolutely. Our founders were wise to see the temptation of absolute power and built in specific checks and balances to force compromise that serves to preserve our fragile democracy. The Senate, its processes and rules, have evolved over time to make absolute power difficult while still delivering solutions to the issues facing our country and I believe that's the Senate's best quality.
I share Manchin's sympathy for this ideal. But, as Steven Taylor (especially) and I have explained ad infinitum, Senate Republicans aren't interested in compromise. Susan Collins and a couple of others have worked to achieve concessions but, at the end of the day, they're simply not interested in passing this bill. At the end of the day, then, we have to deal with the filibuster as it has actually operated for going on a quarter-century, not an idealized version of how it would work in a Senate full of Jimmy Stewarts.
Yes, this process can be frustrating and slow. It will force compromises that are not always ideal.
God damn it, Senator. The "compromise" on the table is "Fuck you. We're not passing any bill that protects voting rights."
But consider the alternative. Do we really want to live in an America where one party can dictate and demand everything and anything it wants, whenever it wants?
So, we don't live in that America. Even with fair and honest elections, Democrats aren't going to consistently win the White House, House, and Senate—especially under the arcane rules, notably the allocation of Senate seats equally among states and the amplification of that via the Electoral College—that privilege Republicans. And that would be especially true if Democrats passed unpopular legislation when they achieved majority control.
I have always said, "If I can't go home and explain it, I can't vote for it." And I cannot explain strictly partisan election reform or blowing up the Senate rules to expedite one party's agenda.
Honestly, this is pretty easy to explain and you're a good explainer who is well respected by your constituents.
The truth is there is a better way – if we seek to find it together.
If we were seeking to find the truth together, we wouldn't be having this conversation. [See also, Steven Taylor's post "Sinema's Misunderstanding of the Senate (and of Basic Politics)."]
The Voting Rights Act, for example, was monumental in the fight to guarantee freer and fairer elections in the United States. Since its original passage, it has been reauthorized with overwhelming bipartisan votes five separate times. In addition, there is bipartisan support to pass the latest iteration of this legislation, the rightfully named John Lewis Voting Rights Advancement Act.

The John Lewis Voting Rights Advancement Act would update the formula states and localities must use to ensure proposed voting laws do not restrict the rights of any particular group or population. My Republican colleague, Sen. Lisa Murkowski, has joined me in urging Senate leadership to update and pass this bill through regular order. I continue to engage with my Republican and Democratic colleagues about the value of the John Lewis Voting Rights Advancement Act and I am encouraged by the desire from both sides to transcend partisan politics and strengthen our democracy by protecting voting rights.
So, we'll see what happens on this. But it got zero Republican votes in the House and there weren't anything close to ten Republican Senators lined up in favor as of a couple weeks ago. Hell, you weren't even on board.
Of course, some in my party have argued that now is the time to discard such bipartisan voting reforms
I do not think literally anyone has made that argument.
and embrace election reforms and policies solely supported by one party. Respectfully, I do not agree.

I believe that partisan voting legislation will destroy the already weakening binds of our democracy, and for that reason, I will vote against the For the People Act.
So, you're voting against legislation you like because people in the other party won't vote for it? Or there's something in the bill that unfairly advantages your party? If the former, that's just bizarre. If the latter, that's statesmanlike—but requires explanation.
Furthermore, I will not vote to weaken or eliminate the filibuster. For as long as I have the privilege of being your U.S. senator, I will fight to represent the people of West Virginia, to seek bipartisan compromise no matter how difficult and to develop the political bonds that end divisions and help unite the country we love.
While I can't prove that allowing Republicans to continue rigging elections and thwarting the passage of legislation by democratically-elected majorities won't heal what's ailing us, I'm hard-pressed to see how it will. We've tried it for a dozen years or so and things seem to have gotten worse.
Conversely, I can imagine a scenario where forcing Republicans to run in legitimately-drawn House districts and in elections where non-whites have equal access to the ballot will force them to adapt their message in ways more conductive to compromise. The Manchin-Sinema vision, which I long shared, is based on the Median Voter Theorem. But it doesn't work if parties and candidates can choose their own electorates rather than the reverse.