Joe Manchin's Weird Filibuster Defense
It doesn't work like the movies, Senator.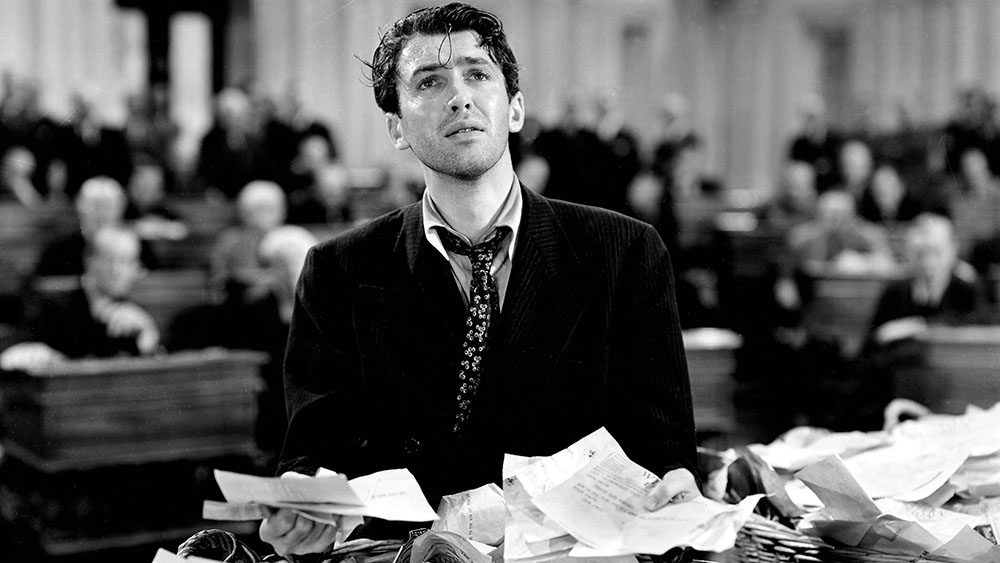 West Virginia's senior Senator has taken to the op-ed pages of the Washington Post to declare, "I will not vote to eliminate or weaken the filibuster." His reasoning is contradictory and ahistorical. His opening is innocuous enough:
When Americans vote to send their two senators to Washington, they trust that they will work to represent the interests of their state on equal footing with 98 other senators. I have always said, "If I can't go home and explain it, I can't vote for it." And I respect that each of my colleagues has the same responsibility to their constituents.
Our institutions were built to require compromise and that requires, among other things, a belief that others are acting in good faith. Whether Senators "represent the interests of their state" or "their constituents" at this point, rather than the strategy of their political party, is certainly debatable.
It's no accident that a state as small as West Virginia has the same number of senators as California or Texas. It goes to the heart of what representative government is all about. The Founding Fathers understood that the challenges facing a rural or small state would always be very different from a more populous state. Designating each state with the same number of senators — regardless of the population — ensured that rural and small states and the Americans who live in them would always have a seat at the table.
So, while that's a lie that we tell ourselves, anyone who has taken even elementary school civics knows this isn't true. Equal representation in the Senate was a result of the Great Compromise, a settlement of an acrimonious fight, not some grand philosophical design. And it had nothing at all to do with the interests of rural voters; the entire country was rural. Urban voters constituted some 5 percent of the population at the time. And, my goodness, having West Virginia's 1.77 million people have equal representation with California's 40 million is many things but it is the opposite of "representative government."
The filibuster is a critical tool to protecting that input and our democratic form of government. That is why I have said it before and will say it again to remove any shred of doubt: There is no circumstance in which I will vote to eliminate or weaken the filibuster.
So, by sheer accident born of a compromise to solve the particular political squabbles of 13 sovereign equals trying to form a federation out of a confederation in the eighteenth century, rural states are vastly over-represented. That's incredibly undemocratic. But that's not enough protection! No, they need to be able to impose supermajority voting requirements on top of that!
The time has come to end these political games, and to usher a new era of bipartisanship where we find common ground on the major policy debates facing our nation.
This is at least adjacent to what is, in my view, the best argument for the filibuster: a country as diverse as ours shouldn't enact major changes without broad consensus. If the filibuster worked like it does in the movies, where it forced good-faith compromise to get votes from the opposition, I would likely support it. Alas, for a variety of reasons (see Steven Taylor's recent posts here and here) it has never really worked that way.
Think about the recent history. In 2013, Senate Majority Leader Harry M. Reid (D-Nev.) led the charge to change Senate rules to eliminate the filibuster for Cabinet-level nominees and federal judges. I was one of only three Democratic senators to vote against this rule change. In 2017, Senate Majority Leader Mitch McConnell (R-Ky.) proposed to lower the threshold to end debate on Supreme Court nominees to a simple majority. I voted against that change, too. Despite my votes, both rules changes were enacted and the filibuster was weakened, allowing the majority to more easily enact its agenda with little to no input from the minority.

Every time the Senate voted to weaken the filibuster in the past decade, the political dysfunction and gridlock have grown more severe. The political games playing out in the halls of Congress only fuel the hateful rhetoric and violence we see across our country right now. The truth is, my Democratic friends do not have all the answers and my Republican friends do not, either. This has always been the case.
Manchin here is confusing cause and effect. The filibuster being weakened didn't cause a rise in partisanship. A rise in partisanship required the elimination of the filibuster.
In November 2013, when Reid moved to eliminate the filibuster for confirmation votes, Democrats had 55 votes (including two "independents caucusing as Democrats")—a very solid majority—and yet could not confirm even perfectly mainstream nominees from a popular Democratic President who had just been re-elected the year before. In April 2017, when McConnell ended the filibuster for Supreme Court nominations—in order to confirm Neil Gorsuch to a seat that had been vacant for more than a year because of legislative chicanery—the tide had turned. A Republican President had 53 votes in the Senate and McConnell would be damned if he was going to let the rules stand in the way of getting his prize.
Stalling the nomination of Merrick Garland, an oldish moderate well-respected on both sides of the aisle, wasn't payback for Reid's imposing the "nuclear option" (or, "Constitutional option" when Republicans do it) but a naked power play by an opposition party that had the votes to do it. It was cynical as hell and definitely upped the ante in the game of partisan back-and-forth. But it was an indication that the sides already saw each other as warring camps.
Generations of senators who came before us put their heads down and their pride aside to solve the complex issues facing our country. We must do the same.
So, again, this is more mythology than fact. For the first century-and-a-half under our present Constitution, the central government simply did far less than it does today. And there were spectacular failures at solving complex issues along the way, most notably the bitter fight over the spread of slavery that led to a bloody, five-year Civil War. And the filibuster made it much, much harder to deal with the aftermath, as Southern Senators employed it for decades to stop necessary civil rights legislation.
The issues facing our democracy today are not insurmountable if we choose to tackle them together.
But, if we could do that, they wouldn't need to be solved! And the filibuster actually makes it much harder, requiring 60 votes rather than 50.
Unfortunately, our leaders in the Senate fail to realize what goes around comes around. We should all be alarmed at how the budget reconciliation process is being used by both parties to stifle debate around the major issues facing our country today. Legislating was never supposed to be easy. It is hard work to address the needs of both rural and urban communities in a single piece of legislation, but it is the work we were elected to do.
So, again, I would prefer that Senators worked together to hammer out differences and achieve compromise rather than ram multi-trillion dollar giveaways through on party-line votes. But there's just no evidence that Republican Senators are interested in doing that. They have been quite clear, going back to the earliest days of the Obama administration, that they will refuse to give so much as one vote to any legislation that might redound to the political benefit of a Democratic President.
I thought ObamaCare was an abomination in any number of ways and was outraged when it was rammed through through the reconciliation process, especially since it relied on a vote from the long-dead Teddy Kennedy who Massachusetts had replaced with Republican Scott Brown precisely to kill the bill. But the fact of the matter was that Obama had bent over backwards to get Republican cooperation and input and got nowhere. Even blue state Republicans like Susan Collins and Olympia Snowe stuck with McConnell. At some point, myth has to give way to reality.
I simply do not believe budget reconciliation should replace regular order in the Senate. How is that good for the future of this nation?
So, again, I oppose using rules designed to achieve a narrow purpose as a backdoor around other rules. But, at the end of the day, Democrats won the 2020 Presidential election by 7 million votes and have majorities in the House and Senate. They really ought to be able to govern.
Senate Democrats must avoid the temptation to abandon our Republican colleagues on important national issues. Republicans, however, have a responsibility to stop saying no, and participate in finding real compromise with Democrats.
But what if, as indicated by at least the last dozen years of history, they won't do that? What if not a single Republican will vote for anything that helps Joe Biden? What then?
Working legislation through regular order in the Senate prevents drastic swings in federal policymaking.
This, too, is an argument I was quite sympathetic to for a long time. My small-c conservative tendency is to prefer incremental change, allowing consensus to build over time. But our institutions already privilege the views of rural, slow-changing voters. Because of the equal representation of states, both the White House and the Senate over-represent them. Adding an additional supermajority requirement on top of that makes change next to impossible.
Voting rights reforms, instituting health-care protections and changes to the federal tax code and business regulations take time to implement on the state and local levels. If the filibuster is eliminated or budget reconciliation becomes the norm, a new and dangerous precedent will be set to pass sweeping, partisan legislation that changes the direction of our nation every time there is a change in political control. The consequences will be profound — our nation may never see stable governing again.
Elections, they say, have consequences. If the voters manage to overcome the inertia of the system and change the party control of the White House, House, and Senate so that they line up, they should get policy change as a consequence of that. Otherwise, why bother to have elections?
Beyond that, it's not obvious to me that we're getting radical swings in the tax code or business regulations. We haven't had a radical change in the income tax since the Reagan administration. Since then, it's really been tweaks within the Reagan-era range. Here is the evolution of the top marginal rate since we've had a federal income tax: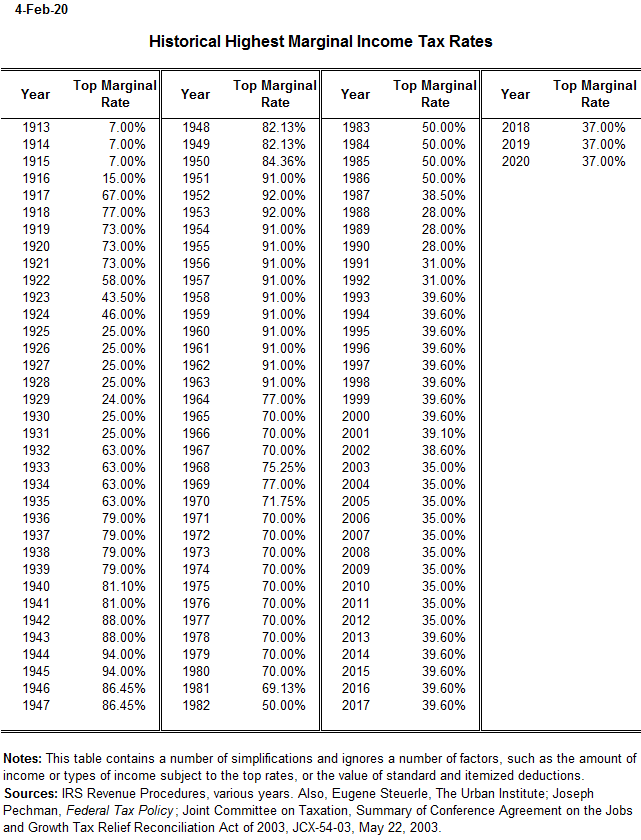 We had a bunch of truly radical shifts—all in the filibuster era—but largely stabilized around the 1987 sweet spot of 38.5%. We had a brief dropoff to 28% in Reagan's last year, nudged it up to 31% to pay for the Gulf War, and then adjusted the rheostat every time we've changed party control. Clinton's 39.6% is barely higher than Reagan's 38.5%; Bush 43's 35% lasted through Obama's first term before expiring and reverting to 39.6%; and Trump got it back down to 37%. One expects that it'll snap back under Biden.
Senators introduce bipartisan bills that seek to invest in broadband infrastructure, tax incentives to spur manufacturing investments in rural communities, reform the Department of Veterans Affairs, protect our children from harm and more.

There is also bipartisan support for voting reform and many of the initiatives outlined in the For the People Act. Our ultimate goal should be to restore bipartisan faith in our voting process by assuring all Americans that their votes will be counted, secured and protected. Efforts to expand voting hours and access, improve our election security and increase transparency in campaign finance and advertisement rules should and do have broad, bipartisan support and would quickly address the needs facing Americans today. Taking bipartisan action on voting reform would go a long way in restoring the American people's faith in Congress and our ability to deliver results for them.

We will not solve our nation's problems in one Congress if we seek only partisan solutions. Instead of fixating on eliminating the filibuster or shortcutting the legislative process through budget reconciliation, it is time we do our jobs.
The fact of the matter is that every single Republican Senator has demonstrated time and time again since 2009 that the only job they see themselves as having is protecting the interests of their party. The "bipartisan support" will evaporate when it comes time to vote. It always does. What then?