The Filibuster Needs to Go
It is not a tool to foster compromise. It is tool of obstruction, plain and simple.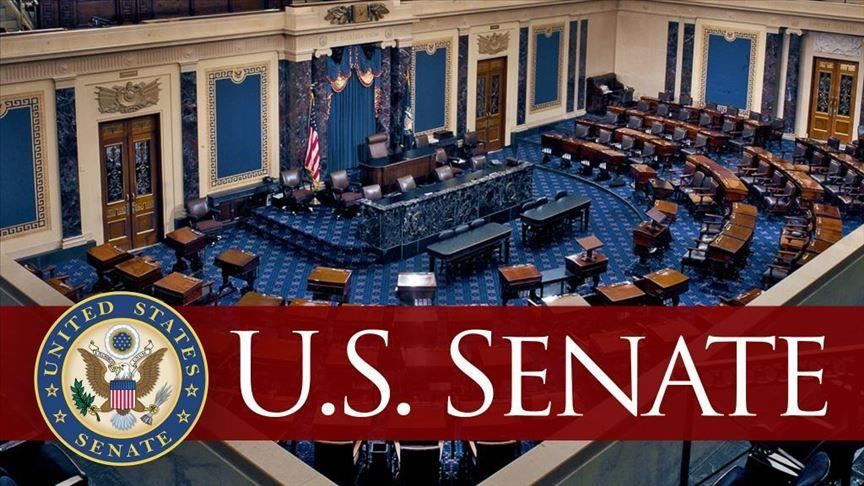 Speaking of reform, I would recommend doing away with the legislative filibuster. At the most fundamental level it would allow parties to show what they do, and do not, stand for in terms of legislation. That, in and of itself, would be an improvement over current conditions. It is also an essential first step towards any additional reforms, be they small or large.
Let's start with a fundamental fact of the way representative democracy ought to work: if a party wins majority control of the legislature, it should be allowed to legislate. Voters should then be able to evaluate those policy outcomes and then be in a position to further endorse the party that passed those policies into law or to punish them at the ballot box.
This simple model does not work in the US as it should for a variety of reasons, but a major one is the simple fact that legislative minorities in the Senate have a veto on the legislative process.
And, it should be noted, that veto is not just a tool of the minority of the members in the chamber, but can be a veto by Senators who represent a substantial minority of the overall population.
As Philip Bump noted in a recent WaPo piece:
The Senate is already an institution that distributes power unevenly. States that make up only 16 percent of the country's population cumulatively are represented by 50 senators, half of the total. Reduce the bar to 41 senators and you're talking about just under 11 percent of the population. Meaning that senators representing a bit over one-10th of the country could block any legislation from passing.
To summarize, the filibuster is a mechanism that gives the minority party (that often represents a minority of the population) a veto over a large chunk of legislation (although there are some ways around it).
It is not a mechanism to build compromise.
It is not a mechanism to build bipartisanship.
It is not a romantic way for Jimmy Stewartesque Senators to fight for justice.
It is not even about actual debate (i.e., talking).
It is a procedural mechanism that allows 41% of the chamber to stop legislation.
As Jonathan Chait (All the Lies They Told Us About the Filibuster, which is worth reading in full) notes:
Filibuster advocates depicted it as a way of ensuring "unlimited debate," akin to free speech. Except the filibuster's most enthusiastic advocates preferred to smother legislation without any debate or vote at all, resorting to that tactic only if quieter methods had failed. In its modern method, it rarely involves any debate on the Senate floor at all. Filibusters prevent debates from taking place rather than allowing them. (Not that it matters — debates in the modern era are mere exchanges of talking points that have no bearing on the outcome of bills, which is negotiated off the floor.)

Nor do they force the Senate to reach consensus. As Jentleson shows, filibusters often kill moderate measures that command wide support among both parties. After the horrifying Newtown massacre, pro-gun Democrat Joe Manchin and Republican Pat Toomey negotiated a handful of concrete steps that had overwhelming public support (including among gun owners), such as background checks for purchasing firearms. The bill died of a Republican filibuster, the brief debate a mere afterthought.

By custom, filibusters in the 20th century were reserved for civil-rights laws. (This was in keeping with the broad unstated agreement among most white Americans to not let the oppression of Black Americans come between them as it had around the Civil War.) Only by the 1990s was it frequently used for non-civil-rights measures, and not until the Obama presidency did it harden into a routine supermajority requirement.
It is part of the broader problem of legislative weakness and flow of power to the executive and the courts because it disincentivizes legislation. If, for example, you don't like the cascade of executive actions we see from presidents, the legislative filibuster is part of the problem.
When Senator McConnell makes claims such as the following via Axios ("You don't destroy the Senate for fleeting advantage"), he is being self-servingly dishonest:
"If your legislation can't pass the Senate, you don't scrap the rules or lower the standards. You improve your idea, take your case to the people, or both," McConnell said in a speech on the Senate floor.

[…]

"No short term policy win justifies destroying the Senate as we know it."
This is dishonest because it perpetuates the myth that this is the way the Senate has always worked and that therefore destroying the filibuster destroys the Senate. While it is true that there have never been any limitations on debate in the Senate, the reality is clear: it has only become an essentially 60-vote body in recent years. It is really a phenomenon that is less than twenty years old.
It should be noted that McConnell was more than happy to take the 60-vote requirement away from SCOTUS nominations when it suited him. He is simply not an honest actor on this topic.
Josh Chafetz, in a 2011 law review article provided the following: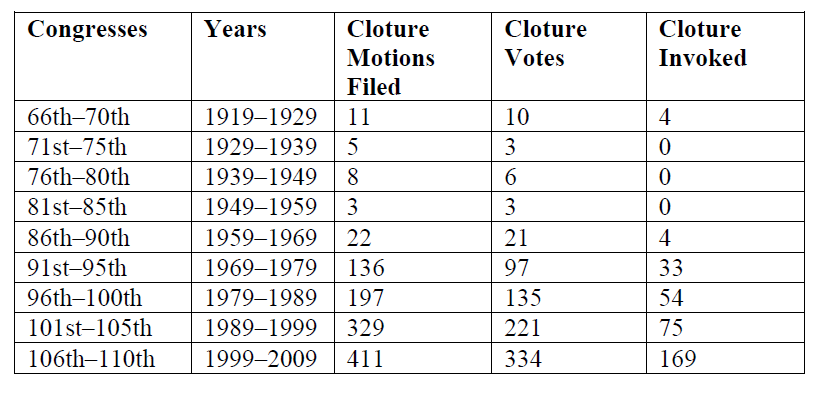 These data led him to state:
Cloture is now a de facto requirement for the passage of any significant measure—and this is a very recent phenomenon.

[…]

The trend is unmistakable—and a more fine-grained picture tells an
even starker story. Through the 109th Congress (2005-2007), there had
never been more than eighty-two cloture motions filed (104th Congress),
sixty-one cloture votes (107th Congress), or thirty-four invocations of
cloture (107th and 109th Congresses). In the 110th Congress (2007-
2009), there were one hundred thirty-nine cloture motions filed, one
hundred twelve votes on cloture, and cloture was invoked sixty-one
times.30 In other words, that one Congress had 69.5% more cloture
motions filed, 83.6% more cloture votes, and 79.4% more successful
invocations of cloture than any Congress had ever had before. And the
111th Congress (2009-2011) followed suit, with one hundred thirty-six
cloture motions filed, ninety-one votes on cloture, and sixty-three
invocations of cloture.
His conclusion of the article states:
The contemporary filibuster cannot be justified on the grounds of a Senate tradition of unlimited debate. The contemporary filibuster is not a mechanism of debate; it is a mechanism of obstruction, plain and simple.
And in recent Congresses, it has become a mechanism to be applied to
nearly every measure to come before the Senate, such that it can now
accurately be said that most measures require sixty votes to pass the
Senate.
Note that this analysis was written roughly a decade ago, and it has gotten worse since. (He also concluded in that piece that the filibuster is unconstitutional, which I don't agree with, but that is another debate).
Chafetz's data can be augmented from the Philip Bump piece I noted above (It is time once again to explain what the filibuster is and isn't) wherein he noted for the recently growth in the usage of the mechanism:
From 1989 through 2006, about 7.8 percent of the roll-call votes cast in the Senate each year were for cloture. Since, a quarter of votes taken have been cloture votes on average. During the past six years, when McConnell led the majority, nearly a third of the votes cast were for cloture.

It's gotten to the point that the filibuster is presented as a sort of intrinsic part of doing business in the Senate. In 2013 (back when cloture votes made up only 22 percent of roll-call votes), one senator even suggested that requiring 60 votes was simply how things should work.
Note that in 2019, after Democrats won control of the House that cloture votes were ~45% of all votes in the Senate.
The Brennan Center has some longer-term graphs: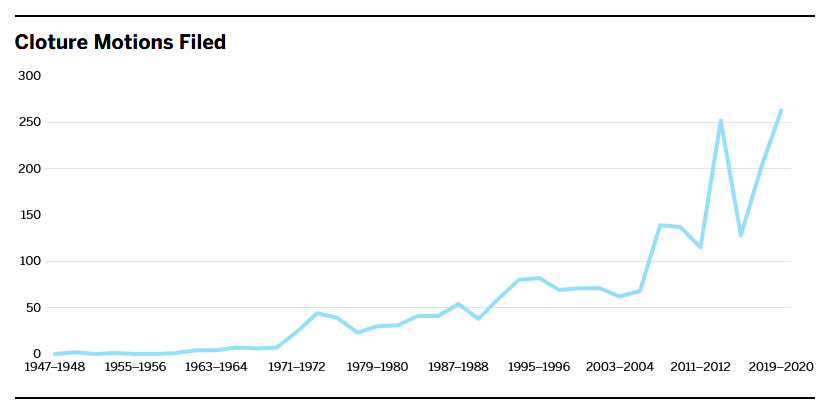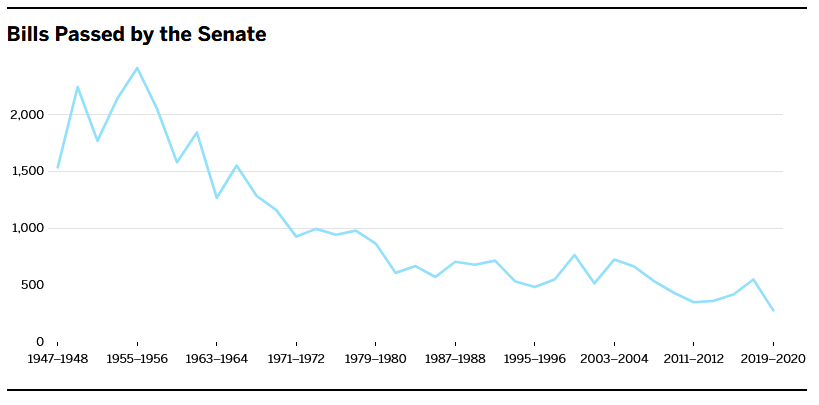 Apropos of all of this, and to echo something a noted yesterday:
In short: none of the reasons given for keeping the filibuster are good, and really aren't especially true. Republicans prefer it at the moment because they are the minority party in terms of the number of people represented in the Senate. And perhaps even more importantly, when the are in the power their main goals are judicial nominations and tax policy–both of which have non-filibusterable routes. Their main goal while in the minority is to obstruct.
It is a bad trade for Democrats to give away the ability to legislate when they have majorities for the possibility that they may need to obstruct legislation in the future.
And to be clear: I think it is better for our democracy that whichever party is in control of the legislature should the ability to legislate (even keeping in mind the numerous representativeness problems in the US Congress, especially the Senate). It remains true that that bicameralism itself creates sufficient brakes on runaway action, as does the executive veto.
In other words: legislating is difficult enough under normal conditions. There is no good reason to to make it nearly impossible.
We are letting a dishonest presentation of a false historical narrative that draws more from a Frank Capra movie made in 1939 than it does from political science to influence the operations of one chamber of the national legislature.
That's nuts.
---
I would note a few of my older posts on this topic: